Bentota is a paradise resort town located along the Southwest Coast of Sri Lanka. The charm and beauty of the beach and the whole town attracts locals and tourists in large numbers. Things to do in Bentota is a list of exotic activities, such as parasailing, enjoying dolphin dance, snorkeling, and paragliding. It is a perfect destination for adventure lovers and honeymoon couples. Sitting down on the sugar-soft beach and getting greeted by the endless refreshing sea breeze enthralls all your senses. Out of the many things to do in this tourist town, we have picked the best for you today.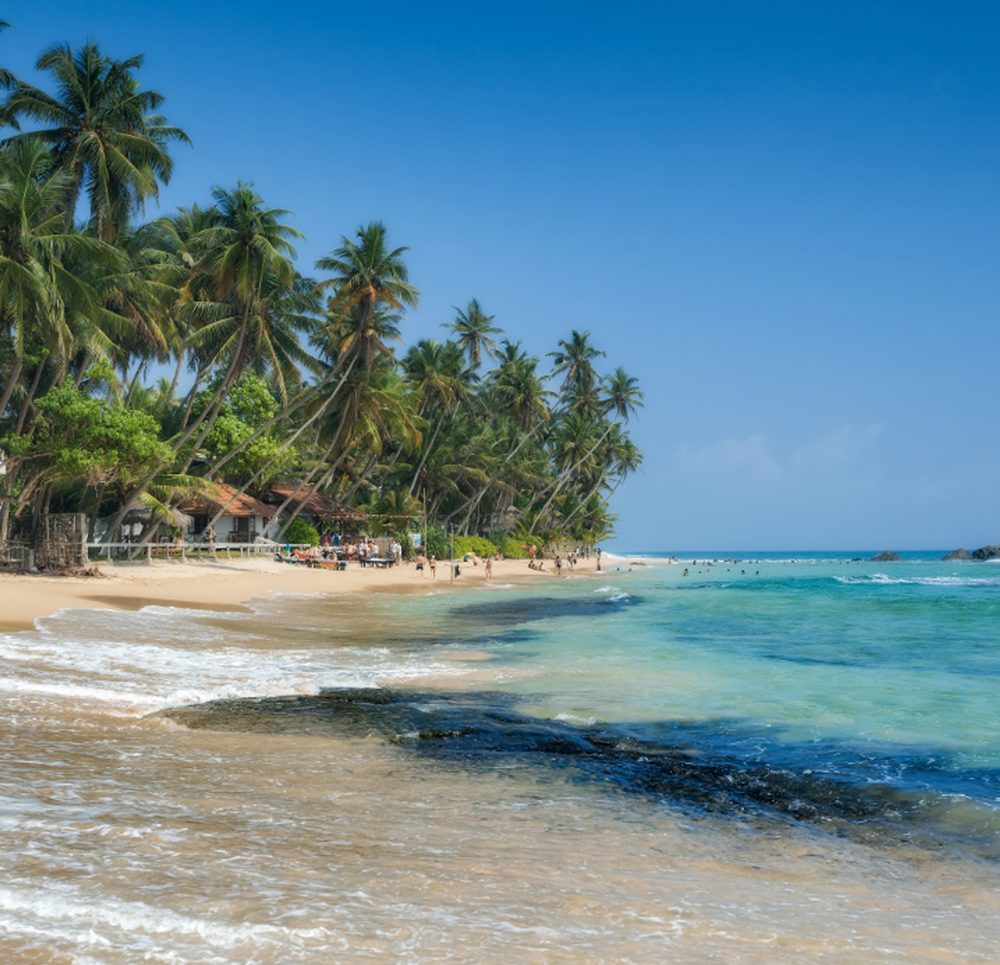 We have included the followings for you here:
Below is a Quick List of things to do in Bentota:
Cycling in Bentota:

Travel Through The Impressive Town

Fishing in Bentota:

For Authentic & Adventure Experience 

Bentota Beach Tours:

For Strolling & Relaxing 

Balapitiya:

Nature Hike & Boat Safari In Madu River

Trekking in Bentota:

For Adventure Trekking

Visit Ambalangoda:

For Endless Shopping

Whale Watching Tour:

For Encountering The Ocean's Giants 

Water Activities:

For Real Adventure Lovers 
Below is a Quick List of Places to visit/tourist attractions in Bentota:
Brief Garden:

For Family & Romantic Times

Kande Vihara:

An Ancient Buddhist Temple 

Saman Villas:

For Therapeutic Healing 

Sinharaja Rain Forest:

For Real Exploration & Adventure 

Kalutara Temple:

For Eternal Blessings 
So, let's get to all in detail now! 
Why Visit Bentota? 
A charming coastal town on the south coast of Sri Lanka, Bentota represents the beauty of a tropical island. With easy-going fishermen, old-fashioned cinnamon trade, and remote beaches, Bentota catches the hearts of all tourists. There is no lack of things to do here, either. 
It's the ideal place for newlyweds and adventure lovers. It's not that far from the airport and the capital, Colombo either. Tourist attractions and things to do in Bentota make it one of the leading tourist towns in Sri Lanka. Active nightlife and authentic seafood menus enhance the value of this beautiful tourist town. 
The BEST Things to do in Bentota
Cycling in Bentota: This is one of the best things to do in Bentota. A cycle tour adds more value and adventure than you going around the city in a vehicle. You will come across the Katukoliye Temple, Mullegoda Temple, attractive buildings, panoramic paddy fields, and the gorgeous Dedduwa Lake. You can perform this activity even in the nighttime. It's relaxing and exciting at the same time. 
For those who want to stay away from the busy city and explore the breathtaking landscape of Sri Lanka, an exciting bike tour in Bentota is a real treat. Bentota is a coastal town on the island, meaning a cycling tour can reveal all the elements of the town better than a regular vehicle tour. 
Fishing in Bentota: The Indian Ocean off the shore of Bentota, Sri Lanka, provides several of the fabulous deep-sea fishes in the world. Sea fishing tours take you to the core of pleasant, nutrient-rich waters, which encompass a huge spectrum of game fish. These tours are perfect for both experienced hunters and first-timers, making it an unforgettable adventure and one of the best things to do in Bentota. As you move deeper into the sea, you can catch a variety of fishes.   
Deep-sea fishing is a brilliant way to kick-start your day, and it also needs an early start. You'll experience fishing in some of the most abundant waters, as the Indian Ocean holds fish species in abundance.
Bentota Beach Tours: This is the element that makes Bentota a world-famous tourist attraction. Many best things to do in Bentota originate here. The sugar-soft beach, iconic coconut trees, and picturesque landscapes collectively make you feel like you are in heaven. The beach is a real treasure for nature lovers and energetic travelers and is a prime element of Honeymoon Packages in Sri Lanka. You can try diving, swimming, snorkelling, and strolling over there. After all daytime excitement, you can take a stroll along the crispy beach for the end of the day. 
The beach is also the primary tourist attraction in Bentota. There are also some fine beachside hotels that also have swimming pools, and also guesthouses to fit all budgets near the Bentota beach. Guests have live entertainment at beachside hotels, and there is much to see and do during beach tours, such as sailing on the Bentota River, exploring the two private gardens of Brief and Lunuganga, or enjoying water sports. Bentota is famous as the water sports center of Sri Lanka.
Balapitiya: Visiting Madu River is undoubtedly a must-do thing in Bentota. The Madu River alone is a famous travel attraction in Sri Lanka for boat safaris. The region is one of Sri Lanka's top mangrove forests, and an array of bird species live there. Cruising along the river makes you come across over a hundred fascinating bird species, making it a top place for enjoying Birds in Sri Lanka. Make sure you have a quality camera to capture every essence of the river. 
The Madu Ganga River enters the ocean at Balapitiya and is a spectacular setting for winding watercourses with magnificent mangrove swamps and many islands within. Recognized by the Ramsar Convention on Wetlands of International Importance, Madu river is home to a wide variety of ecological significance. Glide through the turquoise water through shady mangroves and glimpse into the lives of local people. 
Trekking in Bentota: Bentota-Aturuwella areas are spectacular for walking/trekking across enchanting paddy fields. You will come across the 100-year-old Katukohila Temple, Dutch-style residential buildings, and it is a perfect place to enjoy the golden sunset. You will also come across a place where a vast number of migratory birds live in Sri Lanka until winter ends in their countries. If you plan your next holiday to enjoy the best things to do in Bentota, include this, as well. 
You will experience the famous eco-friendly existence of a quiet local town, untroubled by modern urban buildings or an existence that helps preserve the beauty of nature as it is. You're still going to get an opportunity to dive down refreshing inland waters. 
Drive to Ambalangoda: Though Ambangoda is about 34 kilometres away from Bentota, it is a must-visit city after you have tried out other things to do in Bentota. Ambangoda is the most renowned town in Sri Lanka for ancient devil masks and devil dancers. If you are a lover of antique shopping, Ambalangoda is a top choice for you. You can also buy unique jewellery products at low rates here. 
More lately, Batik has been a central element in arts and crafts in Sri Lanka. Ambalangoda, the tiny coastal town between Bentota and Galle, is notable for its arts and crafts and is also host to a series of magnificent ancient temples. Start your short tour of Ambalangoda's key artistic workshops, where you'll explore several traditional art styles, wooden mask-making, including batik, and puppetry.
Whale Watching Tours: Witnessing whales is perhaps the most exciting ocean activity. The giants of the ocean are the most fascinating creatures living on the planet. Though Bentota is not the best place for Whale Watching in Sri Lanka, it is a sound choice for the enthralling activity. If you were pondering about what to do in Bentota, here's a brilliant option for you. 
Seeing whales and dolphins in Bentota is one of the most thrilling water activities you will do during your holidays in Sri Lanka. Though Mirissa is the best place to launch your tour of the whale and dolphin watching in Sri Lanka, Bentota is also another great place to see these sea giants. Often, you will see turtles and different kinds of fish, such as bluefin tuna and jumping fish. You can see several whales and dolphins in the warm Indian ocean.
Day Tours and Excursions from Bentota: When you're looking for a tour of the charming city of Bentota, a day-tour is the best match for you. We pick you from your hotels in Bentota and continue your journey with the treasured sights of a small village in the heart of lush greenery. Enjoy the safari experience of a boat in the Bentota River and explore the thick forest and its greenery. Visit and enjoy the breathtaking elegance of the mangrove lagoons that surround you on your safari, followed by a visit to the turtle hatchery, where you can see the turtle heading to the sea. 
Moreover, take a stroll to the old coconut factory and admire the scenic beauty of the Bawa Garden and the Herbal Garden. Visit the famed Buddhist temple, put and mesmerize in an exhilarating shopping trip before enthralling in the abundance of water sports available in this small region. Start your ride in the evening by returning to your respective hotels.
Water Activities: Sri Lanka is an island, meaning it is one of the best destinations in the world for Water Sports in Sri Lanka. The Bentota beach is a brilliant choice for various water activities, including surfing, snorkelling, diving, Catamaran Sailing, and many more. There are endless adventurous things to do in Bentota for honeymoon couples and groups.
Enjoy the popular water sports events such as Fly Boat, Jetski, Wake Board, Water Biking, Kneeboard, and many more in Bentota. All these activities are among the best things to do in Bentota for a memorable holiday. We can also arrange inflatable rides such as Donut Ride, Banana Ride, and more. Our professional team is always there to make sure you have an amazing experience and safety. We make sure our visitors get the finest experience to make their journey fun and exciting.
Places to Visit in Bentota/Bentota Tourist Attractions 
Brief Garden: How can we not include this enchanting garden on the list of things to do in Bentota? Renowned Sri Lankan artist Bevis Bawa designed this wonderful place, and it is a place for families and lovebirds. Brief Garden is a collection of magnificent imposing structures, tropical trees, sculptures, and an array of flowering plants. The 5-acre greenery is a perfect place to spend time with nature and your family or better half by your side. You can visit the garden from 8 AM to 5 PM daily.
The Brief Garden is the emblematic garden and manor house of Bevis Bawa, situated ten kilometers inland from Bentota. The garden has been an open area for the public since 1970, and mimics the enchanted location of a fantasy story, and offers a delightful environment in which to forget oneself for a few hours. Since 1970, the Brief Garden has become one of Bentota's main tourist attractions and one of the best places to visit in Bentota.
Kosgoda Turtle Hatchery: Visiting the Kosgoda Turtle Hatchery is the best option to witness a large number of turtles in Sri Lanka. The officials collect and preserve eggs until hatching, making it a world-famous turtle hatchery center. The turtle is in the endangered animal list, and this center works in the preservation of this valuable creature. Make sure you include this when planning your next holiday in Bentota. 
The center serves mainly as a hatchery, taking significant measures to increase the rate of hatching and development of baby turtles from their very early stages. However, the Rehab Center frequently focuses on ill or injured adults, treating them, and taking them out to the sea. They also operate community projects and knowledge raising events for local and international visitors. Kosgoda Turtle Hatchery is one of the best places to visit in Bentota, making it a popular tourist attraction in Bentota.
Kande Vihare: Visiting Kande Vihare is another must-do when you are planning your holiday near Bentota. The giant Buddha Statue in the temple premises is an architectural wonder. The old temple is one of the most-visited Buddhist worshipping destinations in Sri Lanka. 
Kande Vihara is one of the main Buddhist temples in the Kalutara district; it's close to Bentota, making it one of the top places to visit when you spend a holiday in Bentota. The name of this sacred place means "Mountain Temple." The Temple is an officially recognized archaeological site in Sri Lanka. Kande Vihare has all the essential features that are required for a large Buddhist temple. This includes the Stupa, the Bo Tree, the Relic Building, the Picture Building, the Sri Vishnu Temple, and the four Great Temples, such as the Kataragama Temple. The ancient Bo Tree, the Sri Saranathissa Memorial Hall, and other similar structures are in place outside the vihara premises.
Kalutara Bodhiya & Temple: A visit to Bentota isn't really complete without a visit to the famous Kalutara Chaitya and the temple. It's only a 40-minute drive from Bentota to Kalutara. The temple is in place at the entrance to the Kalutara city and has become a tradition for long-distance travelers to contribute a few coins to the tiny donation boxes on either side of the path, in exchange for a peaceful trip. 
The Bodhi tree in the Kalutara temple is one of the 32 young trees of the Jaya Sri Maha Bodhi in Anuradhapura. The Kalutara Chaitya is such a remarkable development, which is the only hollow Buddhist Stupa in the world, and within the Stupa is a huge, spectacular series of murals that tell the tale of Lord Buddha's past existence. More things to do in Kalutara
How to get from airport to Bentota and vice versa?
You may depend on public or private transport. However, you will need to be cautious. Sri Lanka is safe for tourists, and Bentota is the same. Colombo is yet another safer tourist city in Sri Lanka.
Even buses can take you to Bentota without any problems, despite being a little time intensive. Another suggestion is to use the Uber software to stay in touch with the driver via the mobile application, which is simpler and quicker. The advantage is that they're cheaper because you do only pay for one way.  
Okay, what's the quickest and safest way to get from the airport to Bentota in Sri Lanka? Well, the safest option is to organize your Bentota vacation with a reliable local travel company like us. When you book your holiday with us, we make sure that everything, including travel, is available for you. Private car hire with a guide or driver is a great choice, and the friendly travel agent will organize it for you.
How to move around Bentota in Sri Lanka?
As previously mentioned, Bentota is a bustling tourist city in Sri Lanka, and cycling is the best option. You can also tour the city on a tuk-tuk. 
If you'd like to enjoy a holiday of comfort and convenience, we highly suggest that you hire a private car with a guide or a driver. You can go anywhere you prefer with a private car and a driver without any time wastes and hassle to make your Bentota vacation a streamlined and entertaining one for everyone.
What are the BEST hotels and resorts in Bentota in Sri Lanka
Alright, here's a list of the best tourist hotels and resorts in Bentota:
Taru Villas – The Muse

Selnara Private Luxury Villa

Sri Villas

Saman Villas

Centara Ceysands Resort & Spa Sri Lanka 

Taj Bentota Resort & Spa

EKHO Surf

Bentota Beach – The Cinnamon Luxury Collection

The Waterside Bentota

Lagoon Bentota

Kurumba Villas 
The nightlife in Bentota in Sri Lanka
A charming and touristy resort town in Sri Lanka, Bentota has a lot to give to those who want to experience a quiet nightlife. During the daytime, the beautiful green scenery, sun-kissed shores, the ocean, and the emerald lagoons appear breathtaking, but as soon as the sun falls, Bentota appears much more beautiful and glamorous with floating discos, sunset boutique hotels, and water-view restaurants. If you are searching for places to experience the nightlife in Bentota, here is a list for you:
Ceysands – The Floating Party Hotspot

Golden Grill – For An Fine Dining Experience

Sea View Restaurant – Majestic Views And Stunning Ambiance

My Kind Of Place – Sprightly Music And Innovative Cocktails
How many days to spend in Bentota
Well, you can spend about 4-6 days in Bentota. For honeymoon couples, Bentota in Sri Lanka has all the essential romantic elements, meaning you can spend a perfect honeymoon over there. For families and groups, ample water sports and adventure activities to enjoy. Bentota is a complete tourist town in Sri Lanka. 
The weather and BEST time to visit Bentota
Located a lot closer to the Bentota River and the Indian Ocean to the west, Bentota is a tropical tourist town in Sri Lanka. Temperatures do not shift and vary from around 27 ° C to 30 ° C. The weather in Bentota is much similar to that of other big coastal cities in the southwest region of the country, such as Galle and Colombo. 
Although the area has been rainy for much of the year, there are a few dry months that encourage tourists to enjoy the charm of this coastal town making it a year-round tourist town in the country. December to April is known to be a dry season, making it the best time to visit Bentota.
Have you chosen Bentota in Sri Lanka as your next holiday town? Contact Overa Tours and book your holiday package!