Anuradhapura – The Sacred City
The sacred city of Anuradhapura was the first capital of Sri Lanka. Today this city hosts a massive collection of Buddhist monuments and artifacts that date back to 7th century BCE. The city was abandoned around 1300 CE. It makes a treasure trove of artifacts and ruins. It is also a UNESCO world heritage site.
UNESCO Abhayagiri and Jetwana monastery excavations are two of the most significant archaeological projects conducted at Anuradhapura in Sri Lanka. On another note, the city is an important stop for Buddhist pilgrims because of many legends and histories outnumbering Anuradhapura's monuments. These tales of Anuradhapura were considered mythical until colonial explorations started in the Northern wildernesses of the island. The sheer scale and planning of this lost city inspired even the British colonial engineers. Its complex network of irrigation simply needed to be cleared of mud. Even today, it feeds more than half of the island's population. In its heyday, Anuradhapura was an impressive city with an advanced urban culture based on Buddhist ideas. The marvellous Buddhist monument called Jetawana stupa was the second tallest structure in the world in 3rd century CE.  Even today, the sacred fig tree of Anuradhapura Maha vihara monastery is the world's oldest tree with a recorded date of planting, in 242 BCE.
Location
The Sacred City of Anuradhapura, Anuradhapura,
North Central Province, Sri Lanka.
Open Time
7.00 a.m. – 5.00 p.m.
Weekdays & Weekends
Ruwanveliseya Stupa and Maha vihara monastery   (First Buddhist monastery)
King Tissa (250-210 BC) allocated a royal park named Mahameghavana to the Buddhist monk known as enlightened Mahinda. This same park later became the Maha vihara monastery, which spread out around a massive monument called Ruwanveliseya. Since then Mahavihara served as headquarters for Sri Lankan monks until it was abandoned in the 13th century. The monastery is famous for literature varying from commentary on Buddhist doctrine to epic poems of island histories. Mahavihara possessed direct influence over the rule of Anuradhapura. Some historians argue that the kingdom was a semi theocracy. Within this site, we find a string of important monuments, which are noted below.
Sri Maha Bodhi
Brazen palace (Lovamahapaya)
Ruwanweliseya stupa
Thuparama stupa
Things to do in Sri Lanka :
Sri Maha Bodhi – The sacred fig tree
A five-minute walk along a paved road from Ruwanweliseya leads to the Sri Maha Bodhi or the Sacred fig tree. This sacred fig tree was a sapling brought from the original Sacred fig tree under which Siddhratha Gauthama became the Buddha. Siddhartha Gautama was the Indian prince who founded the Buddhist religion. After he attained enlightenment, he came to be known as Gautama Buddha. The Sri Maha Bodhi Tree in Anuradhapura was planted in 242 BCE. This makes it the oldest known tree with a date of planting. Hundreds of pilgrims visit this place daily. Visiting this place genuinely makes you feel closer to Buddha himself. It is constantly adorned with lines of prayer flags for protection, peace, and good fortune.
Jetavana Stupa and monastery – Largest brick monument in Sri Lanka
Jetavana stupa was built by King Mahasen in the third century CE.  At the time of completion, it was the second tallest structure in the world. Scattered around the stupa are the ruins of a massive Mahayana monastery. It is believed to be the place where enlightened Mahinda preached Buddhism for seven consecutive days. The excavations carried here resulted in finding a large number of artifacts. Sculpted models of various animals, imported terracotta and coins were among them.
Buddhist railing – Unique Buddhist architecture
Pachavasa – Monk's quarters
Patimaghara – Image house
Jetavana stupa – Largest Buddhist brick monument
Refectory – Alms giving hall
Uposathaghara – Chapter house of the monastery
Abhayagiri Stupa and monastery – UNESCO world heritage site
Abhayagiri Stupa is the second largest stupa in Sri Lanka. King Valagamba built it in the 1st century BCE. The monument is the center of a monastery that extends to an extent of 200 hectares. According to the Chinese pilgrim Fa-Hsien (fifth century), there were five thousand monks here. For 600 years, this was the largest monastery in Sri Lanka. This monastery was the first shrine of the Sacred tooth relic of Buddha (which later became a symbol of kingship.) Today the complex is comprised of Buddha statues, massive monuments, moonstones and elegant twin ponds (Kuttam pokuna). A moonstone is a unique Sri Lankan architectural feature. It is a semicircular granite slab at the foot of an entrance. Abhayagiri moonstone is dated to 1st century BCE.
Lankarama – A lost monastery
Eth pokuna – The elephant pond
Abhayagiri moonstone – Carved bottom step of a stair case
Rathnaprasada – Chapter house of the monastery
Bodhi Ghara – Sacred fig tree shrine
Refectory – Alms giving hall
Abhayagiri stupa – Massive monument to Buddha
Vaahalkada – Frontispiece
Samadhi statue – A serene Buddha statue
Kuttam pokuna – Luxurious bathing pond
Janthaghara – A steam bath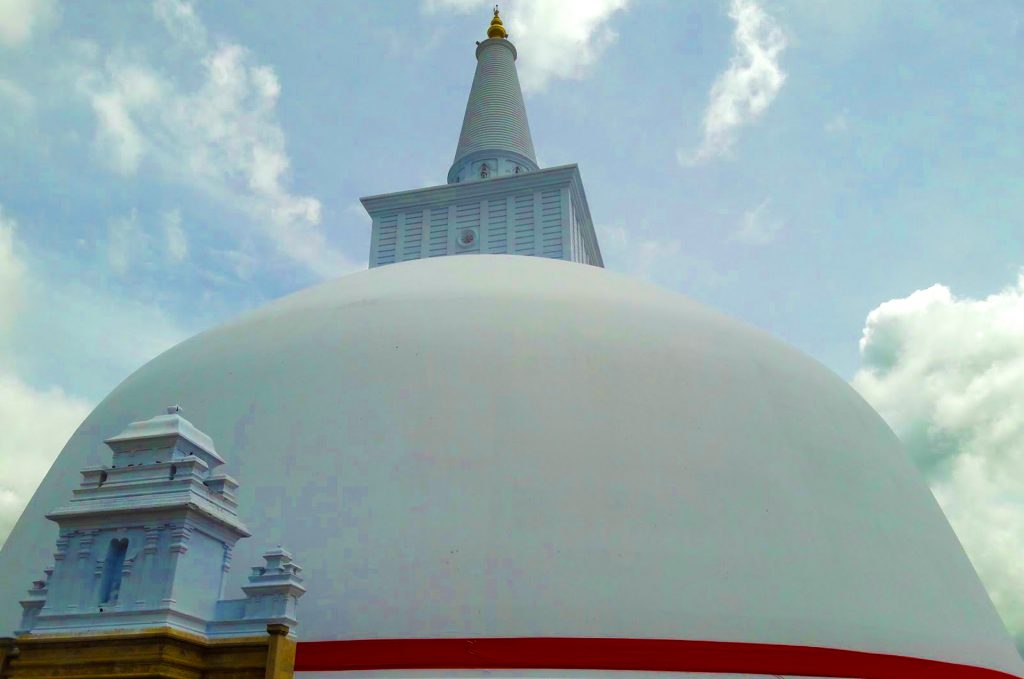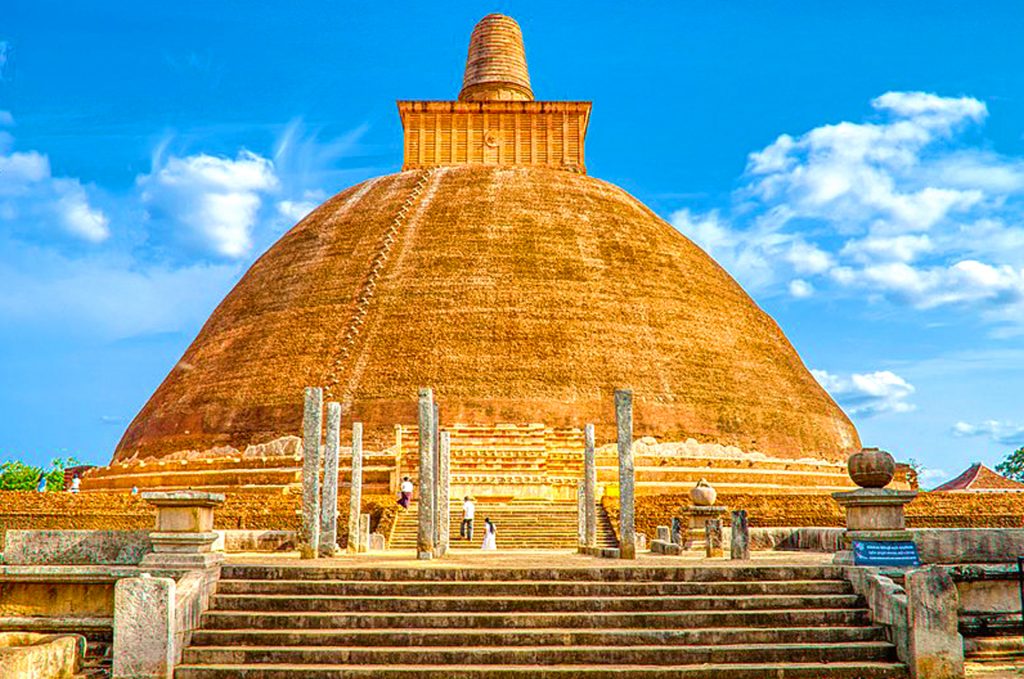 Isurumuniya – The lost temple
Isurumuniya is one of the oldest temples at Anuradhapura. It shows distinctive architecture and sculptor styles that are unique to the temple. Many sculptures are hewn out of the existing rock. Most notable sculptures are the herd of elephants, horse head and seated man, and the intricate carving of Isurumuni lovers. The temple dates back to pre-history. It might have been dedicated to a pre-Buddhist faith of unknown origin. The artifacts found here deviates from traditional Buddhist styles. It is one of the few places where non-Buddhist artefacts were discovered at Anuradhapura archaeological sites. Especially the carving of Isurumuni lovers is famous for how sensual its lines are. Yet undoubtedly, one would think such artistic traditions may have been discouraged at a Buddhist temple. This is also the case with the sculpture of horse head and a seated man. Some historians argue that this sculpture symbolizes pre-Buddhist deities. It is a mystical place where relics of unknown faiths were forgotten forever.
Rock-cut Buddhist image house
Herd of elephants
Horsehead and the seated man
Isurumuni lovers
Moonstone with a traditional entrance
Sri Lankan Tour Packages :
Mihintale – Birth of Sri Lankan Buddhism
Mihintale is the place where a little known Sri Lankan king (King Tissa) embraced Buddhism and changed the kingdom of Anuradhapura and Sri Lanka forever.  The place came to be revered and later developed into a Buddhist monastery.  Today it is a place full of ruins, legends, and faith. Located 13kms away from the urban hubbub of present-day Anuradhapura are the scattered ruins of Mihintale. Ruins of a monastery complex peek out from a dense forest that spread over a hill crowned by a huge boulder. It is believed that enlightened Mahinda appeared on top of this boulder and met King Tissa in 3rd century BCE. The ascetic earned king Tissa's faith. He was also the brother of King Asoka of Northern India.  Enlightened Mahinda taught king Tissa the philosophy of Buddha. What followed was a revolution of ideas held by the islanders. The impact of this incident reverberates throughout Sri Lanka even today.
Notable structures inside the archaeological complex are listed below.
Kantaka Stupa – A 1st-century monument with spectacular sculptures
Ambastala Stupa – A monument commemorating the legendary visit of Buddha
Maha Stupa – Largest monument at the complex
Mihindu Stupa – A monument in remembrance of enlightened Mahinda
Mihindu Guha Cave – The cave abode of enlightened Mahinda
Aradhana Gala – The boulder upon which enlightened Mahinda appeared to the king
Blackwater pond – Ruins of a residential complex bordering a manmade reservoir
Slab inscriptions – Tenth-century inscriptions defining the rules of the monastery
Monastic hospital – An extensive hospital complex dated to 9th century
Idikatu Seya Stupa – A unique monument dated to 8-9th century
Royal pleasure gardens – Sensuality of the elders
Royal pleasure gardens are one of the oldest structures in Anuradhapura. It is dated to 3rd century BCE. Most of the artifacts excavated here are showcased in the museum of nearby Isurumuniya temple. The garden faced a reservoir named Tissa wewa. In the garden are a set of small ponds, aqueducts, rock carvings and three ruined buildings. A herd of elephants very much similar to the one found inside the Isurumuniya temple can be seen here too. On another boulder, a curious-looking symbol is hidden from general view. Known as the Chakra, it symbolizes the universe according to later doctrines of Buddhism. It is surmised that monks performed some sort of a tantric meditation ritual. Buddhist monks may have occupied the grounds after it was abandoned in the 10th century. The garden is named "Ranmasu Uyana" after the goldfish pond found inside it. This also shows a connection with the Chinese where later forms of Buddhism flourished.
Mirisaveti stupa is a ruined monument tangled in a string of folklore. Among many legends stands out one that is generally accepted. It is believed that king Gamini pf the second century BCE built this as his first Buddhist monument. He was a king who is described as an epic hero in later literary traditions. As the legend goes, he defeated the South Indian usurper "Elara". After a long day, he bathed in the Tissa wewa reservoir. When he came back to collect his armor he realized that his spear had become unmovable. This spear was embedded with Buddha relics and the king built a monument around the spear. This Stupa was the largest monument in Anuradhapura at the time of construction. However, the stupa you see today was extensively renovated in the twentieth century.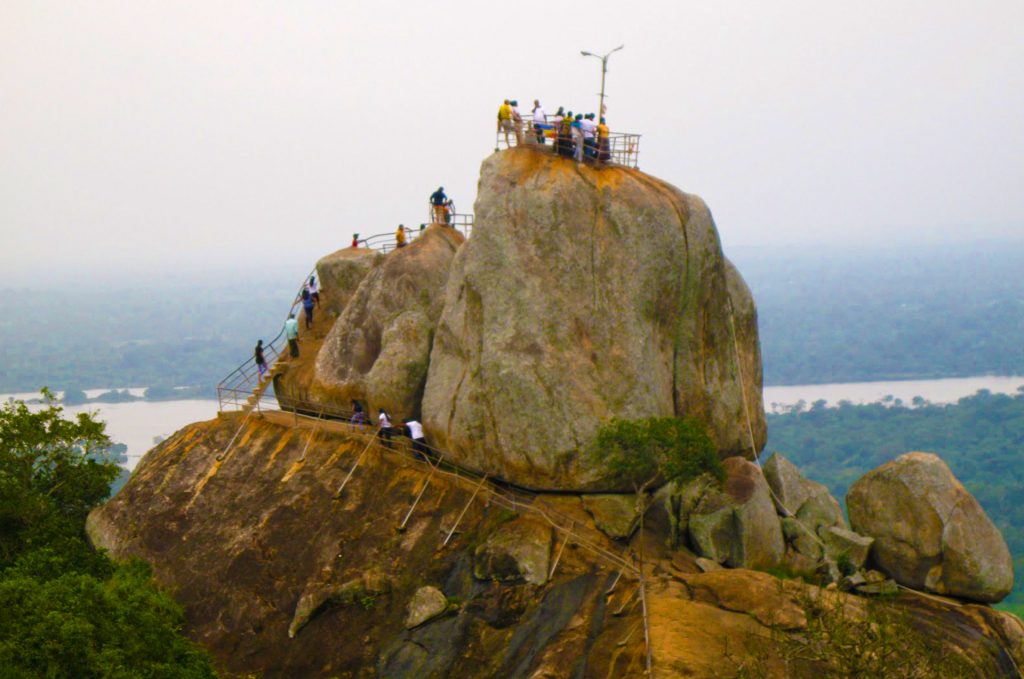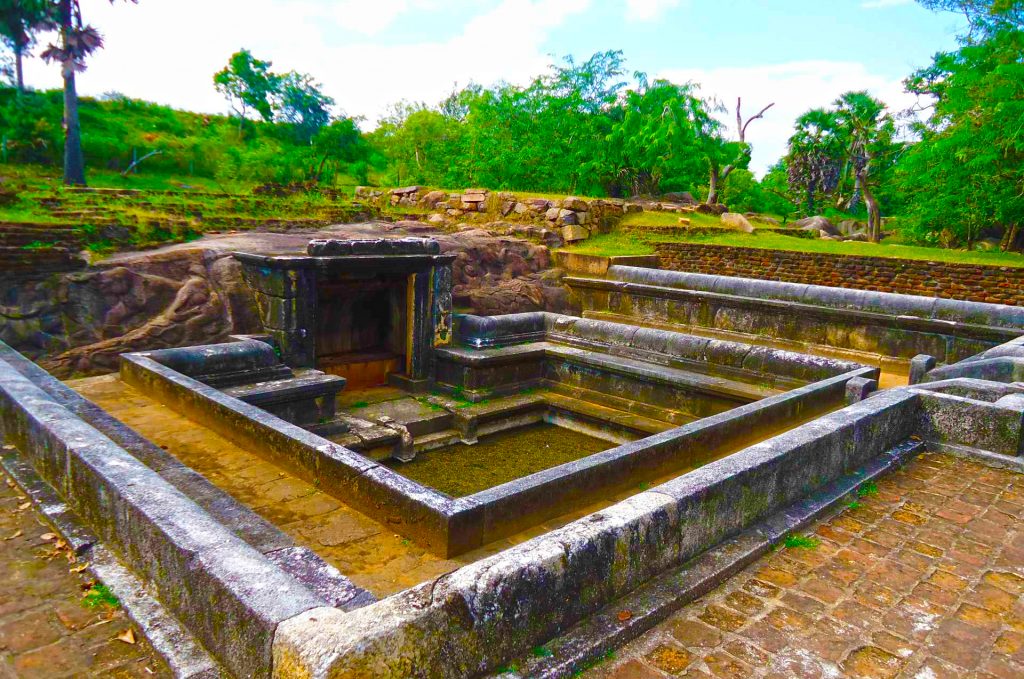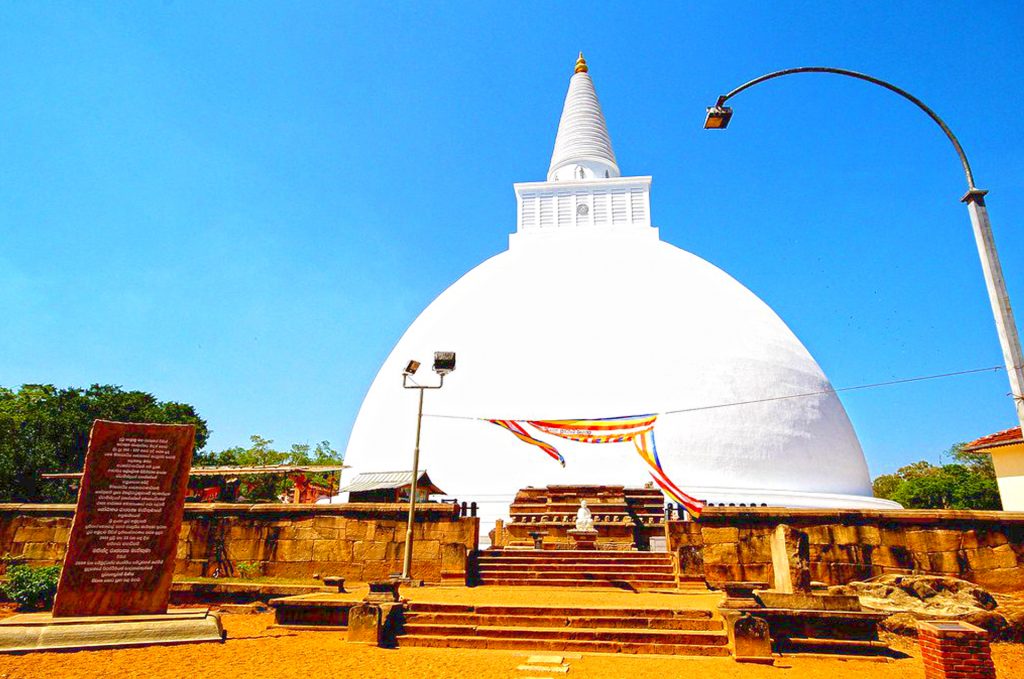 Cycling in Anuradhapura is the perfect way to explore the ruins. It takes the pace out of traveling and gives you enough time to discover your favorite places. Cycling can really benefit you as traveling around Anuradhapura can become tedious if not done properly. The site is well spread out and hundreds of smaller ruins are scattered everywhere. Cyclists are sure to find curious carvings just sticking out, unnoticed by thousands of travelers.
Pros
Takes the pace out of travelling
Gives your visit a free vibe
Get to meet locals along the road (You might even get invited for lunch!)
Enjoy the scenery and let the wind run through your hair
Snap superb photos
Explore all the minor ruins that everybody misses out on
 Cons
Starting point is the Jetawana museum. (Tickets are only sold there.)
Relying on guide books. (You will miss out on interesting nuances.)
Rowdy drivers
It will be hot. Do not forget your biggest water bottle.
A ticket is only valid for a day (Which means you still will have to manage time)
Make sure your legs and shoulders are covered. (or you won't be allowed to enter many places.)
Ancient granite pavements and traditional sand yards are hot in the bright sun and you will be asked to take your shoes off when entering. (Bring a pair of socks!)
Ritigala is a world of its own. It is a residual mountain, which rises abruptly from the near sea level dry plains surrounding it. Height of Ritigala Mountain is 2513 feet and it hosts flora and fauna not usually found in the dry plains. You will see how the climates dramatically changes as you hike up the mountain. In the hike you will also notice the ruins of an ancient Buddhist monastery strewn over a unique forest. The villagers below will tell you legends and folklore surrounding Ritigala that dates back to pre-Anuradhapura times.
Advantages of hiking Ritigala from Anuradhapura
Ritigala is less than 50 kms from Anuradhapura
It is a refreshing site sans the general hot climate of Anuradhapura
As green as it gets in the Sri Lankan dry zone
Many legends surrounding Ritigala gives it a mystical vibe
Spectacular views of the surrounding plains
Low crowds (Proper forest feel)
You might get to chat with a meditating monk.
No guide needed. (Unless you are an archaeologist or something..)
Ritigala is right around the middle of Anuradhapura-Habarana road. (Chances are that you are headed to Habarana after Anuradhapura)
Things to look out for when you are hiking Ritigala from Anuradhapura
Know how to get there. (Especially if you are coming back to Anuradhapura)
Leave before it is dark. You do not want to run into wild elephants at night.
Have a mosquito repellent just in case.
You will be asked not to make loud noises.
Ritigala is a strict nature reserve and not all sectors are open to public.
Take a special bag to collect your wrappings, bottles and other hazardous waste.
Aukana Buddha statue is a masterpiece of Anuradhapura rock masons. It is carved out of existing rock to a height of 11.36 meters. The standing Buddha is still connected to the base rock by a strip of granite left to strengthen the statue. The style of carving dates it to between fifth and eighth centuries and shows Mahayanist influence. Fortunately, it is in a perfect state of conservation and looks over in the direction of the nearby ancient Kala wewa reservoir.
Advantages of visiting Aukana from Anuradhapura
Aukana is less than 50 kms from Anuradhapura
Low crowds (Unless you are traveling on Full moon religious holidays)
No guide needed. (Again,unless you are an archaeologist.)
Aukana is right around the middle of Anuradhapura-Dambulla road. (Chances are that you are headed to Dambulla after Anuradhapura)
Perfect photos of a massive Buddha that is rarely visited
Things to look out for when you are visiting Aukana from Anuradhapura
Know how to get there. (Especially if you are coming back to Anuradhapura)
Leave before it is dark. You do not want to run into wild elephants at night.
You will be asked not to make loud noises.
Wear clothes that cover your shoulders and legs. It is a religious place.
If you are taking photos do not pose in front of the statue or turn your back to it. It is considered very disrespectful.
Guided cultural tours to Anuradhapura most important cultural city of Sri Lanka - Visit Anuradhapura - Sri Lanka Anuradhapura Tours - Guided tours to Anuradhapura - Anuradhapura guided cultural tours - Cultural tours to Anuradhapura - Trips to Anuradhapura - Tours in Anuradhapura