Picturesque Negombo is of interest mostly because of its distance to the international airport, only 10 km down the road – many tourists stroll off long-haul flights to one of the beach hotels in the region, or linger here as the last leg before heading home. Things to do and places to visit in Negombo have made it a perfect city in Sri Lanka for family holidays and honeymoons.   
A few miles south of the city, Negombo Town provides a fascinating intro to Sri Lankan coastal life, a vibrant fish market, an old-world colonial elegance, and dozens of colorful wooden boats. Negombo is the country's biggest fishing village, as well as a famous tourist city.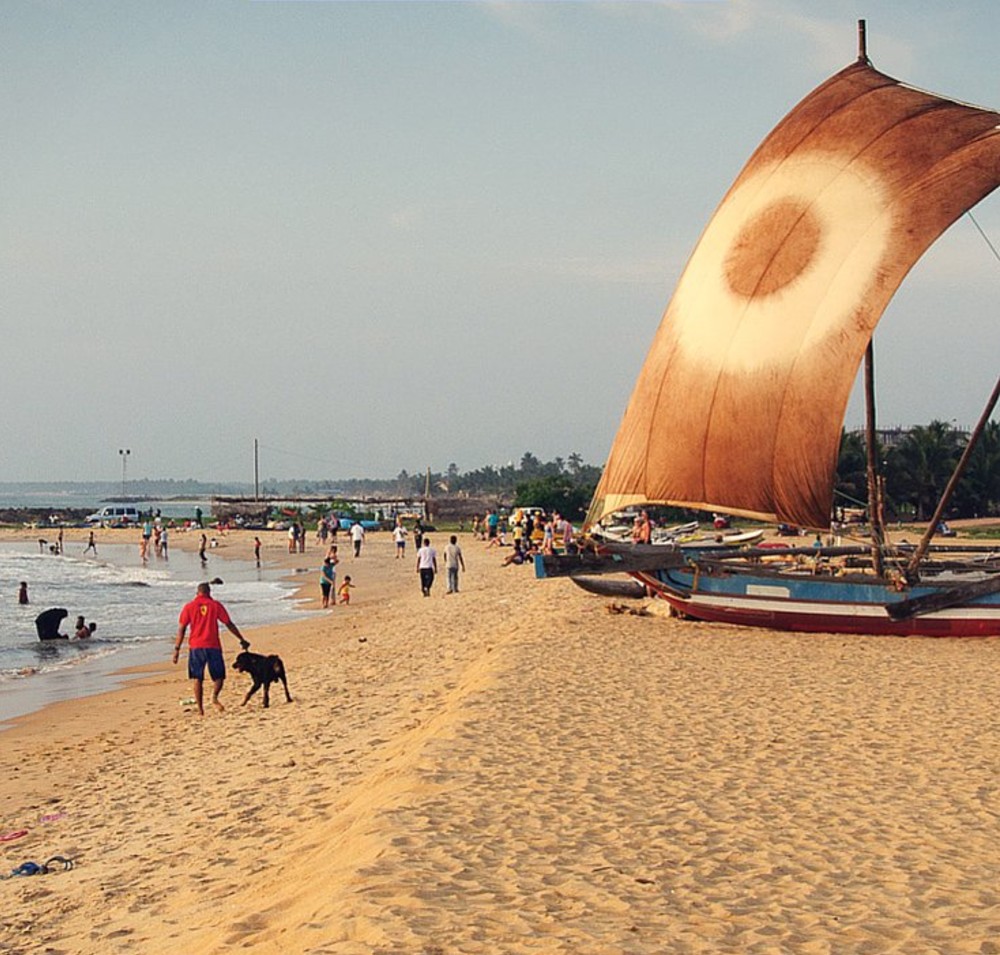 In this article, you will find:
How to get from Negombo to Colombo?
Things to do in Negombo
Well, it's a list of world-famous tourist activities. You can enjoy a perfect family holiday or honeymoon over here. Here's a list of things to do in Negombo before we get to it in more detail:
Shopping at Negombo

Water Sports

Beach Tours

One-Day Tours

Catamaran Dining

Canal Boat Hire

Visit Negombo Beach

Muthurajawela Bird Watching
Now, let's understand it all in more detail. Below is a comprehensive list of the best things to do in Negombo:
Shopping at Negombo: If you enjoy shopping, you may select some fun curiosities and jewels when you're in Negombo. For any budget, you'll find adorable handmade jewelry items. You will pick up fun earrings and bracelets for as few as a few dollars.
If you're prepared to spend that kind of money, pay a visit to Cartier Jewels on the Beach Lane! The team is polite and friendly, so they don't sell bogus stuff! Beachside stores are a nice spot to hang out, so you're likely to find a decent offer while you're shopping around. Negombo Plaza is just another spot to enjoy a few hours shopping on a nice, bright afternoon! This shopping experience is one of the best things to do in Negombo. 
Water Sports:

Negombo is one of the best places in Sri Lanka for adventure

Water Sports

. It's a perfect, sunny beach destination and a year-round travel spot. Negombo is one of the best cities in Sri Lanka for honeymoon couples, as ample water sports are available in the region.
If you love exciting water activities, Negombo is one of the best places for it. Banana boat rides, wakeboarding, skiing, sailing, jet-skiing, and many more things to do over here. 
Beach Tours:

 No vacation in Negombo is complete without visiting the gorgeous beach. Set out early morning with a picnic target and lounge on the beach as the boats depart from the coast for fishing. The golden sands and the beach make room for you to enjoy a short afternoon nap and other Negombo beach experiences. 
There are a variety of vendors on the beach if you're searching for a tasty lunch. Searching for some stuff to do at Negombo Beach, you can also purchase some fresh cod, crab, or shrimps on the nearby market. Be sure to wait before sunset to appreciate the stunning view of the sunset against the magnificent background of the ocean. Beach tours are one of the best things to do in Negombo. 
One-Day Tours:

So, Negombo is a perfect city for holidays, meaning choosing it as a destination for one-day tours is a handy choice. Of course, yes. You can do many things in this tourist town within a day. You can visit many places and enjoy quite a lot of activities in one day. 
You can request your local travel agency to craft a complete day-tour itinerary for you. If you want to enjoy many things in Negombo in a day, contact us! 
Catamaran Dining:

Looking for luxurious things to do around Negombo – There's no finer place to spend a special meal than on a catamaran – You can hire a private catamaran and head out to the sea for a romantic sail and a bbq lunch. 
It is an opportunity you should not skip in a lifetime! This activity is perfect for honeymoon couples. Well, even families can enjoy it for a different experience. 
Canal Boat Hire:

As the Europeans started colonizing Sri Lanka, they often constructed canals to transfer commodities easily from one trade post to another. While products are no longer transported via these preserved canals, they are accessible for an exciting boat ride that is enjoyable and entertaining! When you have just several hours to spend leisurely, you might go on a city tour as well.  
A canal boat ride is one of the best things to do in Negombo. A professional guide can lead you on a guided tour of Negombo Town, covering St. Mary's Church, Angurukaramulla Temple, and Fishermans Bay. This tour will take a few hours, but it's worth the money. It's so romantic; suited well for honeymoon couples. 
Visit Negombo Beach:

Well, this is the heart of this tourist town. Everything, including water sports and other holiday activities, take place thanks to this beautiful beach. As a year-round travel city, the Negombo beach offers a place for every travel group, from honeymoon couples to families. 
Taking a walk along the sandy beach in the evening is a romantic experience. For dinner, you can have an authentic seafood menu offered by a local restaurant. Quite a lot of tourist hotels and resorts are in place near the Negombo beach, making spending time on it one of the best things to do in Negombo. 
Cycling in Negombo:

Throughout about 4-5 hours, you can ride through the most stunning and fascinating facets of Negombo and learn about its past, as well as the most exciting sights. A tour guide can lead you on a cycle tour of the city of Negombo. You're going to be shocked by how much of the landscape you usually overlook. It's easy, it's comfortable, and you're going to see a lot more on your bike. Your guide is going to tell you fascinating details and lovely stories from all the fun locations you're exploring. We'll pause for a refreshment and a local snack throughout our trip. 
The standard Negombo bike tour is approximately 10 km. Short and perfect for 10 years old and beyond, as short as you are comfortable in commuting and accustomed to city flow. You may also request for tailor-made family tours. Cycling is fun, and when it happens in Negombo, things get even exciting. 
Muthurajawela Birdwatching:

It is an interesting experience for those who enjoy bird watching in a stunning natural setting. Muthurajawela wetland has over 194 species of flora, spread across seven different habitat groups, including marshland, lactic flora, shrubland, reed, wetlands, grassland, riverbank and mangrove plantation. 
The wetland of Muthurajawela is home not just to birds, but also to several types of fish, reptiles, and mammals, including nationally protected species. The leadership of an accomplished bird guide/naturalist makes this much more unique and stimulating. Ideal day trip to either Colombo or Negombo as it is situated near both towns.The chance to connect with nearby fishing groups. This is also one of the best things to do in Negombo; don't miss it! It's one of the best places in Sri Lanka for Bird Watching Tours in Sri Lanka.  
Alright, let's see the best places to visit in Negombo now
OK, what is the places to visit in Negombo? Again, these places also take top spots in the best places to visit in Sri Lanka; here's a quick list for you:
Places to Visit in Negombo 
Dutch Fort

Negombo Lagoon

Fishing Village

Dutch Clock Tower

St. Mary's Church

Kelaniya Buddhist Temple

Hamilton Canal
Dutch Fort:

The Dutch Fort is one of the best places to visit in Negombo. The construction of the fort reflects the colonial days of Sri Lanka when it was under Dutch control. 
A trip to this fort is reminiscent of the memories of the city during the Dutch period. It's a majestic fort that can take your breath away. You can cover this place during a one-day tour or cycling tour in Negombo. 
Negombo Lagoon: The Negombo Lagoon is one of the key tourism destinations in Negombo. The Lagoon is situated 40 km north of Colombo. This is part of the Negombo southern wetland lagoon and the Muthurajawela wetlands. 
The water depth is around 2m and has a narrow gap to the north of the bay. You can spend some quality time over here, making it one of the best places to visit in Negombo. 
Fishing Village:

Other than Negombo outdoor activities, this town is also a fishing village that you shouldn't miss. It's an informative visit to the fishing community. Fishing is how the city started and is now the cornerstone of the local economy. 
Located in the outskirts of the area, visitors can spend a peaceful night wandering around the fishing town and gain some insight into how the fishermen make their living. As described above, Negombo is the largest fishing town in Sri Lanka. If you are looking for the best places to visit in Negombo, keep this on your list.  
Dutch Clock Tower:

As well as the sandy beaches of the town, the Dutch Clock Tower is one of the many locations to visit in Negombo. The Dutch Clock Tower is situated at the peak of a small cliff. Visitors have to pass the prison entrance to access the tower. 
A ride to the clock tower should carry you back to the era of exploration. You can cover this place during a cycle tour in Negombo. 
St Mary's Church:

Negombo is a town that is strongly influenced by Christianity and has several churches. One of the top places to visit in Negombo is St. Mary's Church. 
The church is a tall, majestic building with a luxurious interior. This consists of three stages that can be seen when you enter the church from the front.
Kelaniya Buddhist Temple: If you've seen all the big attractions and wondering what else to do in Negombo, you may have skipped the iconic Kelaniya Buddhist Temple, which is one of the prime worshiping places in Sri Lanka. Situated only 20 km south of the capital, the temple has beautiful paintings that make you stare at them for hours. 
Tourists can even enjoy a few relaxing hours meditating and resting quietly in the temple. There are also tiny market stands right outside the temple that has moments and sculptures of the god of the shrine. Before you get home, you can purchase any of them and carry them as a remembrance. Unquestionably, this is one of the finest locations to explore near Negombo.
Hamilton Canal:

The Dutch had a passion for the canals, and the town of Negombo is happy to prove it. There are canals extending all the way north to Puttalam and south to Colombo. 
Tourists can rent a bike to navigate the roads of the Hamilton Canal and appreciate the beautiful views of the tiny villages along the route. If you didn't take a canal trip to Negombo, you're definitely lacking something. All in all, Hamilton canal is one of the best places to see in Negombo. 
Brilliant, we have covered all the best things and places to visit in Negombo. And now we know that you want to visit this beautiful beach town. You need an expert local travel agency for it, and you have already discovered that. 
Why Visit Negombo Instead of Colombo?
Negombo is a small town, and there are many tourist attractions nearby. Colombo is a larger city, with all the major tourist attractions spread around the area, where you'll need some form of transportation. 
While Negombo in Sri Lanka is a stopping point, there are plenty of opportunities for you to get to know the day-to-day life of the people living in the country; visit the Fish Market, or even walk through the lagoon in the heart of the region. 
Colombo is a city that is super-wealthy in attractions. It's very busy, though, so it's almost difficult for you to move away from all the noise of the city. In any scenario, the two cities are worth visiting. Each of them discloses its own sense of self and has different but equally exciting tourist attractions that the whole world knows.  All in all, Negombo holidays are a perfect fit for all travel lovers. 
How to get from the airport to Negombo and vice versa?
Well, Sri Lanka is a much safer country now. Therefore, you can rely on private or public transport. However, you have to be careful, as well. Negombo area is safe for both sexes, even those of you who choose to go alone. Colombo is also another safer tourist city in Sri Lanka, where the police and tri forces are in place for the safety of all.  
Down the lane, there's a bus station that will carry you to Negombo without any complications, despite being a little time consuming. Another tip is to download the Uber app and contact the driver through the application, which is more secure and faster. The benefit is that they're cheaper, and you're only paying one direction.   
OK, what's the best way to travel from the airport to Negombo in Sri Lanka? Well, the best choice is planning your Negombo holiday with a reputable local travel agency like us. When you plan your holiday with us, we make sure everything, including transportation, is ready for you. 
Private car hire with a guide or chauffeur is a handy choice, and your local travel company can arrange those for you. 
How to move around Negombo?
As mentioned earlier, Negombo is a small and quiet place, and walking is the best option. You can tour the city on a bike, too. 
If you want to enjoy a holiday with comfort and luxury, we recommend that you hire a private car with a guide or a chauffeur. You can go wherever you like with a private car and driver in no time, making your Negombo holiday a smooth and more enjoyable one for all. 
What are the best hotels and restaurants in Negombo?
We give you a list of the best hotels and resorts in Negombo here:
Pledge Escape

Heritance Negombo

Vivanta Colombo, Airport Garden

Arie Lagoon

Villa Kapuru

Dickman Resort

Villa Shade

Camelot Beach Hotel

Palm Villas Negombo

Amagi Aria

Full Moon Garden Hotel
You can enjoy a perfect Nehombo holiday in any of these star-grade hotels and resorts. 
The nightlife in Negombo
Chilled out bars and nightclubs are in place on each side of the long street of flashing lighting in the center of the area. The city is also very well-known for its beach cafés and restaurants offering new seafood cuisines. When the sun disappears, Negombo Sri Lanka gathers life and vitality from the beach. If you want to enjoy the nightlife, be sure to visit this city, particularly the bars and restaurants in Negombo that nightlife activities take place. 
Below are two famous places that you have to visit when you are spending a Negombo holiday. 
Ice Bear Century Cafe: deliver beers

Rodeo Pub: live jazz, delicious drinks, and turn-ons
When it comes to nightlife in Negombo, everything happens in control. It's chilling, romantic, and enjoyable at the same time. You can walk along the beautiful Negombo beach under the stars for a romantic experience if you are in Negombo for a honeymoon. At night, things get so magical in beautiful Negombo. 
How many days to spend in Negombo?
Well, the choice is yours. You can even spend a week in Negombo. Nonetheless, as we have already said, Negombo is the area of entry or exit for Sri Lanka. 
We suggest you travel for a maximum of 2-3 days and take a ride to Colombo as the cities are nearby. It's worth visiting nearby markets, traditions and watching the adventures of the lagoon. Enjoy the beach food and why not chill in one of our hotels and resort recommendations. 
You can spend a complete honeymoon in Negombo, enjoying water sports and some of the best tourist attractions. However, Sri Lanka is host to many world-famous tourist attractions. Therefore, you would still benefit from saving time to explore other lovely places.
The weather and the best time to visit Negombo
The weather & climate in Negombo is warm, making it a perfect choice for beach holidays in Sri Lanka. Temperatures vary from 23 ° C to 32 ° C and do not surpass 34 ° C. 
While the temperatures are average, the humidity of the air is high and there are minor seasonal variations. The best time to visit Negombo is from mid-December to mid-March. Anyway, it's safe to say that Negombo is a year-long travel choice; you can visit it at any time of year.
Contact us and book your memorable holiday in Negombo!