If you are looking for an island that embraces unique wildlife that would undoubtedly take your breath away, then this island should be your number one choice. Wildlife tours in Sri Lanka are unique in many ways, making those famous around the world. At Overa Tours, we are here to create impressions and memories that last a lifetime through such all-embracing safaris and tours that get you closer to nature, animal & bird species endemic to this glorious island.
The fact that this county is a compact island makes it easier when planning a tour or trip. You could be a local or foreign traveler who craves witnessing some of the world's most amazing creatures. You can make this wish come true through one safari with us. Moreover, we can highlight the following factors that make Sri Lanka unique for exclusive wildlife tours:
 The island is one of the biodiversity hotspots in Asia.
 Hundreds of endemic animals do live here; you only see those magnificent creatures here.
 Lastly, a cluster of national parks exist, and the road chains to those parks are in sound conditions now.
A quick tip: wildlife photography tours in Sri Lanka has become a top choice among the world's passionate animal lovers.
We are masters of it. To make your "animal-loving-witnessing" inner wish come true, we take you to the hearts of the island's that holds splendid species in ample amounts. Whether your inner desire is witnessing the Sri Lankan elephant or a birding tour, we make it happen in style. As our company websites highlights, exclusive wildlife safaris cover the following elements:
Knowledge That Makes The Safari An Expedition.
A quick tip for you: wildlife elephant safari Sri Lanka or birdwatching at one of the dedicated national parks certainly gives you the best possible experiences in all terms.
The fact we highlight here will surprise you; did you know that this small island holds 22 national parks? Thus, what else required to prove that the pearl of the Indian Ocean is the best destination for wildlife holidays? The country's government has taken all the steps to make all national parks safer places for animals and travelers. Therefore, your safety is safe here.
Out of all, the noble Yala Park deserves a special mention as the country's most famous wildlife destination. Our exclusive holiday packages include safaris in this all-in-one wildlife destination, too.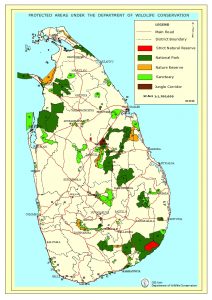 Sri Lankan Wildlife:
While the elephant is the icon of the island's wildlife, but many more unique species do live in here. Thus, you can observe hundreds of various animal species, including mammals, reptiles, fishes, and birds over here. Want to know who those enchanting animals are? Below is a list for you, then:
1) Elephant: Minneriya and Udawalawe national parks are the best places to see elephants in large numbers, and August to September is the best time of the year for elephant safaris.
2) Leopard: Sri Lanka is the best country to explore this attractive animal in casual settings. Yala national park holds the highest number of leopards, and May to October is the ideal time to witness it.
3) Sloth Bear: A smaller version of the typical bear. Again, the Yala national park is the best place to see it; you will mostly see this animal amongst the fruit trees. June and July are the best months for this sighting.
4) Turtle: Sri Lanka is the home for five turtle types. The Kosgoda sea turtle conservation project or turtle watch Rekawa are the most famous places for turtle-watching. October to April and November to May are the ideal times of the year for seeing adult and baby turtles on sandy beaches, respectively.
5) Sambar Deer: Another iconic animal that you can see at Yala national park. Anyway, the Horton Plains is the best place for sambar deer spotting, and dry season makes them search for water sources, opening doors for travelers to observe this deer.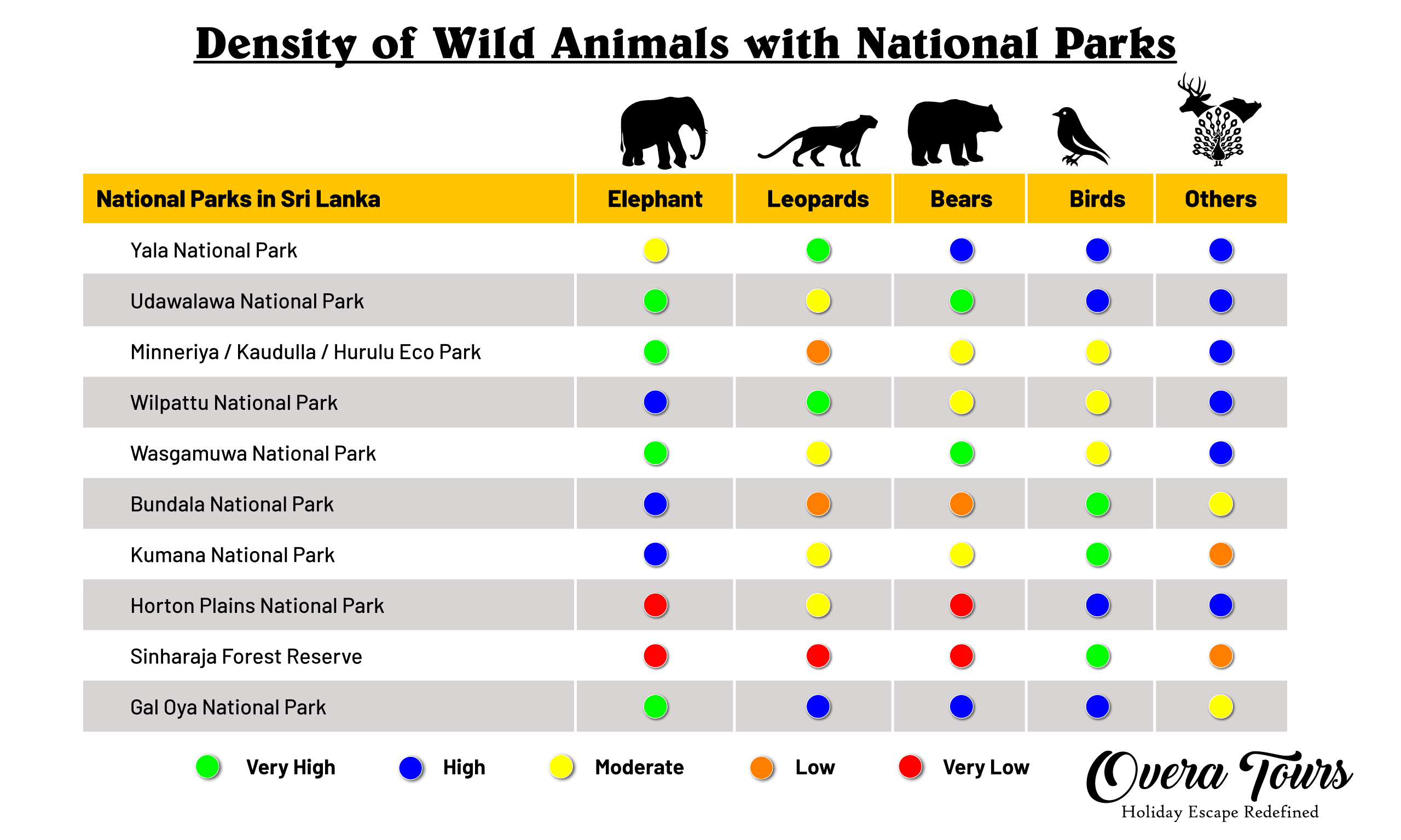 Well, these are only a few unique animal species that you can observe through wildlife tours in Sri Lanka. The giant blue whale and hundreds of reptile and bird species are the bonuses of wildlife safaris on this island.
What you did read so far made you understand that this is the best country for guaranteed elephant and other endemic animals spotting, and Overa Tours is exclusively here for this purpose. When it comes to holidays spent with nature and the animal kingdom, we come in handy for you.
No matter you are a local or foreign traveler, planning your holiday in the right season and at the right time gives you the maximum out of it.
Make sure you search for holiday packages introduced by award-winning tourers. For example, Overa Tours has received the Certificate of Excellence award from the world's largest travel website, TripAdvisor.
Plan your wildlife holiday with a local tourer for middle-man free service; this makes sure that there are no hidden charges.
There's nothing called "One Holiday Package For All!" It is all about customization, according to every traveler's requirement.
Our bunch of exclusive wildlife holiday packages in Sri Lanka covers it all. On the other hand, you can think of birdwatching tours, too.
Closing Thoughts: On an island that shines as the pearl of the Indian Ocean, spending a few days witnessing the most amazing creatures is one of a kind holiday experience. Wildlife tours/safaris in Sri Lanka are irreplaceable.
When you plan such "days to remember" with a licensed and well-established tour planner like Overa Tours, then what you get to enjoy is only the magnificence of the island and its components, such as unique wildlife including birds. Discover your exciting safari with us! Our Sri Lanka wildlife tour/holiday packages extend from eight to 15 days. Or, you can let us know your requirements, then we craft the best for you.