Sri Lanka is one of the world's best honeymoon destinations, and there's no doubt about it. So, why not spend the most romantic holiday of your life with your better half in a super luxury hotel here? Sri Lanka luxury honeymoons are so famous as many romantic destinations are all over the small island with supporting star-grade hotels and resorts. Your most-complete honeymoon spot in the world is Sri Lanka, and we make things easier for you by summarizing the best hotels within the country's best honeymoon destinations.
* The Best Sigiriya Honeymoon Hotels:
Sigiriya is a spectacular destination for luxury honeymoons in Sri Lanka. It is a collection of nature's beauty, historical significance, and perfect weather.
Aliya Resort & Spa Sigiriya:
Located within the lush greenery of rolling fields and renowned for one of the best spas in Sri Lanka, the Aliya Resort is our top recommendation for your dream luxury honeymoon in Sri Lanka. The elegant and stylish resort comes with a picturesque view of the Sigiriya Rock Fortress too.
Honorable Mention:
Jetwing Vil Uyana deserves a place over here. Sustainable modern design, endlessly romantic atmosphere, set among forest and paddy fields; Jetwing Vil Uyana yet another spectacular hotel choice for honeymoon Sri Lanka in Sigiriya. Individual bungalows and own plunge pool in the garden for the most-wanted private intimate times.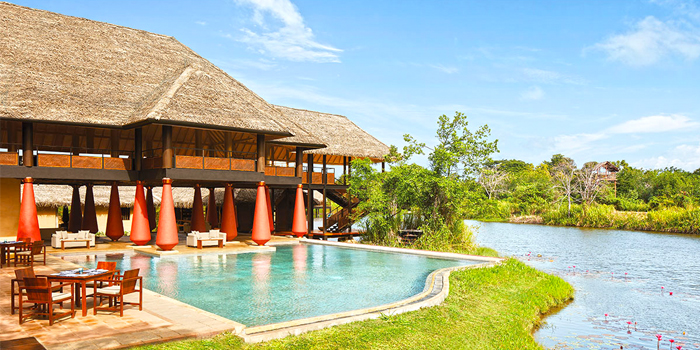 Source – Jet Viluyana
A quick tip: a romantic hot-air balloon ride is a must-do during your honeymoon in Sigiriya. Also, don't forget to climb the Sigiriya Rock Fortress. It's going to be an adventurous experience.
* The Top Kandy Honeymoon Hotel:
Kandy is the last kingdom of Sri Lanka, making it one of the eight world heritage sites in Sri Lanka. Religious significance and splendid landscapes make Kandy a top destination for Sri Lanka honeymoons.
Elephant Stable Kandy:
Elephant Stables is a colonial building now turned into a luxurious boutique hotel. Amazing views, spacious rooms, great atmosphere, and delicious foods. This hotel is one of our top recommendations for luxury honeymoons in Sri Lanka. Well, you can get endlessly romantic over there.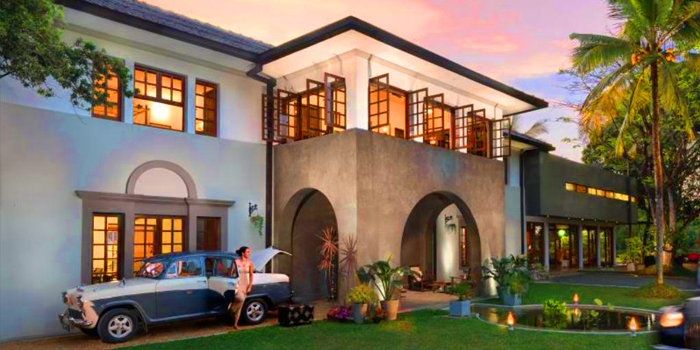 Source – Elephant Stables
Tip for lovebirds: visit the Royal Botanical Gardens, which is just a few kilometers away from this top Sri Lanka honeymoon hotel. A private chauffeur tour in the city is another enjoyable activity to try over here.
* Top Nuwara Eliya & Ella Honeymoon Hotels:
These two destinations are hilly paradises and real treasures for lovebirds who search for romantic honeymoons in breath-taking nature in Sri Lanka. Cool climate, lush green misty mountains, highly-scenic landscapes, and tea make these two destinations world-class for your first romantic holiday after the wedding.
Heritance Tea Factory Nuwara Eliya:
An absolutely charming hotel with amazing surroundings and located right in the middle of a landscaped tea plantation. This is the best place in Nuwara Eliya to spend a memorable luxury honeymoon in Sri Lanka.
98 Acres Resort & Spa Ella:
A multi-award-winning hotel for its star-grade service and exceptional quality. Enchanting sunrise, Ella Gap, tea plantations, and Little Adam's Peak are visible from honeymoon rooms. If you plan for a luxury Sri Lanka Honeymoon in Ella, this is our best recommendation for it.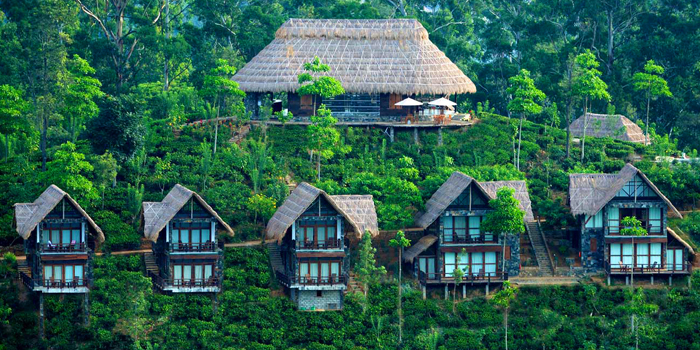 Source – 98 Acres
Our exclusive tip for honeymoon couples: Nuwara Eliya and Ella are only a few miles apart. You can cover it by a world-famous train ride. So, why not plan your honeymoon in Sri Lanka covering both these beautiful destinations? Tea plantation trekking adds some adventure to your romantic honeymoon in Nuwara Eliya.
* Top Yala Honeymoon Hotel:
Yala is the perfection for couples who adore wildlife Sri Lanka honeymoon experiences. While the leopard is the animal that presents the uniqueness, this most-famous national park on the pearl of the Indian Ocean is a full package of mammals, birds, reptiles, and many more.
Jetwing Yala:
Luxury in the wild. Just 10 minutes away from Yala Park's main entrance. Close to the wild coast beach as well. This resort has everything for a perfect honeymoon in the wild. You can see the wildness of the area outside, but feel protected and isolated inside. This is what all you need for a romantic time with your better half.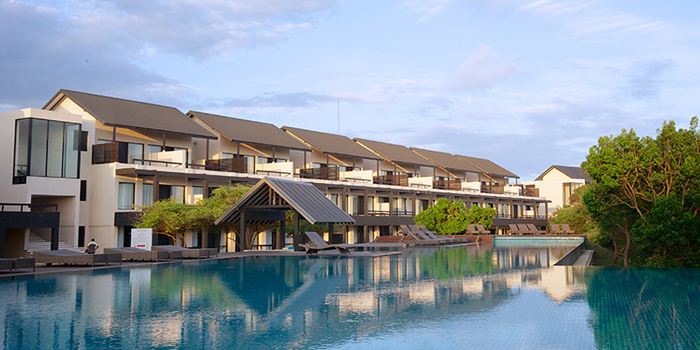 Source – Jet Yala
Honorable Mention: Wild Coast Tented Lodge deserves a special mention. It is all about world-class architecture in the wild. This hotel also should be on your list when considering a Sri Lanka honeymoon holiday.
Tip For Newlyweds: Nighttime camping is the perfect opportunity for honeymoon couples to enjoy the climax of their holiday in wildlife and nature.
* Top Tangalle Honeymoon Hotels:
A truly exciting destination with a lovely beach and exclusive for Sri Lanka honeymoon holidays blended with adventure, wildlife, and culture. "A beachy honeymoon paradise" is all that we can say about Tangalle. It is exciting, romantic, and serene at nighttime over there. The beach itself is perfect for romantic walks at nighttime under a sky full of shining stars and watch turtles crossing the beach.
Anantara Peace Haven:
A high-grade resort located on a 42 Acres coconut plantation and the golden crescent beach adds priceless value to it. You can live out your dreams here, and spend private times in a peaceful world of your own. The resort is pretty closer to the country's national parks, iconic cultural sites, and the glorious Indian Ocean right in front of you two. Without a doubt, Anantara Peace Haven is a lovely place for luxury honeymoons in Sri Lanka.
Expert Tip For Tangalle Honeymoon: Late night turtle watching tour on the beach is pure pleasure for honeymoon couples. Also, Sri Lanka's famous national parks are much closer to Tangalle. Whale watching is another thrilling activity to try over here.
* Top Galle Honeymoon Hotel:
Galle is a top travel and honeymoon destination in Sri Lanka. It is not just the glorious Galle Fort here. Of course, the Dutch Colonial Fort is amazing, but honeymoon couples have a lot more to do in Galle. The beach by the colonial fort is another treasure for lovebirds to enjoy romantic moments. Walking along the streets at night is quite a unique experience.
Amari Galle:
Located just about 20 minutes away from the Galle Fort. The outside setting is perfect for daytime excitement. Once you get inside, it is all about sharing your special moments in luxury, privacy settings here. All in all, Amari Galle is our best choice for luxury Honeymoons in Sri Lanka.
Something Extra For Honeymoon Couples: You can drive to adventurous water sports and whale & dolphin watching sites along the southern coast easily from Galle.
Have you already chosen Sri Lanka as your honeymoon destination? At Overa Tours, we are here to make things easy for you. We are here to help you decide the best luxury Sri Lanka honeymoon destination and hotel. Contact us and plan it all in style!