Madu River Boat Safari is excellent for tourists in Bentota, Induruwa, Kosgoda, Ahungalla, Aluthgama, Beruwala, Kalutara, and Wadduwa. If you are looking to obtain a memorable experience of safari lagoon seeing mangroves, many small islands, and rare animal species, then Madu River Safari is the perfect thing for travelers in and around Bentota.
The Madu River is in the southern part of Sri Lanka, in the Galle district. Balapitiya is a small village in the district, which would be rather insignificant, except for the proximity of a river. The river Madu is indeed very rich in biodiversity. It travels through the wet region of Sri Lanka, which opens into the massive Madu Lagoon on the way to the Indian Ocean. The Madu River area around the river is all swampy marshland dominated by mangrove forests and occupies more than 61 hectares or more than 150 acres. 14 of the 24 mangrove species found in this region. The wild boar is the largest species in the area. There are other smaller species, such as monkeys, several squirrels, making this boat safari one of the Best Things to do in Bentota.
Boat Trips in Madu River for Birdwatching: Take a magic speedboat cruise down the lovely Madu River, a wetland body of water spanning over 900 hectares, 770 hectares of water, and occupied by 64 small islands. A boat trip is a perfect way to look more closely at this diverse wetland ecosystem. The mangrove forest is a World Heritage Site preserved by the Ramsar Convention on Wetlands, which is one of the only wetlands in Sri Lanka to hold intact mangrove forests. If you have plans for a holiday in Bentota in Sri Lanka, then this exciting activity has to be a part of it.
In addition to cruise trips, visitors can also choose bird-watching experiences. About 111 bird species are living in thick mangrove forests, making Madu River Boat Safari a perfect option for Bird Watching Tours in Sri Lanka. When accompanied by local travel experts, tourists can take a glimpse at the lives of the amazing birds that dwell in these thick mangroves. Birds, such as kingfisher and cormorants, are easy to spot.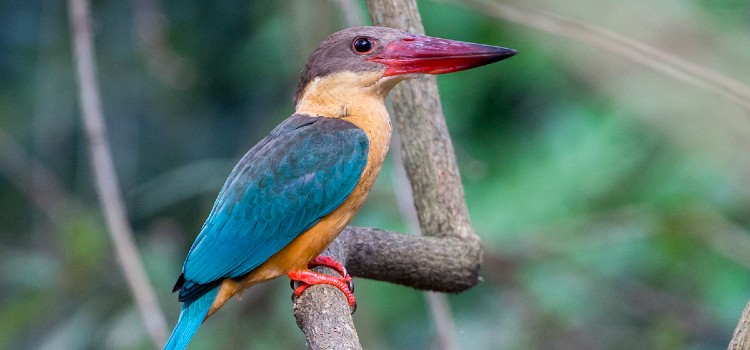 Other Reasons for Visiting Madu River During Your Bentota Holiday: As one of the most famous beaches in the country, Bentota is a perfect travel destination for multi-theme holidays. And The Madu River Boat Safari is a brilliant experience that you absolutely have to do if you are on a holiday trip to Bentota in Sri Lanka. This amazing experience lasts more than two hours and offers the tourist an opportunity to pass through the mangrove forests in secret and witness and enjoy the ecosystem.
Your boat safari will proceed through vast mangrove trees, glide through the cover of the jungle tunnels as they teasingly bend towards the body of water. You can take a look at the rich biodiversity of the Madu River and its nearby islands, which boast hundreds of birds, plants, fish, and animal species. This boat safari is the most widely known activity in the area, helping to improve the tourism of the Madu River in every aspect, as well as adding more value to Bentota in Sri Lanka.
Plan Your Bentota Holiday and Madu River Boat Safari With Us: When it comes to beach holidays and boat safaris, we are the real deal. No matter your reason for visiting amazing Bentota, honeymoon or family holidays, we can combine it with Madu River Boat Safari and make the overall experience even PERFECT.
Contact us today for more information!