Are you planning to visit Thailand with the kids? If you want everything to go off without a hitch, this is the ultimate guide for you. There is a dizzying variety of things to do and see in Thailand with your children.
When it comes to family vacations in Asia, Thailand is often at the top of the list. In addition to its breathtaking beaches and fascinating culture, this bold vacation spot is also home to some of the best cuisine in the world. To top it all off, you can have these adventures in a safe nation populated by kind locals.
Why visit Thailand with kids?
It is easier than you imagine to travel to Thailand with kids. This international tourism hub is among the very best places in Asia to take the kids. Thailand is a great place to take the kids since it's cheap, has a well-developed tourist infrastructure, and has year-round balmy weather. Beaches, amusement parks, and cultural sites with hands-on activities abound for visitors with children of all ages.
The land is dotted with cities and villages where you may have once-in-a-lifetime experiences. Take your kids to the north of Thailand and show them the forests and mountains there while visiting old sites. To find paradise, azure waters, and quiet beaches, you should go south.
In addition, Thais are known for their warmth and hospitality, especially toward youngsters. It's true that certain travel spots are better suited for families than others. Bangkok, Chiang Mai, and the southern islands of Phuket and Koh Samui are among the most highly suggested destinations in all of Thailand.
When is the ideal time to visit Thailand?
Thailand is a great destination any time of year because of its varied climate. The months of December through March, when the weather is pleasant and dry, are Thailand's busiest. Even on the sunniest days, tropical locations might experience sudden downpours.
The east coast has pleasant temperatures and little precipitation, on average, from January through February. The dry season in northern Thailand, where humidity is lower, lasts from November to May.
From the end of January to the middle of March is the best time to visit the islands in the Gulf of Thailand, including Koh Samui. The climate of southern Thailand is characterized by relatively stable temperatures throughout the year.
From February to April, temperatures in central Thailand may reach 40 degrees Celsius. The nationwide wet season typically begins in May and continues through October, with regular bursts of rain and the odd storm.
Top Activities to Enjoy with Your Family
1. Spend time with the elephants up close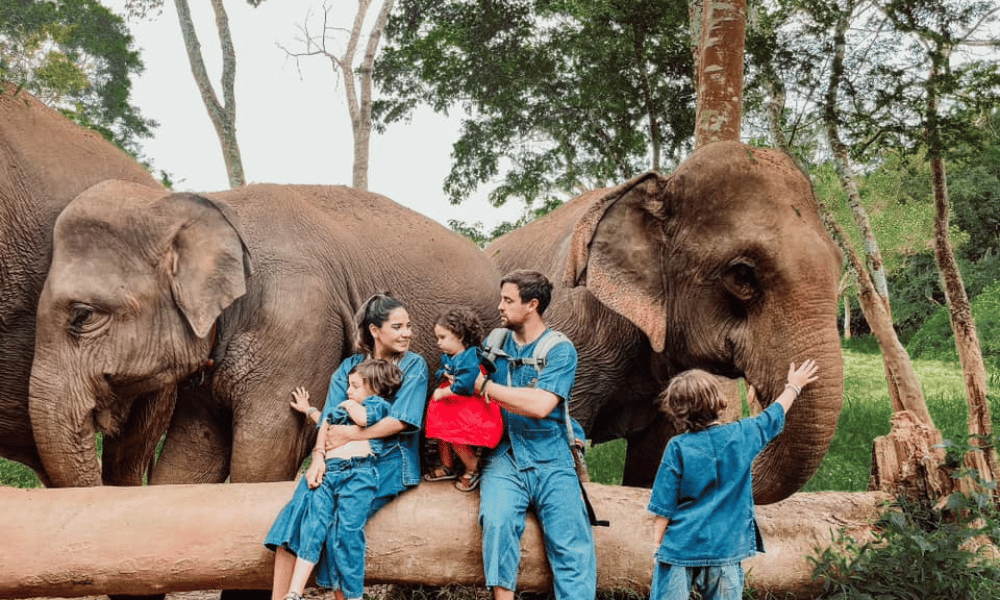 One of the nicest things to do in Thailand with kids is visit an elephant sanctuary. A meeting with these magnificent but peaceful beasts is a must on each Thai family holiday because of the elephant's status as a treasured national emblem in Thailand. The fulfillment of this dream is likely to be a once-in-a-lifetime opportunity. There are many family-friendly elephant sanctuaries and camps in Thailand. All visitors may have a low-key, responsible experience with elephants in these clean places.
Northern Kanchanaburi and the Phuket region are home to Elephant's World. Elephant Jungle Sanctuary and Khao Sok National Park also have private camps. However, northern Thailand's hilly areas are home to some of the country's most well-known and groundbreaking sanctuaries.
2. Make a splash at a waterpark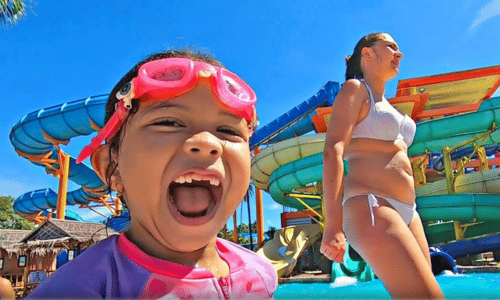 Thailand's tropical climate makes water parks the perfect place to cool down and have fun after a day of touring. To its credit, Thailand is home to a number of water parks that meet or exceed the criteria set by international organizations. The majority of these parks are located in areas that are popular with tourists. The long-running Siam Amazing Park in Bangkok's metropolitan area has both a large water park area and a separate amusement park.
Fantasia Lagoon is an affordable water park featuring pools and slides, as well as a games and entertainment area. The whole arrangement is on the top floor of The Mall Bangkae. Pink Elephant Samui Water Park, located on the island of Koh Samui, is a family-friendly amusement park with a focus on younger visitors.
3. Action afoot in Phuket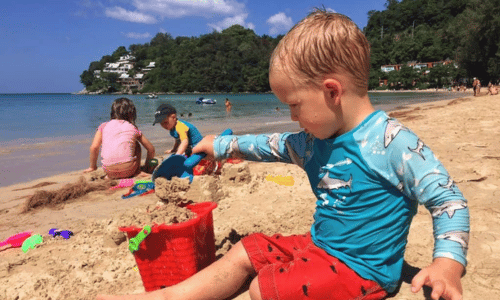 The biggest and busiest island in Thailand, Phuket, is a well-known destination for family holidays. It is located in the southern Andaman Sea. It's a scenic area that offers a wide variety of fun things to do and see for families with kids of all ages. The amenities are top-notch. There are over 30 beaches, several of which are right in front of luxurious resorts with kid-friendly pools.
Children will like the gentle sand and shallow seas. The family as a whole may go on boat cruises to the beautiful nearby islands. Older kids can try out all the watersports available.
Phuket also has a wide variety of non-beach activities to keep you occupied if boredom or bad weather sets in. You may also visit the Kathu Hanuman World Zipline Adventure in addition to the Splash Jungle Water Park. At Fantasea Phuket, a cultural theme park, you can rappel into the jungle or fly through the treetops on ziplines.
4. Explore the underwater world with a kayak or snorkel
You will love this activity when you visit Thailand with kids. The southern region of Thailand is home to several of Thailand's famous tropical islands. Crystal-clear seas of bath-like temperatures teem with tropical fish and corals off the coast of these picture-perfect islands with powdery white sand beaches. This creates an ideal environment for youngsters to enjoy water sports like sea kayaking and snorkeling.
Koh Phi Phi and Phang Nga Bay in the Andaman Sea and Koh Samui and Koh Kood in the Gulf of Thailand are popular tourist destinations. They offer stunning natural beauty, peaceful, safe, and sheltered seas, and secret caves and grottoes. Resorts or tour operators on guided boats may readily provide the necessary gear.
5. Learn to cook Thai food with kids
Thai food is among the best in the world. So, why not learn some of the recipes while you're there and make them at home? If you're looking for something to do with your kids that will hold their attention for a long time, look no further; this is it! In all the major tourist areas of Thailand, you may find hundreds of well-run programs and schools taught by English-speaking Thai cooks.
Many people start by going on a market trip with a local expert and learning how to cook traditional Thai food. The day will culminate with a leisurely sit-down lunch, when the kids may enjoy dishes made with the unusual ingredients they've learned about.
Some culinary schools are willing to teach children. They often provide family-friendly workshops with shorter lessons, less intense recipes, and kid-friendly directions. All in all, learning to cook is among the best things to do when you visit Thailand with kids.
6. Enjoy your time in Wonderland. Bangkok
Bangkok is a fantastic place to take the kids since it has so much to offer and is inexpensive. There are many fun things to do and see in Bangkok that your family has never done before. Family-friendly activities in Bangkok include:
The informative and engaging Children's Discovery Museum
Trips to the Siam Paragon shopping center
The Dream World and other theme parks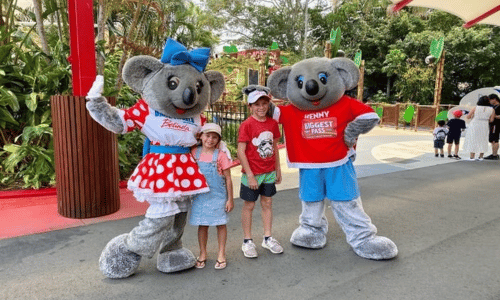 The extensive and interactive education venues
If you're looking for a break from the hustle and bustle of Bangkok, travel to Lumpini Park. It's a massive, large green area with a variety of recreational amenities. You can also join a guided boat excursion to see the canals off the Chao Phraya River or the outskirts of the city and its famous floating markets.
7. Spend some time in a national park, letting nature take its course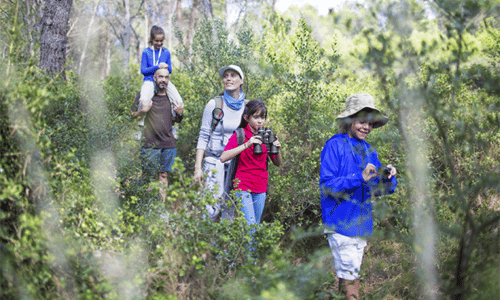 There are numerous wonderful national parks in Thailand. These parks are ideal places for children to run off some steam and get up close and personal with species native to Asia. Families can also take part in supervised outdoor nature activities such as canoe cruises and walks in the forest.
Some of the oldest rainforests on Earth may be found at Khao Sok National Park, which lies north of Phuket. The park also offers guided activities like bird viewing, boat trips on Cheow Larn Lake, and bear and tiger spotting. Plan a multi-day jungle excursion if possible.
Khao Yai National Park, located north of Bangkok, is a great place to go camping with the family for the day or even for a whole weekend. Some of Asia's biggest mountains, waterfalls, and lakes may be found in this World Heritage Site's monsoon rainforest. Book a private wildlife tour, which may include a night safari. Families can also go on a guided hike or mountain bike ride along miles of trails. This allows families to see hundreds of different species of wildlife, birds, and plants.
The best resorts to book when visiting Thailand with kids
Beachfront resorts in Thailand are some of the best in the world. These renowned resorts cater to families with children of all ages by providing fun and educational activities. They also feature convenient amenities like childcare at a reasonable price. Some suggestions are as follows:
1. Four Seasons Koh Samui
This opulent boutique resort welcomes kids with thoughtful details you'd expect from the Four Seasons, including complimentary welcome kits. It sits quietly on palm-fringed Laem Yai Bay on Koh Samui's more tranquil northwest point. Crab hunting on the immaculate beach is just one of the free activities offered by their Kids For All Seasons club. It also offers kid-sized versions of grown-up favorites.
2. Anantara Riverside Bangkok Resort
Located on the banks of the Chao Phraya River in Bangkok, the five-star Anantara has luxurious lodgings in low-rise buildings surrounded by lush tropical gardens. And it makes it seem more authentically Siamese than the modern skyscrapers. One of Bangkok's biggest resort-style covered swimming pools, the kids' club is packed with fun and educational activities.
3. Shangri-La Hotel, Chiang Mai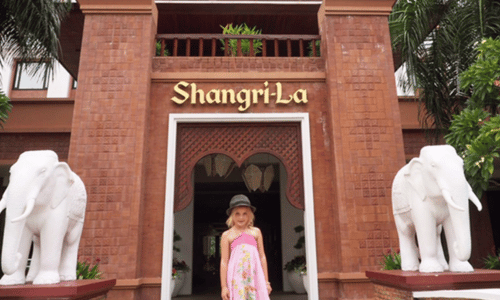 This luxurious hotel is nestled in the heart of Chiang Mai, within easy reach of the Old City and the surrounding misty mountains. There are packages and free 'amenities' for youngsters of all ages at Shangri-La, from infants to teens. In addition to a kids' club, a playground, and supervised activities like parasol painting and entertaining eco-tours, there are also youngsters.
All the above resorts can add so much value to your holiday in Thailand with kids.
Is Thailand Safe for Families?
This would be one of your concerns when you want to visit Thailand with kids. No nation is risk-free, as is common knowledge. It's crucial to know about the public transit options, food safety, and cultural norms of the destination. Thailand has one of Southeast Asia's strongest economies. There is no need to fear for your safety just because things seem different from how you are used to seeing them at home.
The health of your family in Thailand is still regarded as relatively safe. The nation is mostly safe from Malaria and other tropical illnesses because of its location. This doesn't negate the need for safety measures like mosquito repellent while you travel, however.
Top tips for traveling to Thailand with kids
The following additional tips will greatly help you when visiting Thailand with kids:
Don't bring the stroller, but do bring a carrier for infants and toddlers.

Time spent at the beach is a great way to unwind after a long trip.

Expect a lot of attention to be paid to your small children (especially if they are fair-skinned). Thai people like children, so feel free to let them play with yours, while you relax as a family.

Reserve a place to stay that has a/c and maybe a pool. If you want to get a decent night's sleep in Thailand, air conditioning is a must.

Don't attempt to cram everything into today. The sensory bombardment of bustling might be unbearable. Your day's primary event should take place in the morning.

Make sure everyone stays hydrated, but avoid tap water at all costs. Stick to purified water and skip the ice cubes.

Noodles may be prepared not hot for children who prefer a milder flavor.

Child safety seats are quite rare in Thailand. If you're worried about this, pack a Trunki Boostapak or other car seat for travel.

All around the nation, you can find a 7-Eleven and stock up on diapers and milk. You may easily come upon one.

Before booking a long-distance bus or rail trip, simply check Skyscanner.