Sri Lanka is the perfect place to learn to surf with tuk-tuk safaris, mouthwatering curries, and waves for all levels. The country of Sri Lanka is stunning. The friendly people and breathtaking settings ensure that you'll be surrounded by pleasant company and beautiful scenery no matter where you travel. Surfing hotspots and surf camping in Sri Lanka have been made easier with this post.
Sri Lanka is home to two distinct surf regions, each with a different surf season schedule, allowing you to catch some great waves at any time of year. In our Sri Lanka surfing hotspots and surf camps guide, we'll give you the lowdown on everything you need to know about planning a surf vacation to Sri Lanka, including where to go, when to go, how much it will cost, how to get there, and more.
The best surfing hotspots in Sri Lanka
Sri Lanka features world-class surf breaks for all skill levels, so whether you're a skilled surfer or you're still learning to stand on a board, you'll be in seventh heaven in Sri Lanka.
Because of the seasonal rhythms, the country is a popular tourist destination all year round. Even the raindrops alternate their direction of attack. No matter where you look, you can always find a set of waves. You'll have ideal conditions; on the east coast, wait till April to October when the waves are bigger.
Unawatuna and Hikkaduwa in the SouthwestSouthwest, Weligama in the south, and Arugam Bay in the east are the most well-known localities in Sri Lanka. Here are Sri Lanka's top sites for surfing.
Mirissa

Koggala Beach

Dewata

Beruwala

Okanda

Ahangama

Balapitiya

Hikkaduwa

Unawatuna

Weligama

Arugam Bay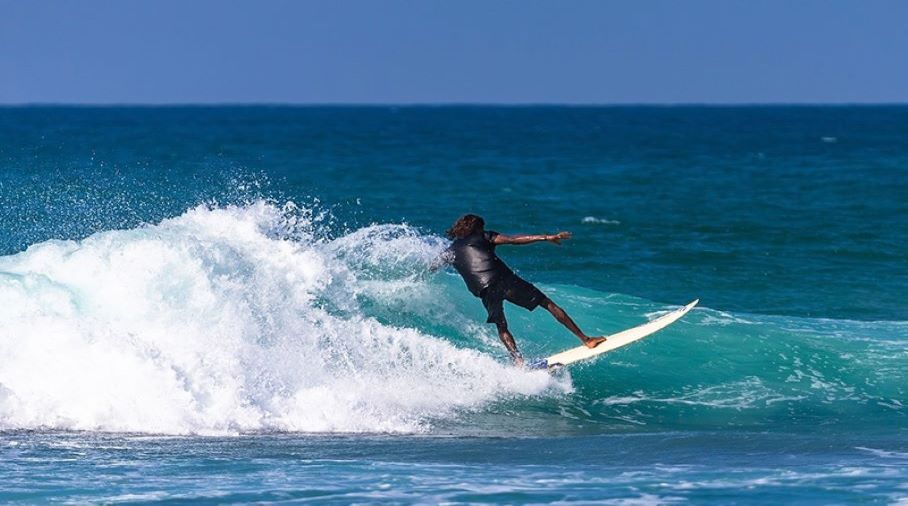 The best surfing hotspots in Sri Lanka a detailed list
1. Mirissa
Only two or three breaks are within walking distance of Mirissa, which is in the heart of Sri Lanka's surf territory. These breaks are fantastic, and we don't want to downplay their importance. There's plenty of diversity with a straight left at Harbor Jetty and a challenging reef at West Bay's westernmost point requiring an aggressive launch. However, since there is so much more to pick from in the region, you may be let down when you come expecting more.
2. Koggala Beach
This south Sri Lankan beach, known for its fisherman on stilts, is great for intermediate and beginning surfers since there is ample room to develop skills. Even though winter offers the finest conditions, frequent breaks are not assured at Koggala. While the waves at the adjacent Weligama Beach break are moderate for beginners since they are protected from approaching gusts, they may still reach 1.5 meters (5ft). Long rides may be had on the waves at Midigama. During the peak season (January to February), expert surfers go to Ahangama (20 minutes away), where the waves may reach 2.5 meters (8ft). All in all, Koggala Beach is one of Sri Lanka's surf hotspots. 
3. Dewata
A little distance south of Galle is Dewata, which has recently become a surfing destination. With modest but consistent waves, it's not the most picturesque of the area's beaches, but it draws surfers eager to improve their skills on year-round, low-pressure waves. There's no better place to hang out for lessons and board rentals than the Shack, which has an oil-drum beach bar and accommodations right on the beach. In addition to being an excellent surfing hotspot in Sri Lanka for beginners, the sand reef and consistent (albeit small to medium) waves make it an excellent area for experienced surfers as well.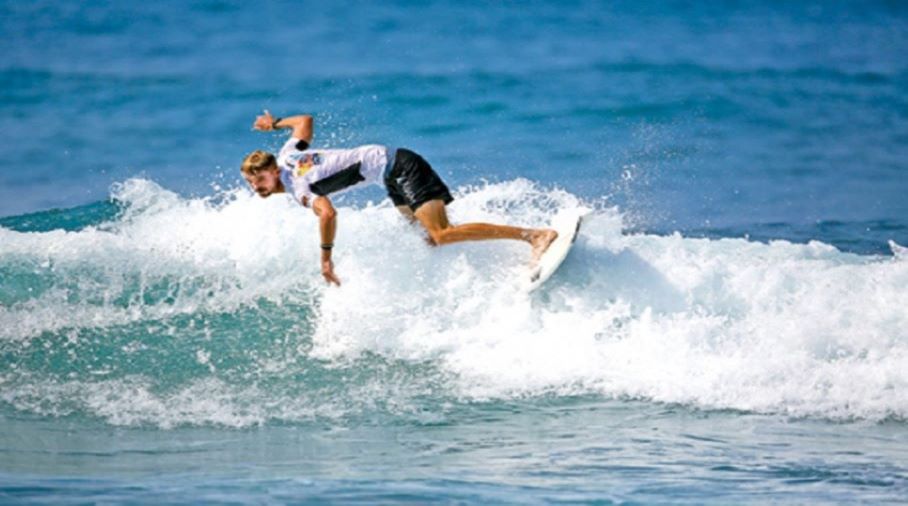 4. Surfing hotspots in Sri Lanka: Beruwela 
If you're looking to do more than just surf, this town in the SouthwestSouthwest is a good choice. There are plenty of options if the waves aren't breaking right outside your door, such as Hikkaduwa, which is just a 25-minute drive away, and Bentota Beach, which has reliable albeit modest surf. If you're looking to learn to surf in Beruwala, there are many surf schools on Moragalla Beach that cater to beginners and provide board rentals, as well as beachfront lodging, so you don't miss a single second of the action.
5. Okanda
To get to the tranquil east coast village of Okanda, in Yala National Park, take a tuk-tuk an hour south of Arugam Bay, down a winding coast road. Those looking for their own space will be satisfied with this trip's decent consistency and power. People that know their way around the East Coast go there in the dry season (April to September), while the rest of the country suffers through the wet season. Arugam's tourism area might become crowded, but not Okanda. It's excellent for intermediates, with waves averaging 0.5–1.5 meters (2–5 feet), but some breaks may reach 1.8–2.4 meters (6–8 feet). Because of the dangerous rip currents and remoteness, this area is only accessible by experienced swimmers, and it's a surfing hotspot in Sri Lanka for them.
6. Ahangama
Serious surfers flock to the Southern Province's Surfing Capital. Due to its proximity to the waves of Weligama, Unawatuna, Mirissa, and Midigama and the shallow reef, Ahangama village has a slew of surf camps. Here, you may surf right off the long beach and then unwind in the shade of the jungle trees. The dry season lasts from December to March when the offshore winds and big waves are most prevalent. During the wet season, which lasts from May to September, you may encounter surfable swells.
7. Balapitiya
Explore the little fishing town, and its beautiful kraal-fishing structures, which are made of reeds and rods pushed into the riverbank to capture anything that may be swimming through. This area in the SouthwestSouthwest of the country is about 80 kilometers (50 miles) south of Colombo and may be accessed either by coastal road or by rail. Because of the exposed reef break, the surfing is reasonably consistent. Still, only 30 minutes away is the surfing hotspot of Hikkaduwa, where things get crazy from November to March when the greatest waves are breaking.
8. Hikkaduwa
Hikkaduwa, the island's most renowned party destination, is located on the southwest coast, around 120 kilometers (75 miles) south of Colombo and 20 kilometers (12 miles) from Galle. There's always something going on in this party hotspot that was once simply a surfing haven. Now it's popular with both surfers and partygoers. Bennys is a left-hander reef break that is popular among advanced surfers. Alternatively, you might head to the Main Reef, where you'll find strong waves for divers of all skill levels on a deeper reef. Beginners will like North Jetty and Beach Break, which both have protected shorelines and reef breaks. It's safe to say that Hikkaduwa is one of the top surfing hotspots in Sri Lanka.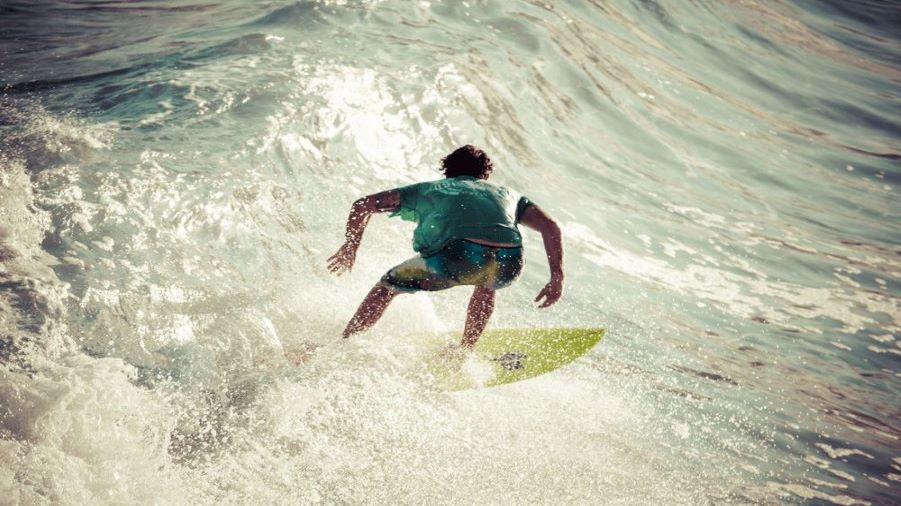 9. Unawatuna
This is a popular surf hotspot in Sri Lanka for surfers of all ages, and it's a great place to take the whole family. Compared to Hikkaduwa, the nightlife here is a little more sedate, but the waves are world-class. There can be times when the swell on the beach isn't ideal, but you can always ask the locals for suggestions. Unawatuna Beach Break is a good place to start surfing if you're a novice. Bonavista Bay is also a wonderful place to improve your surfing skills on a beginner's board. Kabalana Beach Break contains tiny foamy waves. However, the main point has a rip current, and there are no lifeguards. If you're more experienced, go to Dalawella Reef on South Beach, just north of Kabalana, for a nice longboard wave.
10. Weligama
Weligama is another great spot for beginners and intermediate surfers, with decent waves year-round. The main beach is lined with surf shops where you can rent boards. In general, the waves are ideal for beginning surfers, although they may become a little higher for more experienced surfers. Try Midigama when you're calm and collected. It has three excellent features. The Lazy Left is a go-to for crazy riders in the afternoons. Shallow coral reef breaks on the right; Rams Right features some barrels geared for more experienced surfers because of the shorter, more-tight reaches and tighter turns. Plantation Point is a terrific place to go for a ride with a left or a right in the early morning. It has a rough entrance, but it's simpler to ride than Coconut, a classic A-Frame shape best left to the more experienced surfer's disposal.
11. Arugam Bay
East coast Arugam Bay is ideal when it's raining too much in the south. Arugam Bay is blessed by the weather gods with a clear sky, while the rest of the country is battered by monsoon rains. The optimum time to go is from April through September, ideally. Beginners should start at Baby Point since Main Point is more difficult. When visiting Elephant Rock from Arugam Bay, make sure you don't wear flip-flops since you will have to climb a few boulders to get there. Fortunately, the beach is well worth the trip. Pottuvil and Whisky Point north of Arugam Bay are great spots for skilled surfers. Whisky Point becomes busy quickly, so avoid arriving late.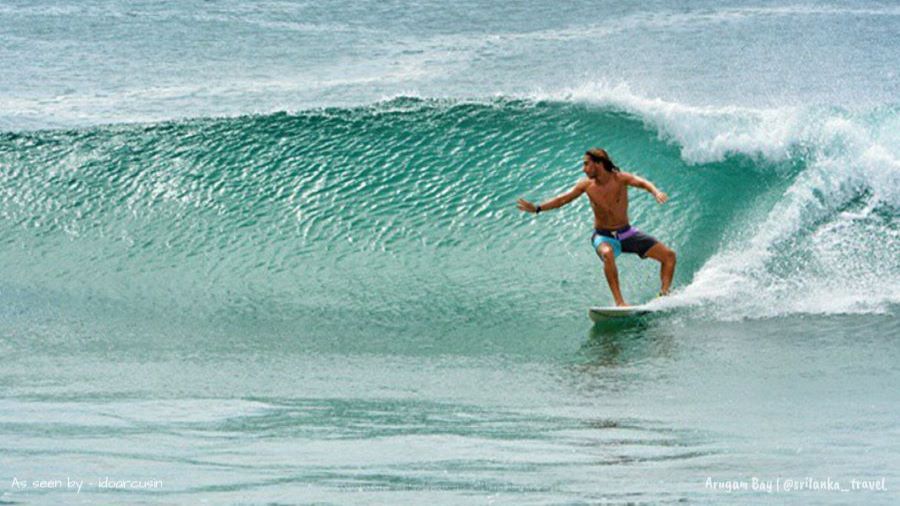 Surf Camping in Sri Lanka
Are you looking for the top surf camps in Sri Lanka? Whether you're a beginner or a seasoned surfer, Sri Lanka provides some of the greatest spots for you.
Determining which of the numerous Sri Lanka surf camps is the best maybe a bit of a minefield.
We've rounded up the best Sri Lanka surf camps to get you started on planning your Sri Lanka surf vacation: luxurious villas to spectacular surf instruction, party vibes, and everything in between. Each camp spot has an extensive selection of beginner surfboards to help you advance rapidly, so get ready to start planning your Sri Lanka surf trip!
1. Surf camp in Ahangama
Ahangama has the best surf camps in Sri Lanka, whether you're looking to learn to surf or improve your surfing abilities.
If you want to stay directly in front of Sticks and Marshmallows, you may do so with either an A/C twin/double or a shared fan room option. Even though surf camp packages are on the pricier side, what you receive in exchange is world-class teaching from instructors who have competed on the international stage, won national championships, and even landed on the podium in the Red Bull Sri Lanka Surf contest.
Whatever your skill level, you'll get a lot out of the coaching portion of their program, which combines beach and in-water teaching with classroom theory and video feedback.
Our favorite option for a Sri Lanka surf camp is the one with daily surf-specific yoga classes and an awesome rooftop bar where you can watch the sunset over the Indian Ocean.
Surf camps Sri Lanka – near Ahangama
Surf camps are popular among Scandinavians because they provide trips to exotic locations like Bali, Morocco, and Costa Rica. Similarly, Sri Lanka offers upscale surf villas where you may relax in comfort. Although they aren't the most affordable, you get what you pay for when it comes to lodging!
Their home is undoubtedly one of the most flashpacker-style surf camps available, with large rooms, lots of public facilities, and even an enormous pool in the backyard — and they provide teaching for all levels of surfers.
Considering they have shared rooms and a high-end finish, you can expect to spend roughly 780EUR per week during the peak season for a surf camp package, even if the admission fee is reasonable.
2. Surf Camp Sri Lanka: Weligama Bay
There are already surf camps in Morocco and Bali from this establishment, and a new Sri Lanka surf camp has been opened at Weligama Bay – the ideal place for people looking to learn to surf.
There's everything you need to catch some good waves in a standard 7-day all-inclusive package;
Seven nights accommodation

Daily breakfast

5 x dinners

Daily surf lessons/surf guiding

Daily afternoon free surf

Morning and evening yoga sessions

Weekly theory lessons

Weekly video analysis
The surf camp in Sri Lanka is spanking new, with both dormitories and individual rooms (both A/C) available, as well as a swimming pool to cool down in during the daytime heat.
3. Sri Lanka Surf Camp: Arugam Bay
Based out of the Sand Dune Hotel, there's a Surf Camp within a 5-minute drive from Arugam Bay, probably Sri Lanka's most renowned surf area! This powerful right-hander is great for lengthy, exciting rides, and it's even been known to hold a few surf contests.
While the sandy bottom point break is a terrific spot to learn to surf with the help of their knowledgeable teachers, more experienced surfers will appreciate the challenging, carvable walls found at Arugam Bay's main point!
When booking via this site, you have three package choices to pick from: The Wellness Package, Surf Traveller, and Flexi Surfer (for more experienced surfers)
The following items are included in a typical three-day surf tourist package offered here:
Seven nights accommodation

10 x 1.5-hour surf coaching sessions

Theory classes (wet and dry)

Airport Pick-up and drop-off from/to Colombo or Hambantota

Daily breakfast

Yoga classes

All surf equipment

Surf photographs and video feedback after surf

Transport to all surf locations
Compared to a regular surf camp in Sri Lanka, this one has a more intimate feel due to the restricted number of places and proximity to some of the East Coast's best surf areas.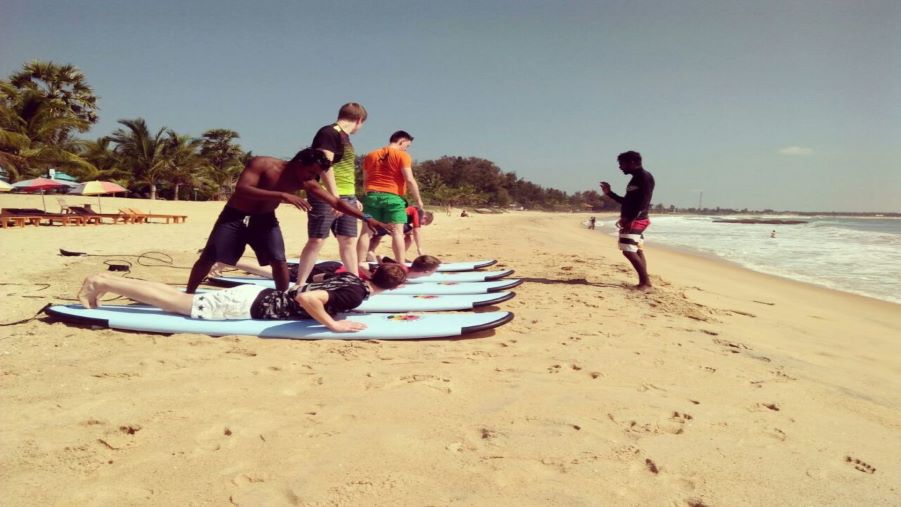 4. Mirissa
It's time to go out into the wilderness. These Sri Lanka surf camps, located in the tropical paradise we call home, urge you to let go and unplug from the stresses of everyday life. Coconuts and luscious palm palms are plentiful in this tropical haven.
Palm-tree-lined dunes and a canopy of tropical plants surround these resorts at Mirissa on Sri Lanka's south coast. It has a beautiful crescent-shaped beach, so it's a great place for everyone to go on a trip. Some of the best surf places in the South are just a short drive away, making it an ideal location for ocean enthusiasts of all sizes.
They offer outdoor yoga courses and packages because they feel that the mind-body connection is critical. These surf camps in Sri Lanka remain a popular option for an enjoyable experience during your stay, where you may explore and develop both within and outside of yourself.
Factors to know about Sri Lanka's surf hotspots and surf camps
From May to October, the Southwest Coast of Sri Lanka experiences its off-season. Due to a shortage of tourists, many hotels and eateries will lock their doors completely during this time. This is a good time of year to catch some nice waves, but fewer options are available.
Eastern Province's off-season lasts from October to April. Despite the possibility of sporadic waves in the shoulder months, Arugam Bay and the surrounding breakers are flat, making it unsuitable for surfers. There are also a large number of hotels and restaurants that have completely closed their doors. Surf shops and surf camps in Sri Lanka hibernate during the off-season.
At Overa Tours, we offer the best surfing packages in Sri Lanka; book your surfing package today.