It's hard to know where to look in Dubai since everything is so different. The city's dazzling skyline is dotted with buildings so tall they defy comprehension; its diverse array of shops and restaurants caters to the needs of every kind of visitor. And its opulent hotels greet even the most discriminating of guests with luxury and flair.
After that, there's a sprawling desert dotted with oryx and gazelle tracks, a maze of spice souks, and traditional abra boats plying the Dubai Creek. There are also plenty of other things to see and do in and around Dubai, including all of the jaw-dropping attractions.
The city has grown from a small desert port to a vast metropolis with lively neighborhoods, world-record skyscrapers, and extravagant retail malls in the past several decades.
The Best Reasons to Visit Dubai
Dubai may sometimes seem to be nothing but shopping malls and air conditioning. Even yet, cultural institutions, galleries, and retail malls are springing up all across this vast desert metropolis to attract a new generation of tourists.
There's something for everyone in this city, and we have the list to prove it. Whether your idea of an adrenaline rush is skydiving or seeing the city's spectacular fountains gushe 500 feet in the air, nearly everything is possible in this metropolis. This list of the coolest things to do in this Middle Eastern hotspot includes some of our recommendations.
1. Frying Pan Adventures
These food tours provide tourists with a culinary map of Dubai, one of the finest ways to get to know a city. If you're in the mood for something sweet, try a souk's milky tea, beef and rice pilaf, or filled falafels. You may also learn about the Arabic coffee-making tradition while you're there and get a taste of the culture.
2. The Best Reasons to Visit Dubai Platinum Heritage
The desert outside of Dubai has undulating sand dunes, which may be seen in various ways. Even so, going on an animal-spotting desert safari is a unique and ecologically responsible way to explore this magnificent terrain. Visit the Dubai Desert Conservation Reserve in a vintage Land Rover or a contemporary Range Rover searching for Arabian oryx and gazelles. When visiting the desert, remember to bring layers of clothing since it may be cold in the morning and warm up fast during the day.
3. Global Village
There are more than 70 cultures on display in various national pavilions at the Dubai Global Village, which is like Epcot on steroids. Visitors may buy and dine their way through the different countries. Bring your camera to one of the numerous "selfie locations" and take some amazing photos "for the 'gram," or attend one of the many performances.
4. XLine Dubai Marina
This 3,000-foot-high zip line above the Dubai Marina is perfect for thrill-seekers looking for an adrenaline rush. Riders cover the ground at a speed of approximately 50 mph. A 550-foot-high starting platform is only one challenge of this attraction's difficulty level.
5. Dubai Ski Slope Camping
It is possible to go skiing in the desert thanks to Ski Dubai, a ski and snowboard indoor slope at the Mall of the Emirates. Do you like to spend your time outside in the snow? Try your hand at bobsledding on a twin-track or spend some time with the local penguins (Gentoo and king penguins).
6. Burj Khalifa
The view from the top of the world's tallest skyscraper is nothing short of breathtaking. Get an aerial perspective of Dubai's various districts from the 125th floor, or reserve a seat on the 148th level for the world's tallest observation deck with an outdoor patio. When you return to reality, be sure to stay for the Dubai Fountain performance.
The Best Reasons to Visit Dubai- Dubai Is the Best Destination for High-End Shopping
In the United Arab Emirates, shopping is a national hobby, with high-end and designer brands from across the globe coexisting in air-conditioned mega-malls. At the same time, traditional souks resemble the ancient imitation market at the Museum of the Arabian Gulf in Dubai. Away from the tourist trail, new artists are carving out a place for themselves.
Travel specialists from Overa Tour show you the must-see shopping temples as well as the ones worth the detour.
1. City Walk
In the heart of Dubai, you can buy, dine, and even live at this mall. For any time of day or night, the indoor-outdoor layout makes it the perfect destination, providing exciting shops (like Sephora) along with a wide range of venues to grab a fast meal or relax.
2. The Dubai Mall
More than 1,300 retail shops, including two major department stores, Galeries Lafayette and Bloomingdale's, and more than 200 food and beverage outlets make up the Dubai Mall, which holds the Guinness World Record as the world's biggest shopping complex. The size of it is such that you might easily get disoriented and be missing for many days.
The mall includes an aquarium and an Olympic-sized ice rink in addition to great shopping (there's something for everyone). Plan to spend some time wandering the mall, since the atmosphere and décor vary depending on where you are. Another perk: it's cool.
3. Mall of the Emirates
Although this mall is smaller than The Dubai Mall, it has over 630 different brands and over 100 different dining establishments. In addition to the shops, there is an indoor ski slope and a bowling alley in the city.
4. The Walk at Jumeirah Beach Residence
More than a mile of beachfront is dedicated to shopping at this popular spot, which offers worldwide brands as well as entertaining pop-up markets. Before having a bite to eat at one of the restaurants facing the gulf, browse the sauce for beachy and boho-inspired outfits and stylish rattan purses.
5. The Best Reasons to Visit Dubai – Souk Madinat Jumeirah
This indoor souk looks and feels much like Dubai's classic outdoor souks except for the air conditioning. Jewelry, scarves with complex designs, souvenirs, and more may be found in the same shops. Souks are still popular in the city, but this indoor version combines the best of both worlds by bringing together the old and new. In addition, the vista includes the world-famous Burj Al Arab.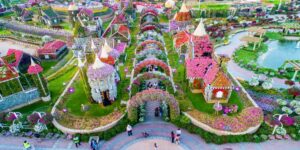 The Best Reasons to Visit Dubai- Dubai's Tourist Attractions Can Take Your Breath Away
There are many tourist attractions in Dubai from which to select. Once you've selected a category, you'll be presented with a long list of choices. While in Dubai, you may either experience the underwater world at the Dubai Aquarium and Underwater Zoo and save 20% on online tickets, or embark on a Dhow Cruise and save 25%. Dubai has recently emerged as one of the world's most cultured and trendy destinations, thanks in part to its fantastic amusement parks and world-class shopping complexes.
Dubai's attractions are meticulously planned to maximize the potential of the city's diverse visitors. The Burj Al Arab and Burj Khalifa loom above your dreams, while the Palm Islands' infrastructure will take your breath away. All of this can be seen on a half-day city trip.
The following is a list of the top attractions in Dubai
Dubai Miracle Garden

Bastakiya

Alserkal Art District

Dubai Opera

Bur Dubai Grand Mosque

Deira Souk

Dubai Aquarium

Global Village

Burj Khalifa

Dubai Desert Conservation Reserve

Dubai Museum
Dubai Is Also the Home for Many of the World's Highest-Grade Hotels
These hotels in Dubai were hand-picked by our specialists, and they include everything from five-star luxury hotels to small, locally owned boutique hotels to low-cost, value hotels.
Jumeirah Al Naseem

Four Seasons Resort Dubai at Jumeirah Beach

Taj Dubai

Le Royal Meridien Beach Resort & Spa

Four Seasons Hotel Dubai International Finance Centre

Burj Al Arab Jumeirah

The Bulgari Resort & Residences Dubai

W Dubai – The Palm

Waldorf Astoria Dubai Palm Jumeirah

Emerald Palace Kempinski Dubai

Jumeirah Dar Al Masyaf

One&Only The Palm
Best Time to Visit Dubai
Dubai is hot all year round, but December sees average temperatures in the 70s and 80s, making it one of the finest months to visit. Air conditioning is readily available throughout Dubai, so bring a sweater if you want to chill down in the mornings and nights in the desert.
The Dubai Shopping Festival, which takes place every January and features amazing discounts, live entertainment, and raffles, is another incentive to go to Dubai in the winter.
Some App to Download for Dubai Holidays
If you want a hassle-free trip to Dubai, make sure you have these applications downloaded beforehand.
Uber: Using a rideshare service, you can get a ride from any location.
Dubai Road Transport Authority (RTA): Residents may load money onto their nol cards via the Roads & Transport Authority app to use the metro.
The Dubai Mall: This shopping center is so large (and confusing) that it needs its own app. With turn-by-turn directions available for over 1,300 shops, you'll never be lost again.
So, are you all set to take a trip to this world-class vacation destination? If you answered "yes," have a look at our Dubai Tours right now.