This Singapore travel guide will tell you everything you need to know for your trip. Through this post, you will get to know the right time to plan your visit, the best places to stay and see in Singapore, how to get around the city, and so much more.  
Have you ever wondered why Singapore is one of the most popular tourist destinations in the world? It is no surprise considering this beautiful and prosperous island can make anyone feel at home. You may think there is no such thing as the perfect country. Well, Singapore begs to differ. The island has everything to make it the perfect place: the green and safe environment, fantastic weather, cultural diversity, delicious cuisines, world-class shopping malls, adventure parks, the latest fashion and electronics, efficient and affordable public transport. And you have no good reason not to visit and see it all for yourself.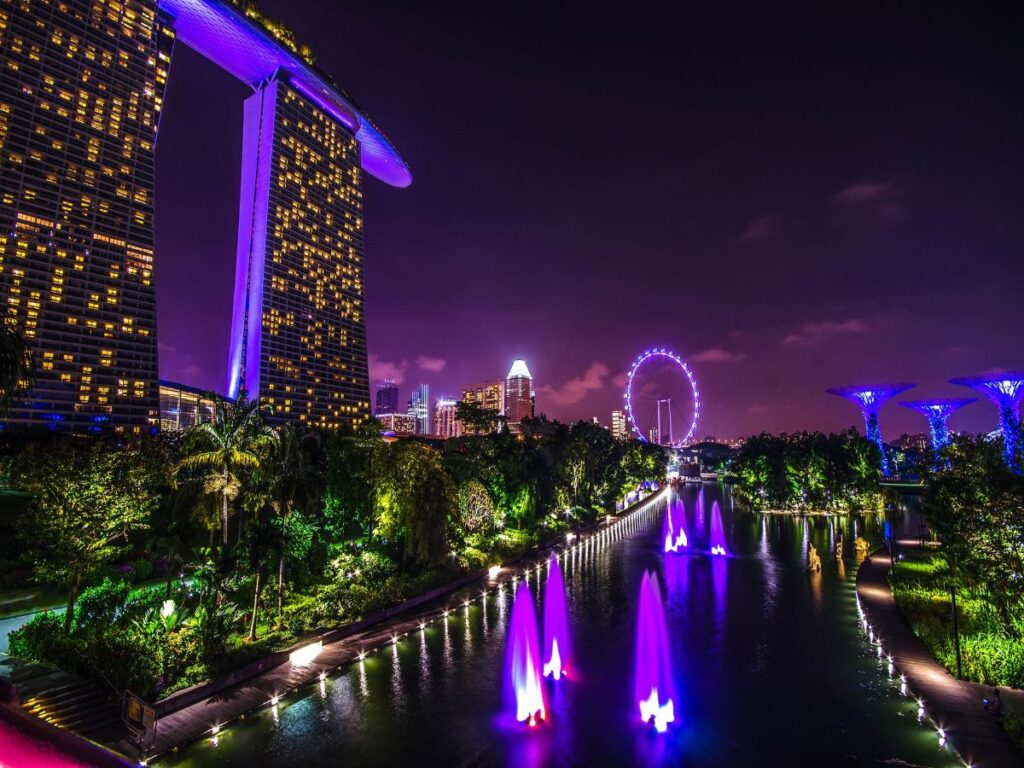 Best Time to Visit Singapore
Singapore is famous for having perfect weather throughout the year, with an average temperature of 26-27°C and humidity above 80%. Visit anytime from February-October, and sunshine and clear skies will greet you. The weather is just right for you to cycle through the city and visit adventure parks or visit the zoo. You can expect a little drizzle at times, but it is nothing much to cancel your plans over. And it is definitely not worth skipping the famous Singapore.
Food Festival and the Great Singapore Sale, which will make any foodie's and shopaholic's vacation. You do not want to miss out on them. However, if you are more of a cold weather, cloudy days type of person, visit during the monsoon season, which lasts two months, from November to January. If you plan your visit during these months, do not forget to carry an umbrella with you at all times.
Best Places to Stay in Singapore
Little India

Chinatown

Marina Bay

Orchard

Sentosa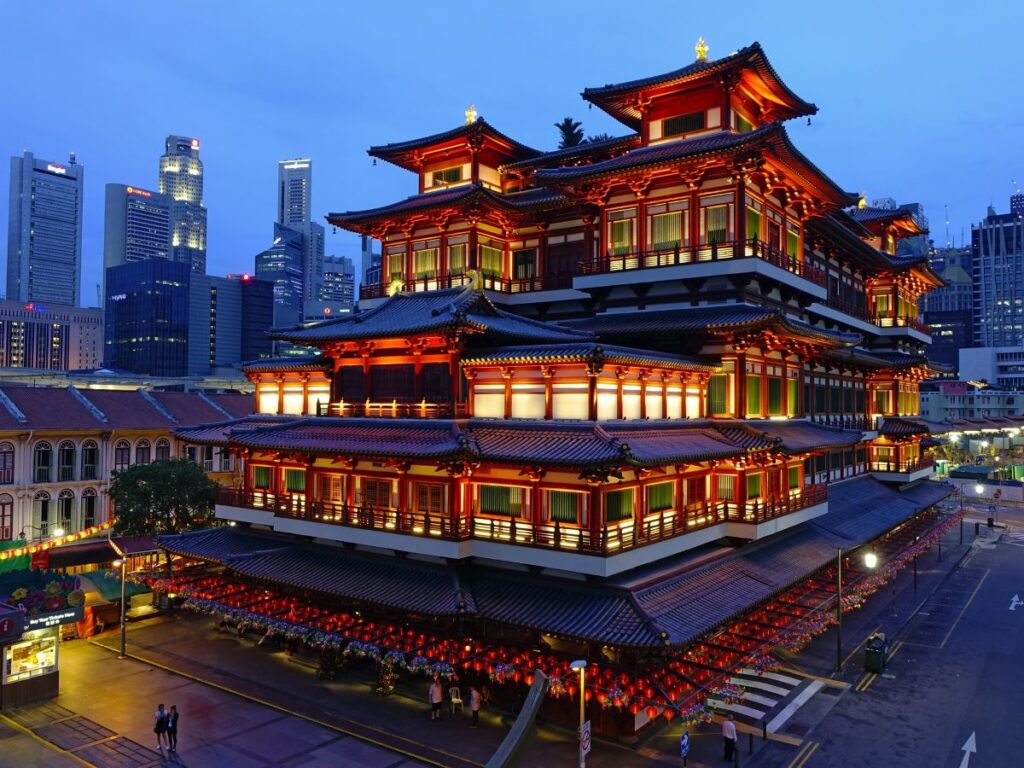 Best Places to Visit in Singapore
Gardens by the Bay

Singapore Zoo

Universal Studios and Sentosa Island

Marina Bay Sands Skypark

ArtScience Museum

Singapore Flyer

Singapore Botanic Gardens
How to Get Around in Singapore
This Singapore Travel guide is incomplete without explaining how to get around the city. You have several transportation options, which we will discuss below. 
Public transportation
Thanks to Singapore's excellent transportation system, you can travel around the country without any trouble. Their MRT (Mass Rapid Transit) system is efficient, and you can use it for most of your travels. For some trips, you may have to take buses which luckily is just as efficient of an option. If you want to visit all the tourist attractions, you can take the Hop on Hop off buses. 
If you are a first-time visitor wishing to explore the city, this is the best travel option. It will take you to the best tourist attractions in the city. You may not get enough of the beautiful sights Singapore has to offer and may even want to visit them over and over again. That is ok- because you can use Hop on Hop off buses as many times as you wish.
To make the public transportation service benefit you further, you can invest in transport cards. It is a cheaper and more convenient way to get around. Choose between these two types of cards that best suit your commuting needs in Singapore!
Singapore Tourist Pass ( If you plan a short visit)
Suppose you stay in Singapore for a maximum of three days and plan on taking the trains the most. In this case, get a Singapore Tourist Pass. This card allows you unlimited access to the MRT and public bus service within the validity period. Besides, it also saves you from buying tickets before each ride. 
1-day, 2-day, and 3-day passes are available for SGD 10, SGD 16, and SGD 20, respectively.  Remember that you will need to use the two-day and three-day ones consecutively. You will have to put down an SGD (Singapore Dollars) 10 deposit per card, which you can get back within five days of purchase. 
EZ-Link Card (If you plan to stay longer)
Suppose you wish to stay in Singapore for longer than three days and do not need unlimited daily rides. In that case, an EZ-Link may be a better alternative to the Singapore Tourist Pass. 
Like the Singapore Tourist Pass, the EZ link can save you the hassle of buying tickets before each ride. Besides, you will not have to carry spare change for the bus. Thanks to the EZ-Link card, you do not even need to know how much it costs for the ride. The system automatically deducts the total from your card balance as you travel. The difference between these cards and the Singapore tourist pass is that, unlike the Singapore Tourist Pass, you do not have to use them every day.
You can get your EZ-Link card over the counter at MRT stations, bus interchange, or 7-Eleven in Singapore. The card costs SGD 15. Note that SGD 5 covers the card's price, and SGD 10 is a consumable amount that you have to increase as the card runs low.
Taxis
What if public transportation is not your thing? No worries, you can always take a cab. Taxis are the fastest transport mode, and they are available 24/7 in Singapore. It is a good option for short-distance travel because this is pricier than other modes of transportation. For regular taxis, the flag-down fee is from SGD 3.6 to SGD 3.9, and they will charge an amount ranging from SGD 0.55 to SGD 0.94 per subsequent kilometer. You can use your EZ Link Card to pay for taxi fares. 
You can also use the app Grab, which is pretty much the same as Uber. You get to hire a driver to take you somewhere via the Grab app, and you can pay via the app or in cash.
Where to Exchange Currency in Singapore?
Do not worry- you will not have problems finding places to exchange currency. You will find that almost all of them give fair rates, including the plenty of money changers at Changi Airport. 
We recommend going with the Mustafa Foreign Exchange at Mustafa Center in Little India for the best exchange rate. They offer some of the best rates in the city, and they are also open any day, anytime. Mustafa is not the only option, of course. You can find more money changers at different places across the town. 
Here are some of the best places:
The Arcade at Raffles Place

People's Park complex- Park road

Lucky Plaza – Orchard

Parkway Parade
Using an ATM to exchange money is convenient to get better rates. Remember to check whether your home bank has any partnerships with local banks in Singapore. If yes, you might be able to withdraw SGD from these ATMs with no additional charges. When it comes to ATMs, there is one thing you have to watch out for when exchanging money. That is the conversion options they present at foreign ATMs. 
The machine may ask you to choose which bank-your home bank or the ATM, should do the conversion. Remember to select your home bank's rate for a fairer deal. Another way they would present the option is by asking if you would like to proceed "with or without conversion." Remember to go for 'without conversion' here. Otherwise, it gives the foreign bank operating the ATM authority to convert at their rate instead of your local bank, which will result in unfair exchange rates. 
Do you need a visa for Singapore?
Luckily, most countries can visit Singapore visa-free. However, you may need a visa if you are from the following countries: 
Armenia

Sri Lanka

Azerbaijan

Belarus

The Democratic People's Republic of Korea

Georgia

India

Kazakhstan

Kyrgyzstan

Moldova

The People's Republic of China (PRC),

Russia

Tajikistan

Turkmenistan

Ukraine

Uzbekistan

Afghanistan

Algeria

Bangladesh 

Egypt

Iran

Iraq

Jordan

Kosovo

Lebanon

Libya 

Mali

Morocco

Nigeria

Pakistan

Saudi Arabia 

Somalia 

Sudan 

Syria

Tunisia

Yemen
However, even if you are from a country mentioned above, you are exempt from the Singapore visa if you hold a diplomatic, service, or official passport.
Singapore Travel Restrictions
Due to the global situation, Singapore has implemented travel restrictions for travelers. They have taken several measures to let you explore the island safely and peacefully, such as social distancing, contact tracing, mask enforcement, and crowd control.
You have to carry the following documents and present them to the immigration officer:
Your Vaccinated Travel Pass (electronic or physical copy);

A vaccination certificate (electronic or physical copy);

Your pre-departure PCR test result certificate in English (electronic or physical copy) 

Your visa (if you are applicable)

Travel insurance policy (electronic or physical copy) 
You may have to undergo a supervised COVID-19 ART2 within 24 hours of arrival in Singapore.
Remember that as the situation changes, so do the travel restrictions and safety measures. It is better to refer to the latest Singapore travel guidelines that the government put up before booking and departing.