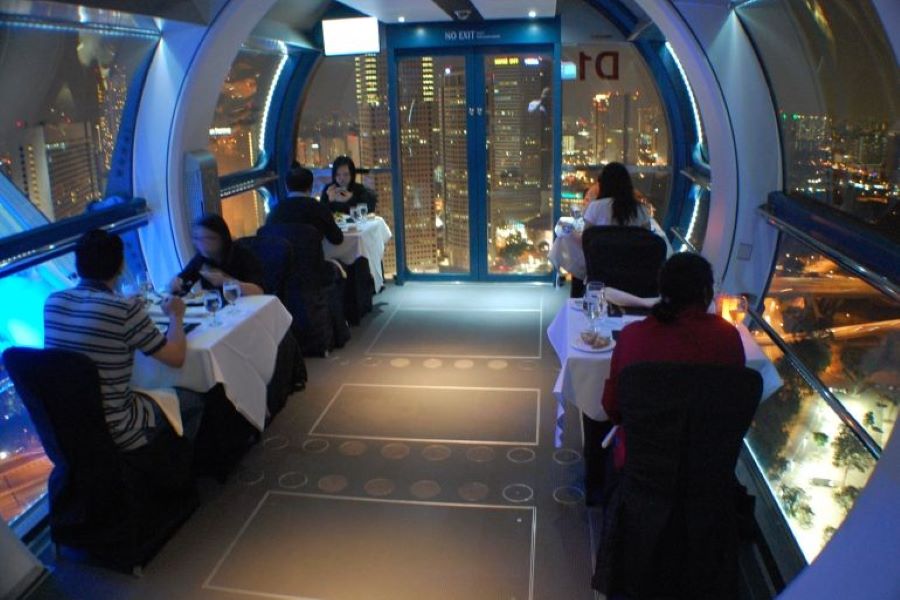 Experience the panoramic view of Singapore by Singapore Flyer
Asia's largest observation wheel, the Singapore Flyer, is situated just next to Marina Bay Sands. The breathtaking attraction provides 28 fully air-conditioned capsules that lift visitors above ground level at a height of more than 165 meters for a 30 minutes long ride. On clear days, one may even be able to see portions of Malaysia from the highest point of the Flyer, which provides a 360-degree bird's eye view of the city. The Flyer also provides a fantastic selection of unique activities, such as dining inside a capsule.
The best time for the flight is in the evening with sunset. You can experience the orange evening and it turns into darkness, then the colorful night lights narrow the beautiful city. There you can experience the time capsule and sky dining with your love.
The Time Capsule, a multisensory attraction reflecting Singapore's 700 years of rich history, legacy, culture, and scenery, spans two levels of the Singapore Flyer.
Time: Thursday – Monday 3 PM – 10 PM
Entry Fee to Singapore Flyer:
Flyer ticket; Adult (Aged over 13) – SGD33/ Child (Aged 3-12) – SGD21 / Senior (Residents Aged 60 or over) – SGD24
Time capsule ticket; Adult (Aged over 13) – SGD15 / Child (Aged 3-12) – SGD10 / Senior (Residents Aged 60 or over) – SGD10
Flyer sky dining ticket; National Day Special (For 2 guests, Three rotations of a 90 minutes flight) – SGD500 / 2 Guests (Two rotations of 60 minutes flight) – SGD351.92
Check our Singapore Tour Packages
The Absolute Best Reasons to Visit Singapore
Why visit Singapore? Well, there is an incredibly long list of reasons to visit Singapore. The beautiful, tiny island, also known as the "lion city," is beyond its tourist attractions. The small island is culturally diverse, safe, and clean. Plus, the country has the best …
Things to Do in Singapore on Your Next Memorable Vacation
If you're a travel enthusiast looking for interesting things to do in Singapore, here are some suggestions. The Overa Tours crew has spent years serving as tour guides for tourists and locals, so we drew on their experience to create this list. From exciting things …