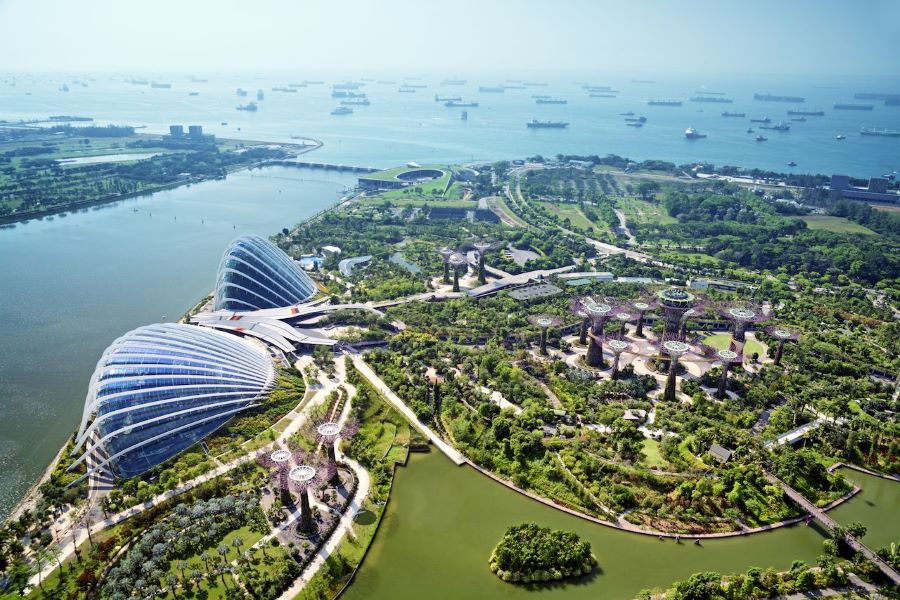 Gardens by the Bay is Singapore's man-made incredible nature park premises, spanning 101 hectares in the center of the city and featuring over 1.5 million plants. This mechanical garden is an iconic attraction of Singapore tourism.
At Gardens by the bay, you can experience, waterfront gardens (Bay South, Bay East, and Bay Central) and conservatories (the Flower Dome and Cloud Forest) as well as the newly opened Sun Pavilion, which feature some of the most incredible man-made structures built to house flora and fauna from all over the world.
With 54 hectares, Bay South Garden is the largest of three gardens that debuted in 2012. There are 18 super trees in this area that produce solar power and gather rainwater to produce electricity and solar power, which turns sunlight into energy. The height of each Supertree varies from 25 to 50 meters. On the outside of this vertical garden, there are more than 200 different plant and flower species. This gorgeous location hosts community activities, music concerts, and movie screenings.
With a 32-hectare area, Bay East Garden, which was unveiled in 2011, is the second-largest garden. There is a clear view of the city skyline from this area, which is available to the public. It has a unique design and theme and is designed after just a tropical leaf. The East Garden and South Garden are connected by the Bay Central Garden. It covers 15 hectares and offers a stunning perspective of the city.
Gardens by the Bay has two conservatory complexes, one is the Flower Dome and the other is the Cloud Forest. You can step into the Flower Dome, the biggest glass greenhouse in the world for stunning floral displays from foreign lands, as listed in the 2015 Guinness World Records It is a large area with a height of 38 Meters, and the Cloud Forest, which is the tallest indoor waterfall in the world which has a cool moist condition.
OCBC Skyway offers you fantastic aerial and bird-ey views, with a height of 22 meters and 128 meters long walkway, is the ideal place to capture some memorable photos with the beauty of its surrounding area.
You will surprise by Visiting Floral Fantasy Gardens for a lovely getaway surrounded by creative floral arrangements and suspended bouquets.
Check our Singapore Tour Packages
Timing of Gardens by the Bay
Outdoor garden – 05:00 to 02:00 daily
Conservatories and OCBC Skyway – 09:00 to 21:00
Children's Garden – 09:00 to 21:00 on weekends and holidays, 10:00 – 19:00 from Tuesday to Friday, and closed on Mondays.
Entry Fee
Floral Fantasy + Conservatories (Flower Dome, Cloud Forest, Floral Fantasy, and Shuttle Service + $6 F&B Voucher and $2 Retail Voucher) Adult – SGD50 / Child – SGD24

OCBC Skyway + Conservatories (Flower Dome, Cloud Forest, OCBC Skyway and Shuttle Service + $10 F&B Voucher and $2 Retail Voucher) ) Adult – SGD50 / Child – SGD21
How to reach the Gardens by the Bay
By MRT – The Bayfront MRT Station and Tanjong Pager MRT Station are the closest to the place.

By Shuttle – The shuttle runs between Bayfront MRT and Conservatories in every 10 minutes; it is wheelchair compliant.

By Bus – Board bus No. 400 and get down at bus stop No. 03371 along Marina Gardens Drive, From Tanjong Pagar MRT Station take exit C and go towards stop no. 0323 located at Anson Road.
The Absolute Best Reasons to Visit Singapore
Why visit Singapore? Well, there is an incredibly long list of reasons to visit Singapore. The beautiful, tiny island, also known as the "lion city," is beyond its tourist attractions. The small island is culturally diverse, safe, and clean. Plus, the country has the best …
Things to Do in Singapore on Your Next Memorable Vacation
If you're a travel enthusiast looking for interesting things to do in Singapore, here are some suggestions. The Overa Tours crew has spent years serving as tour guides for tourists and locals, so we drew on their experience to create this list. From exciting things …