Why is everybody talking about the Kandy to Ella train ride? Well, that's because a trip on the train is a must for everybody visiting Sri Lanka. It's a tremendous cultural experience, but it's also a lot of fun. The journey from Kandy to Ella by rail is one of the most memorable in Sri Lanka. It's one of the world's most picturesque train trips, if not the most picturesque. In Sri Lanka, the train ride from Kandy to Ella or the other way around is an essential part of any trip to the country's most popular destinations. It's the best way to see the island, and it's also the least expensive. While taking in Sri Lanka's diverse and stunning scenery, you'll have no trouble connecting with the people.
You can learn all you need to know about the Sri Lankan railway from Kandy to Ella right here. With everything from train schedules to ticket pricing, we've got all the information you need to plan your trip from Kandy to Ella.
Kandy to Ella train ride itinerary
Taking the train from Kandy to Ella is well worth the seven-hour trip! However, if you stop at Nuwara Eliya on the way, it will only take you four hours to travel from Kandy to Nuwara Eliya and three hours to go from Nuwara Eliya to Ella. The road trip from Kandy to Ella is 140 kilometers long and takes 4 hours to complete.
The Kandy to Ella rail journey is part of the main route from Colombo Fort train station to Badulla. You'll encounter more than just Sri Lankans on this railway route since there are several popular tourist destinations along the way. You may also like to consider adding Hatton and Nuwara Eliya as two more possible destinations on the Kandy to Ella train route. Tea plantations surround these settlements, which are situated in the foggy and mountainous countryside of Sri Lanka.
Because Hatton serves as an entrance to Adam's Peak (Sri Pada), if you stepped off at Hatton, you could have intended to ascend Adam's Peak. Many waterfalls, such as Laxapana Falls and Aberdeen Falls, are nearby and readily accessible. Waterfalls abound in and near Nuwara Eliya and Hatton.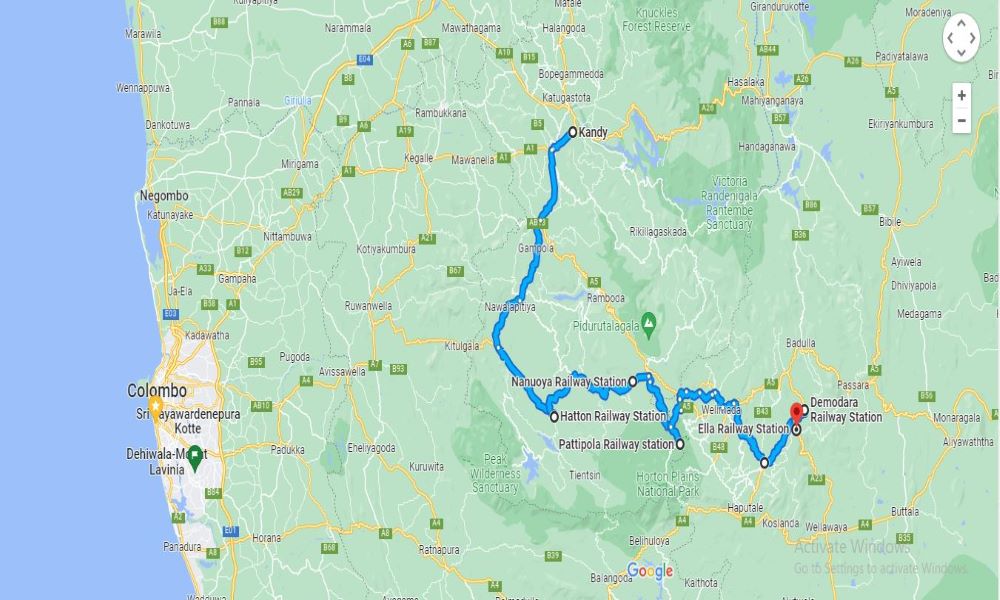 Kandy to Ella train ride route map
The easiest method to get a sense of where you're going on the Sri Lanka railway lines is to glance at the train route map. For more accurate information about this train ride, you can also visit the official website. However, the train will also make many more brief stops, including Hatton and
Kandy to Ella Train: Odyssey Special
Every day, the Ella Odyssey Special train travels between the Kandy railway station and Demodara railway station. Kandy to Demodara, the most popular tourist destinations, are served by this route. When traveling from Demodara to Kandy, the train will only make one stop at a railway station.
A guide to purchasing train tickets from Kandy to Ella
There are various ways to purchase your train tickets from Kandy to Ella. Because of a tight timetable, pre-booking train tickets through your travel agency or booking Kandy to Ella train tickets online is the best option. Be advised, however, that the Sri Lankan Railways website does not allow you to order train tickets directly.
You have the option of purchasing your train tickets from Kandy to Ella on the day of travel. Avoid weekends if you can, and arrive at the Kandy Railway Station on schedule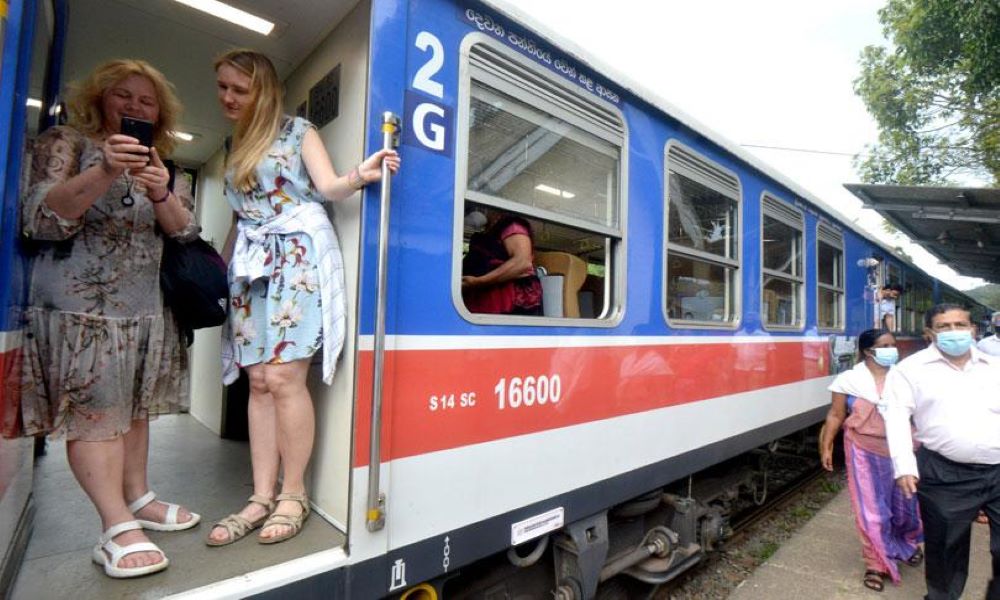 Is it better to purchase train tickets from Kandy to Ella in person or online?
As a last resort, it may be wise to purchase your train tickets online. It's also possible to reserve a seat at a train station the day before if you have the time. However, this is contingent upon the railway class in which you choose to travel from Kandy to Ella!
Although many online rail tickets are now unavailable, this does not indicate that the train is completely packed. On the day of your journey, you may get your Kandy to Ella train tickets for a far lower price than if you had purchased them online in advance. Instead of paying $12 online, you'll save around $1.50. These tickets don't come with an allocated seat, so you'll have to scramble for a spot on the train and risk standing for the whole 7-hour voyage if you don't obtain one quickly.
What train class should I take from Kandy to Ella?
The process of purchasing railway tickets in Sri Lanka might be a little bit complex. There are a wide variety of ticket choices and courses that you may book or not, depending on your preferences. To hang out of the train's open doors, you must purchase tickets for the second or third-class compartments. To keep the temperature down, they won't open the doors or windows in the first class. You'll find a brief description of what each class comprises further down the page. The fee for each lesson is shown at the bottom of the page.
Unreserved third class
The cheapest tickets on the Sri Lanka train are in the third class unreserved section, which is also the most popular with locals. The benches here are made of wood, and there is space above the chairs for your baggage. On your trip to Sri Lanka, don't miss out on this opportunity to immerse yourself in the local culture. People in the area are usually eager to interact, and the train ride itself is always interesting.
Reservations for the third class
same as the preceding, but with the added benefit of a reserved seat. Even if it's less hectic, the atmosphere is just as jovial and genuine! Open the windows and doors so that you may dangle your toes and nose out and feel the breeze in your hair as you relax!
Unreserved second-class seating
Only the seats are a bit softer and the tickets are around $0.70 more costly than in 3rd class; there isn't much of a difference. If you're traveling during the off or shoulder seasons, 2nd class tickets are ideal since the trains are less crowded. You may have to fight your way aboard the train for this session on crowded days.
Reservations for the second class
It's the same as before, except this time there are seats available. For reserved 2nd class seats, you pay half the price of the other lower classes. It's recommended to purchase these reserved tickets in advance if you're traveling during the high season and know your trip dates in advance. During the busiest times of the year, these tickets tend to sell out quickly, so it's advisable to reserve your seat in advance.
First-class
First-class passengers may expect spacious seats, complete privacy, and climate control. But if you're looking for a really realistic train journey in Sri Lanka, we wouldn't suggest 1st class. You won't be able to open the windows or doors, and you'll be mostly surrounded by foreigners. When it comes to train travel, this can be the best choice if you've previously taken a few trips and want to feel comfortable for your next one.
Book your Kandy to Ella train ride with Overa Tours
Now that you know how spectacular the Kandy-to-Ella train journey can be, why not plan your trip with a trustworthy tour operator? Overa Tours is one of the top tour operators in Sri Lanka, so you should make your reservation for the train journey with us immediately.