Is surfing in Sri Lanka something you've been looking forward to? Fortunately, we've compiled a comprehensive guide to surfing in Sri Lanka, including everything from surf hotspots to seasons, etc. Traveling to Sri Lanka for a surf vacation checks all of the boxes for any traveling surfer. It's a destination where tropical seas meet mouth-watering street cuisine and powerful waves, resulting in an epic journey that's one of the reasons it's now one of the world's top surf destinations.
You can surf in boardies (or bikinis! ), live on the cheap, and catch amazing waves all year long in this nation that's just a short flight away from European shores. So, if you're thinking of going surfing in Sri Lanka soon, here's everything you need to know – from when to go and where to surf to what to wear.
What is the best season for surfing in Sri Lanka?
Both the east and west coasts of the island of Sri Lanka have their own distinct seasons throughout the year's surfing season.
From November through April, the tourist season on the West Coast is in full swing (including spots like Ahangama, Weligama, Hikkaduwa, Unawatuna, and Mirissa). From May through October, the East Coast is in full swing (including the famous Arugam Bay).
Both surf seasons overlap with the dry season on their respective sides, ensuring that you get to enjoy both great waves and warm tropical weather throughout your visit.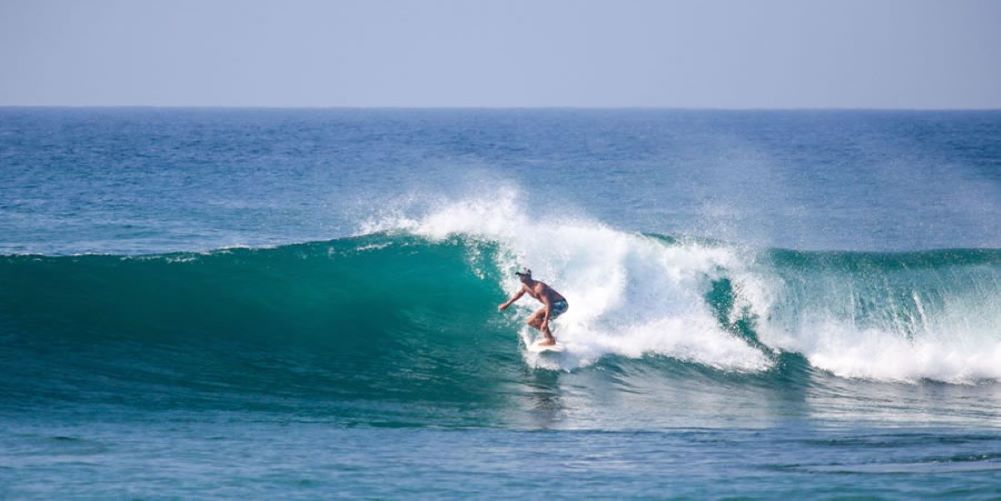 What Surf Levels Is It Suitable For?
Surfing in Sri Lanka is growing in popularity because it caters to surfers of all skill levels, particularly beginners and intermediates.
Beginners and those learning to surf will love the coastline's fantastic beginner and learning surf locations, such as Midigama and Weligama. At the same time, intermediate surfers will find plenty of forgiving reefs and points to choose from on the coast. Advanced surfers may not have as many options as they would in locations like Bali, but sites like Aragam Bay, Rams, and Lazy Lefts provide some punchy waves that will keep them more than satisfied!
Sri Lanka surf spots
On this gorgeous island, there are a plethora of surf sites all over the coastline – and if you're going to be surfing in Sri Lanka, here are some of the best places you should check out:
1. Arugam Bay
It's the most well-known hotspot in the country, and it's on the east coast of Sri Lanka. This enormous right-hand point break offers some fantastic, carvable walls, and it's also the home of multiple surf camps. This is a must-visit place if you are planning a surfing trip to Sri Lanka.
2. Point Mirissa
This long-reeling point break, similar in wave and background to Noosa in Australia, is pleasant and mellow, making it ideal for longboarders and intermediate surfers alike. Just keep an eye out for the coral reef and sea urchins!
3. Sticks
Sticks was a semi-secret location, named for the renowned stilt fisherman who stood in front of the break, but it's a lot of fun. Because of the A-frame setup, it is becoming more popular among surfers of all skill levels.
4. Weligama
You can just go here if you want to learn how to surf in Sri Lanka since it is the best place. Weligama's sandy bottom beach breakers are a popular destination for surf camps and surf instruction because they provide a great, entertaining beginning wave. Despite this, the harbor is shaped like a horseshoe, and in the midst of it lies a punchy beach break that will appeal to intermediate and advanced surfers alike.
5. Whiskey Point
When the East Coast is busy, newcomers and longboarders go to Arugam Bay, the younger brother of Arugam Bay, in terms of popularity. A great point break with a sandy bottom.
6. Rams
It's one of the West Coast's most punchy and hollow waves, so be prepared. This A-frame slab/reef has some interesting cover-ups on the right side and a lengthier left-hander on the other side of the slab. Over the years, this has managed to secure a spot as one of the best spots for surfing in Sri Lanka. 
7. Lazy Lefts
The Lazy Lefts, another one of the most challenging waves in the West, breaks over a reef and provides some of the most thrilling rides around. If it becomes too crowded or you aren't quite at the necessary skill level, the adjoining Lazy Rights is also a good choice.
8. The Rock
The Rock (which is located in front of a gigantic rock, surprise, surprise) is located at the far end of Kabalana Beach and is undoubtedly the most powerful natural force on the southwest coast of Sri Lanka. With an A-frame, you may get a short but furious right-hander as well as a long, walling left. Surfers who are advanced to an expert level only. All in all, we would like to rate this as one of the best spots for surfing in Sri Lanka.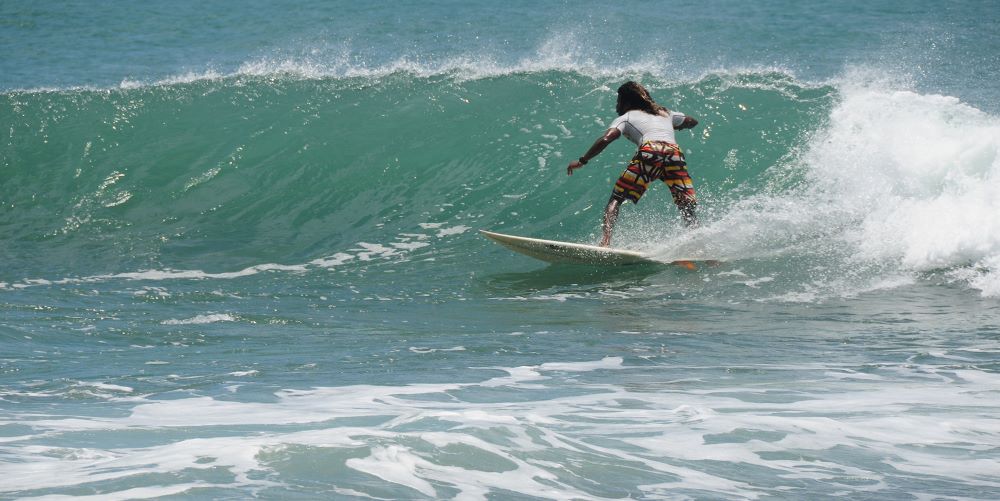 What board should you take for surfing in Sri Lanka?
Whatever board you normally ride will perform admirably in Sri Lanka, where there are waves to accommodate all surfboard shapes and sizes. If you normally ride a stick-thin shortboard, it may be worthwhile to bring something with a little more volume, like a groveller board or an inflatable longboard for surfing in Sri Lanka, to make the most of the less performance-oriented locations that are available.
Just keep in mind that you're not in Indonesia, so the waves will be a little less strong and more playful — unless the swell is just pounding!
We should point out that there aren't many surf shops in Sri Lanka, so we recommend carrying two boards with you if anything happens to one of your boards. We recommend bringing your own equipment if you're an accomplished surfer since many rental businesses are excellent for beginner or intermediate surfers.
Wetsuit or boardies/bikini?
One of the most appealing aspects of surfing in Sri Lanka is that you will not be required to wear a wetsuit; you will be able to surf in a bikini and board shorts all day! The water temperature is not much lower than the air temperature, so you'll be very comfortable in the water, but we would recommend wearing a wetsuit top or rashie to keep the sun off your skin.
Sri Lanka Surf Camps
In line with what you'd expect from a renowned surf destination, there are lots of Sri Lanka surf camps to pick from, with something for everyone's taste and, most crucially, all budgets.
There's something for everyone here, from luxurious, themed surf villas (like Dreamsea) to more budget-friendly alternatives (like Elsewhere Surf Camp) to in-depth surf teaching for all levels (like Ticket To Ride Surf House).
Some of the top choices are as follows:
1. Ticket To Ride Surf House
The Ticket to Ride Surf House, located just in front of Sticks & Marshmallows, is the ideal starting point for anybody searching for high-quality instruction — whether you're beginning to surf or trying to take your abilities to the next level.
2. LaPoint
LaPoint Sri Lanka is popular among Scandinavians, who follow the high-end surf villa style that the company offers in several locations worldwide. It's not the cheapest option, but you get what you pay for when choosing your accommodations properly! If you are a beginner at surfing in Sri Lanka, you can master your skills here.
3. Lanka Living Surf
Lanka Living Surf is a terrific spot to meet the locals and surf the waves. It is located in a rural community, nestled in the jungle, right beyond the town of Ahangama. A variety of all-inclusive packages are available, ideal for individuals who want everything taken care of while still staying in a unique location.
4. Dreamsea Surf Camps
It is the best option if you want to learn how to surf in luxury. This place is really lovely, with an enormous pool overlooking the ocean and newly renovated suites that embody the Bali hippie style!
5. Safa Surf Camp
Safa Surf Camp is based out of the Sand Dune Hotel, which is close to Arugam Bay and provides various programs for individuals looking to learn to surf in Sri Lanka, improve their surfing talents, or take advantage of the surf and stay packages for more experienced surfers.
6. Arugam Bay Surf Camp
Another choice at Arugam Bay is Surf Camp Arugam Bay, a modest establishment with just seven rooms that offers both guiding and coaching packages.
7. Solid Surf House
Solid Surf House has previously established camps in Morocco and Bali. It now provides a location in Sri Lanka's Weligama Bay that is ideal for anyone looking to learn to surf. Packages that include everything you need for a week of fun surfing are available.
8. Kima Surf
Kima Surf, which has established a series of fantastic surf camps around Bali, has just opened a surf camp in Sri Lanka that will include the same great boho vibes that previous Indo camps are known for. The variety of accommodation choices, from dormitories to luxury private rooms, ensures that there is something for everyone, no matter what they choose.
Surf Trips & Instructor Courses in Sri Lanka
Whether you're looking to learn to surf in Sri Lanka or combine different surf sites and experiences with waves and instruction, they can help you. In addition, the Ticket To Ride Crew—who also runs the epic South Africa surf trip—offers other epic surf adventures and even surf instructor certifications. 
Options for a three-week stay in Arugam Bay and Ahangama
Want to see more waves and spend less time traveling inland? The 3-week option, on the other hand, eliminates the Hill Country visit and divides your stay between Ahangama and Arugam Bay, with the duration spent in each location fluctuating somewhat depending on the date of your trip.
Instructor Training Course for One Week
You should consider this if you are already at a level where you can pass the ISA Level 1 surf exam and wish to finish your training in a tropical location.
An optional 4-week stay in Ahangama, Arugam Bay, and the Hill Country
This is a fantastic choice for anyone looking to see as much of Sri Lanka as possible while surfing non-stop for three months! Ahangama and Arugam Bay are the destinations for three weeks of the trip (the duration of stay in each location changes depending on the season), and a week is spent seeing the Hill Country. This trip is the ideal combination of surfing and exploration.
So, that's everything you must know about surfing in Sri Lanka. Book our Sri Lanka surfing packages to enjoy this thrilling activity in tropical waters.