Best Places To Visit In Vietnam
Best Places To Visit In Vietnam is an extraordinary collection of cultural and natural highlights multifariousness. The country's natural beauty blend comprises miles of golden paddy fields, scenic landscapes, eye-catching beaches, romantic islands, ancient cities, caves, ruins, and majestic palaces. Most of the Vietnam tourist attractions are among the world's best travel destinations list. Therefore, the best of Vietnam is also the best on the planet.
This fascinating country is perfect for multi-theme tours. The essence of the land can fulfill the inner holiday desires of the world of travelers. While we can't explain to you all the best places to see in Vietnam in one post, but we can summarize the must-see(s) as follows:
1) Spellbinding Halong Bay: A UNESCO World Heritage Site and one of the world's most spellbinding sea glimpses here to give the ultimate pleasure to your eyes and soul. Thousands of limestone islands to explore via a boat ride expedition. Cruising amidst caves, limestone islands, and lush green is one of a kind experience that you can only enjoy through top Vietnam tour attractions inclusions/packages.
2) Grand Hue: Endless discoveries in this mystical and historic town. Artifacts from the reign of the 19th-century Nguyen rulers and the gorgeous Perfume River create a mystical and dignified sight that fills your eyes and heart with wonder and pride at the same time. The Thai Hoa Palace, the Dien Tho Residence, and the Halls of Mandarins are the spectacular highlights in the ancient town. This imperial town is full of history and fascinating stories. A riverboat voyage on the Perfume River is the perfect way to witness and feel its luster. Hue is a must-include in any best places to visit in Vietnam inventory.
3) Mysterious Phong Nha-Ke Bang National Park: A world heritage site and one of the world's best-caving sites. This is a mysterious mountain formation with several caves, and magnificent stalactite and stalagmite collections wait here to puzzle you out about how much nature can get extraordinary. The Paradise Cave is the icon of the national park, extending 31 kilometers below the ground. Tu Lan Cave is one of the top Vietnam tourist attractions for an adventure experience. It is a wet cave, and the travelers can swim through the cave-systems river. Make sure you include this amazing travel attraction into your Vietnam holidays.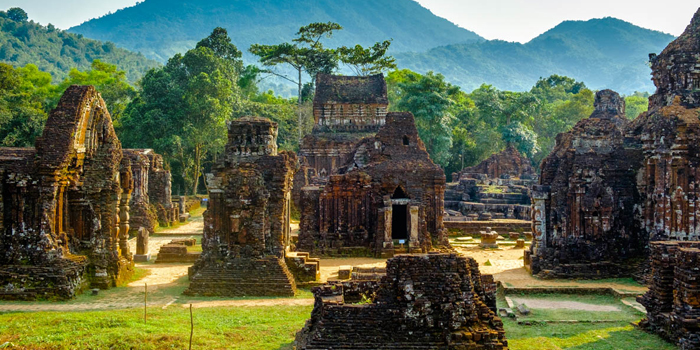 4) Ancient My Son: A 4th-century charm era temple city surrounded by lush jungle-covered mountains, and about 20 ancient temple ruins still stand there to show you the past greatness of the city. The ruins and ancient temples show off the influences of various Asian empires, including Malay and Indian. You can feel the ruling powers of those ancient emperors through what remains over there as artifacts and ruins. My Son is undoubtedly a perfect fit for culture/discovery best places to visit in Vietnam.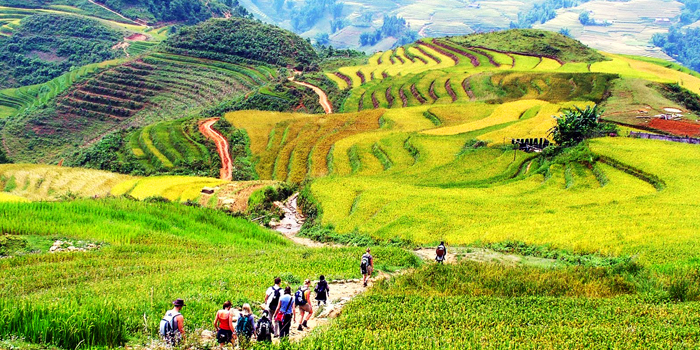 5) Breath-Taking Sapa Countryside: The ultimate nature's beauty of Vietnam is this. The collection of rural vistas here include irregular peaks of the Hoang Lien Mountains, flourishing rice field, dazzling skies, and the shining sun. Well, it is a paradise, and if honeymoon holidays are your theme for choosing Vietnam, then this is the pinnacle of nature's magnificence for a romantic and intimate time. Just looking at the beautiful sceneries made of Sapa Countryside's wondrous natural elements is a once in a lifetime experience. This is heaven on earth and one of the top Vietnam tourist attractions.
6) Golden Nha Trang: Here, we come to the best sandy-fun destination in Vietnam. A six-kilometer long beach strip exclusively maintained for tourist activities. This miraculous beach gets packed during the summer with foreign travelers and the locals. Designated swimming areas, sunbathing spots, manicured lounging areas, and the magical blend of the blue ocean and extended golden beach is a perfect package that satisfies your deepest desires. Would you need more reasons to rank this within the top Vietnam Tourist Attractions?
What are the other best places to visit in Vietnam? Ho Chi Minh City, Hoi An, Hanoi, Củ Chi Tunnels, Mekong Delta, Ba Be National Park, Đầm Sen Cultural Park, Ho Chi Minh City Opera House, Golden Hands Bridge, Dragon Bridge, and many more world's top tourist attractions and sites to witness and feel through Vietnam holidays.
Overa Tours For Best Places To Visit In Vietnam: Our tour packages take you to the best of the best of Vietnam. You can talk to us and include any destination or activity that you consider the best; we are more than happy to come up with a customized package for you. Contact us today for the perfect Vietnam holiday.