Lifetime Memories With Adventure Holidays In Sri Lanka
The term "Adventure" gives you an energetic feeling, and when it combines with "Holiday," then the combination becomes a perfect theory. However, you should pick a country that is perfect in all terms for this enthralling and persisting glory, and this is where adventure tours in Sri Lanka become the best choice. The pearl of the Indian Ocean is the home for world-famous adventure activities, including water activities, jungle tours, hill climbing, and many more. Therefore, whether you search for a family or group holiday full of adventuresome activities, the perfect match is right here waiting for you.
What Can You Do Here?:
As a foreign or local traveler, your inner adventure wishes and cravings could be something straightforward as a wildlife tour or an activity that uses your inner courage and all body muscles. No matter what you consider the best for a holiday spent with family or friends performing so-called brave liveliness, it all can take place on this glorious island. Below is what you can do for the best adventure holiday in Sri Lanka.
1) Wildlife Tours/safaris.
2) Forest Camping.
3) Hill Climbing.
4) Water Rafting.
5) Cycling Tours.
6) Diving & Snorkeling.
7) Sailing & Fishing.
8) Rain Forest Research.
9) Country Walks & Living.
10) Hiking & Trekking.
Well, that is not all; seaplane rides, birdwatching, turtle watching, and even hot air ballooning are the activities that you can take part while in adventure holidays Sri Lanka.
It Is Exclusive For Families: How about adventurous family time to remember? As a parent, you must be thinking of family adventures in Sri Lanka, and, yes, many world-famous activities are here to fulfill your requirements.
A quick tip: extended trips are better; at least six days of lively activities, including forest exploration, wildlife spotting, cycling tours, fishing, and many more.
Also, you should pick the right tour itinerary that incorporates suitable adventure activities for kids. For example, water rafting may be too harsh for kids under-five. Anyway, an award-winning tourer like us always introduces tailor-made/right adventure itineraries, after considering all such facts, giving you the perfect adventure holiday experience in Sri Lanka.
 The Best Family Adventure Ideas: If you are not sure of the so-called "The Best" ventures, then how about the following concepts?.
This has become a top choice among local and foreign travelers who wish to explore the country but in an energetic manner. Suitable for age 16+, and the history and culture of the glorious island explored by bicycles. Your tourer will propose the safe and right roads for this fun and courageous activity.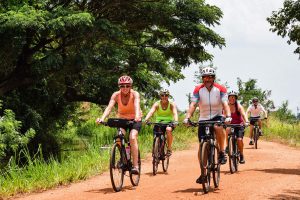 When it comes to wildlife safaris, no other country is better than Sri Lanka. Twenty-two (22) national parks that hold thousands of magnificent animals do exist on this small island. Exploring the wild side of the island is one of a kind experience. Moreover, whale watching and turtle watching are other options to try. Suitable for age 16+, but younger children also can be a part of it with expert assistance by a qualified tourer. Adventure holidays in Sri Lanka are best when wildlife tours are a part of it.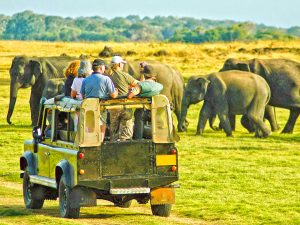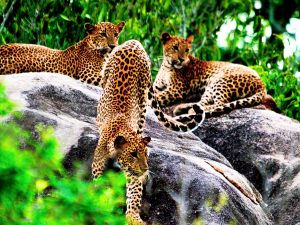 3) Exploring The Tropical Island:
If you are someone who craves adventure, but not fit enough for muscle-using activities, then this is your top choice. Suitable for age 9+, and the expedition takes place on comfortable safari jeeps or chauffeur cars. The best that the island offers covered through this adventure tour.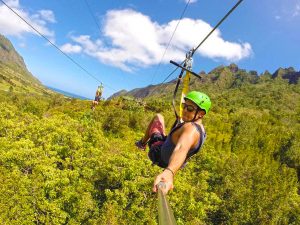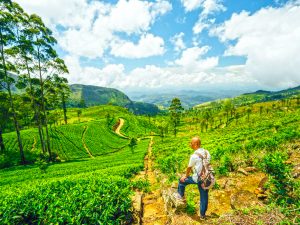 4) Highland Expeditions:
Sri Lanka is a diverse island full of hills and mountains. Hiking or trekking, exploring ancient forts, ancient Buddhist temples, and waterfalls are the perfect activities for energetic travelers.
* Walking through hill country's tea plantations. (On the challenging scale, this is leisure or moderate.)
* Climbing the ancient rock fortress, Sigiriya. (Moderately challenging.)
* Observing the fascinating sunrise on Adams Peak, which is a challenging adventure tour in Sri Lanka, and the hike includes climbing about 6000 decaying steps and inclined trekking.
* Knuckles Mountain Exploration. (Moderate to challenging experience.)
* Horton Plains National Park. (Leisure & moderately challenging.)
A quick tip: During an adventure holiday in Sri Lanka, you have a broad range of activities and options to consider. Therefore, make sure you plan for an extended holiday here.
5)Sri Lanka's North Revelation:
Jaffna and other northern cities of the North Province of the island were inaccessible due to the civil war. However, the unexplored North is now accessible with the ending of the civil war. Therefore, ancient Hindhu Temples, how-water wells, and beaches of the North and East are waiting for local and foreign travelers to reveal untold stories.
You may have visited Sri Lanka before 2009, but didn't tour the North Province due to the ongoing war. Now, we invite you for this adventurous expedition of the island's northern region.
6)Water Rafting & Surfing:
These are the well-known exciting activities that you can try for the most memorable adventure holiday in Sri Lanka. White water rafting in Kithulgala riding the tides of the river Kelani is exclusive for young and dynamic travelers. Hikkaduwa, Mirissa, Weligama, Ahamgama, and Arugam Bay are first-class for surfing in safe and mild conditions. Suitable for adults. Lifeguards are in place for your protection at all these destinations.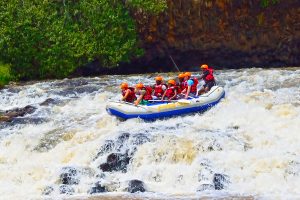 Where You Will Stay?: When planning an adventure holiday in Sri Lanka, you would undoubtedly focus on this fact. The pearl of the Indian Ocean is a world-famous travel destination. Thus, star-grade hotels and lodges exist in ample numbers here. No matter you plan for a 6-day or 10-day Sri Lanka adventure tour, your accommodation that guarantees your safety is assured here. 
Our Best Tip: choose a licensed tourer for a safe, consistent, and complete service throughout your adventure holiday. Also, get your vaccination before touring in a tropical country. 
Wrapping Up: So, family adventure holidays and tours in Sri Lanka are the top options to consider for your next holiday. For adventures that last in your heart for a lifetime and in a tropical setting, this island is the best choice in all terms.
Overa Tours is your trusted partner for all-embracing holidays with family or friends. Since we are local experts who know Sri Lanka from A to Z, we know what you exactly require for giving your family a first-class holiday full of adventure, authentic tastes, and nature. Make sure you inform the tourer regarding young kids or disable family members/friends in advance for making suitable arrangements. Thus, the reward you get in the end is a 100% satisfying, safe, and memorable adventure holiday in Sri Lanka; you will recall it for the rest of your life!