Negombo is one of the prime destinations for water sports in Sri Lanka. The quiet, protected estuary is the perfect environment to practice new sports and helps us to deliver a variety of events during the year. There's something for all experience levels & ages and health levels. 
Based on the needs, we will schedule group lessons, group practices, and water sports packages. For a memorable holiday, enjoying water sports in Negombo, contact us today!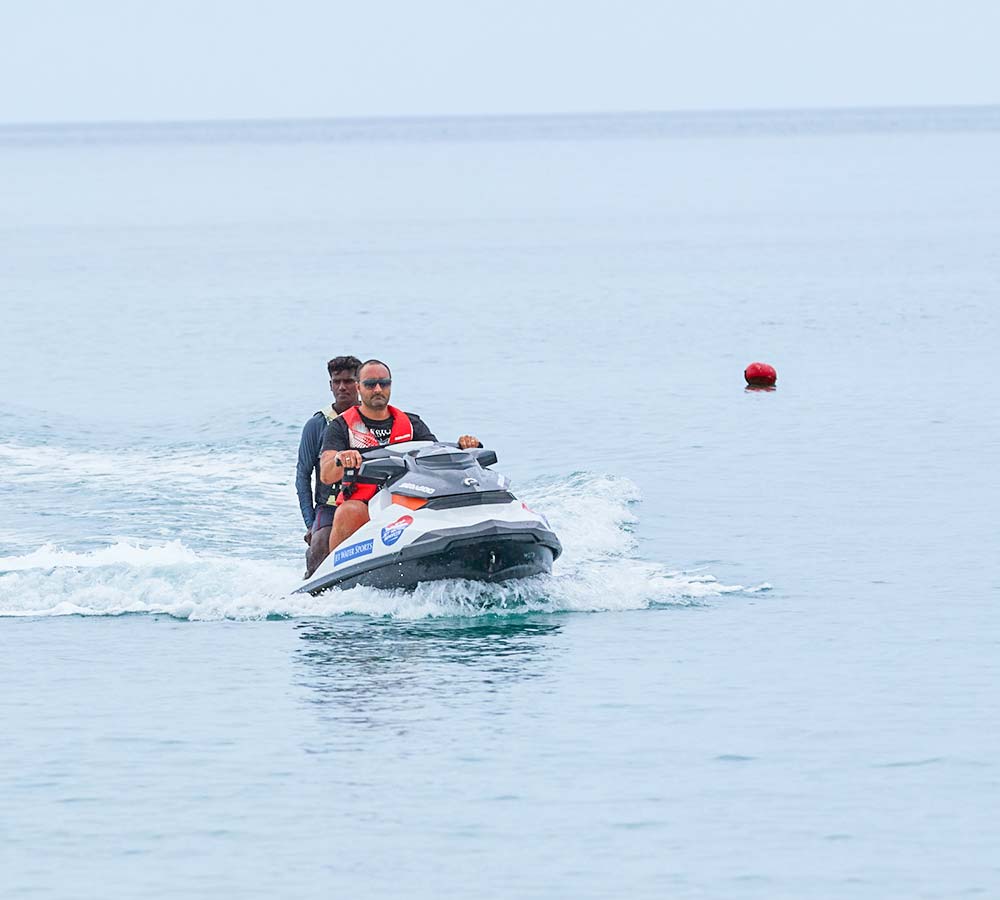 Water Sports in Negombo Quick List:
Sofa Ride, Tube Ride, and Donut Ride
Alright, we know that you want more info about each of these exciting water activities in Negombo. Let's go for it:
Jet Skiing in Negombo: When you're a thrill-seeker and you enjoy the water, jet skiing is everything for you. Often classified as personal watercraft (PWC), jet skiing is nothing but a water bike with skis added to it, and can ride easily on the water at a very fast speed. It's that speed that makes it more fun and adventurous.   
Skiing against the ocean, watching the endless sea waves lift you, and even flying into the fog of the sea will equal no other feeling of joy that you can feel. Including a dive in the magnificent sea of Negombo Minimum of 2-3 passengers based on the weight. 
Jet Skiing in Negombo is one of the most fun and thrilling water activities in Negombo. Perfect for honeymoon couples, young travel lovers, and groups. We can arrange for you and make your holiday even fun and satisfying. 
Banana Boat in Negombo: Banana Boat Riding is the perfect water sport for families. When you're on a holiday with your family members and would like to have some adventure together in the waters of Sri Lanka, Banana Boat Riding is a great choice of water sports in Negombo. 
If you're curious what a Banana Ride is, it's just where your family and friends ride on a long, air-filled banana-shaped boat that's powered by a motorboat at moderate speed, making it a safe and fun water activity for all. It's a safe, but exciting and enjoyable, water-filled sport. 
Overa Tours is also mindful of your desires and will customize the trip to suit your needs and make sure you feel comfortable and satisfied.
Sailing and Boating: To all of you in search of a nice stress-free journey, a cruise trip will be a perfect choice. Discover the wonders of Negombo, its spectacular seascape, the magic of wildlife, and the waters of this magnificent area. Like the speed boat tour that's just for the fun of taking this trip, it's more about learning and integrating with the surroundings. 
You should be able to spot some mangroves, island hopping, aquatic species, and other marine wildlife. If you're the one who enjoys a serene environment, it's for you. Sailing & boating is one of the best water sports in Negombo; you must try it! 
Sofa Ride, Tube Ride, and Donut Ride: This is one of the most exciting water sports and adrenaline shooting activities. Enjoy being pulled behind a speedboat on a tube that crosses the water and hops in the wake. The Negombo Lagoon is the perfect venue for this sport, and if you try this for the first time, we will lead you through the basics of the sport before your journey and give you full safety guidance.    
Tube riding is a kind of sport that may be named, simply imprudent. If you're a fan of the big tides and absolutely adore risks, that's for you. Negombo is one of the best places in Sri Lanka that you can count on for the best experience of this exciting water sport. With winds blowing and strong currents, you might have an opportunity to meet wave tubes as you've never had before. This can enhance the overall experience of your Negombo holiday. 
Kayaking & Canoeing: Sri Lanka, and in particular the Negombo district, which gives immediate access to rivers, safe lagoon, and entangled Dutch colonial canals, is canoeing heaven. Discover the natural priceless secrets of Sri Lanka in a soothing, self-paced way. Experience the ever-changing habitats and the coastal fauna and flora. 
The canoes are 16'9 "with two rows/seats. They are quite stable and have a good day of rest on the water. 2 adults recommended, and max. 3 adults under supervision. For prolonged or fishing trips with a maximum of 2 adults. 
We can arrange canoeing for individuals or groups. You also can rent a canoe and explore the surrounding areas on your own. We highly recommend this water sports in Negombo to all travel lovers.
Catamaran Rides in Negombo: Enter a team of local fishermen from Negombo and travel on a famous Catamaran. 
This adventure allows you to spend an exciting ride with the local fishermen of Negombo on a conventional catamaran. 
The Catamarans of Negombo are traditional boats constructed of local materials like wood, bamboo. Local fishermen in Sri Lanka use such boats for fishing. Based on the season, you will see them fishing in the ocean or the huge lagoon of Negombo, searching for fishes. A catamaran ride is one unique water sport in Negombo. 
If you are on a holiday in Negombo, you are in one of the best places in Sri Lanka for aquatic excitement, owing to the turquoise water of the Negombo Lagoon and the Indian Ocean. In fact, Negombo is one of the best cities for Water Sports in Sri Lanka. From relaxing boat trips and canoeing to fast-paced jet skiing, windsurfing, and water skiing, beautiful Negombo got something for everyone.  
Contact Overa Tours book your holiday and enjoy all the water sports available in Negombo.