South India has a wide range of interesting vacation options, making it the ultimate vacation spot! Intricate temple architecture, ancient ruins, palm-fringed canals, verdant plantations, gushing waterfalls, spirituality, and beautiful beaches will make for an intriguing and unique tour. If you are planning a trip to this part of the country, you need to know all about the best tourist spots in South India, which we will be discussing in this post. These destinations should be at the top of your bucket list, as they are nothing short of a traveler's dream.
Top Tourist Spots in South India
1. Alleppey in Kerala
Alappuzha, popularly known as Alleppey, is a popular winter tourist destination in Kerala. Due to its breathtaking natural beauty, travelers adore and love Alleppey. Nestled among verdant surroundings, it is an ideal getaway to be close to the natural world. When you visit Alleppey in South India, you will also notice a striking resemblance to Venice.
What's the ideal time to visit Alleppey?
November through February is ideal, as winters add to the effect and the weather is pleasant. Or else you can choose March through May, when the weather is dry and comfortable.
How to reach Alleppey:
Cochin International Airport, which is the nearest airport from the location, and Alleppey Railway Station, which is 4 kilometers from the destination, are the closest airfield and railhead, respectively.
2. Coorg in Karnataka
Coorg is perhaps one of the most popular tourist destinations in the state of Karnataka. Because of its coffee and tea plantations, gushing rivers, tranquil meadows, overflowing lakes, and breathtaking waterfalls, Coorg attracts tourists from India and other nations. Coorg has a variety of lodging options, ranging from fancy hotels to backpacker hostels.
What's the ideal time to visit Coorg?
October through March
How to reach Coorg:
The closest railhead to Coorg is Mysore Railway Station, and the closest airport to the city is Mangalore Airport.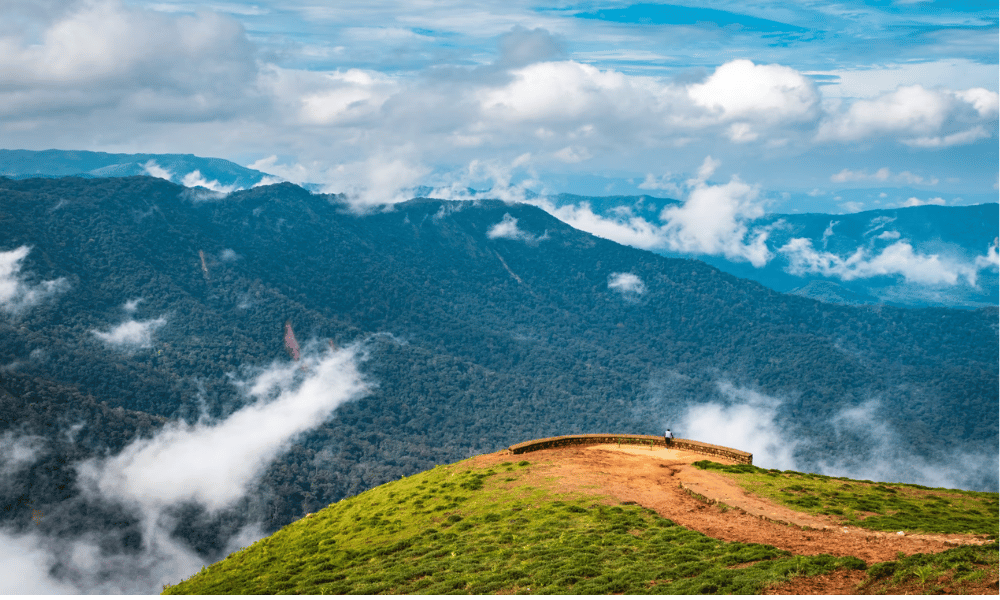 3. Kabini in Karnataka – Tourist Spots in South India
Kabini is known for its unique experiences and for possessing one of India's most pristine wildlife reserves. It is one of the best places in Karnataka to get away from the hustle and bustle of the city.
What's the ideal time to visit Kabini?
October through February
How to reach Kabini:
The nearest airport and railway station are Mysore Airport and Mysore Railway Station.
4. Kodaikanal in Tamil Nadu – Tourist Spots in South India
Kodaikanal, one of Tamil Nadu's most picturesque hill towns, is accessible throughout the year. Because of the foggy hills covered in fog and the cool temperature, it is one of the most famous tourist spots in South India.
What's the ideal time to visit Kodaikanal?
March to May
How to reach Kodaikanal:
Madurai Airport and Kodai Road Railway Station are the closest airfields and railheads, respectively, to Kodaikanal.
5. Wayanad in Kerala
Wayanad, a popular tourist destination in South India, is noted for its diverse flora and fauna and is nestled in the lush green forests of the Western Ghats. It is about 16 kilometers from Sultan Batheyr in Kerala.
What's the best time to visit Wayanad?
October through May
How to reach Wayanad:
Karipur Airport and Kozhikode Railway Station are the nearest airports and rail hubs.
6. Agumbe in Karnataka –Tourist Spots in South India
This one's for all you nature lovers. The Agumbe rainforest, the first of its kind, is one of South India's most popular tourist sites. This evergreen forest is a sanctuary for outdoor enthusiasts and home to a broad range of biomass. You can also explore various waterfalls in the Agumbe area. Make sure to take pictures of the gorgeous surrounding views.
What's the ideal time to visit Agumbe?
October through February.
How to reach Agumbe:
Mangalore Airport and Udupi Railway Station are the nearest airfields and railheads to Agumbe.
7. Ooty in Tamil Nadu
If you visit South India, another must-see destination is Ooty, one of the most well-known hill towns in South India. Ooty, a picturesque location in Tamil Nadu, is regarded as the "Queen of the Hills." Ooty is located in the beautiful green Nilgiri Hills. Officially known as Udhakamandalam, it is one of the most sought-after honeymoon locations in South India. You can take a trip on the Toy Train and experience the panoramic views of the hill station.
Also, if you love sweets and chocolate, make sure to take a trip down to the Chocolate Museum in Ooty and enjoy delicious Ooty chocolates.
What's the ideal time to visit Ooty?
Ooty is best visited between April and June and September and November.
How to reach Ooty:
The nearest airport to Ooty is Coimbatore Airport, and the nearest railway station is Mettupalayam Railway Station.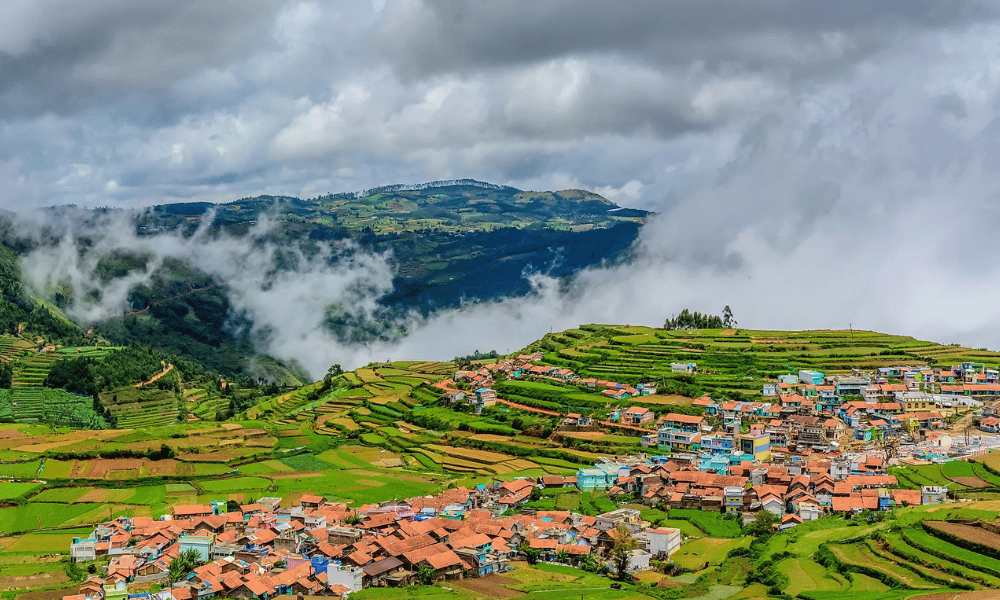 8. Kumarakom in Kerala –Tourist Spots in South India
This Kerala vacation spot can be described as a winter wonderland. This region is also a popular honeymoon destination, and it has a distinct personality that adds to the coziness of this destination. Kumarakom, with its abundance of palm trees, verdant meadows, and a long stretch of backwaters, is a sight you shouldn't miss out on.
What's the ideal time to visit Kumarakom?
November through February.
How to reach Kumarakom:
Kochi Airport is the nearest airport to Kumarakom, and Kottayam Railway Station is the nearest railhead.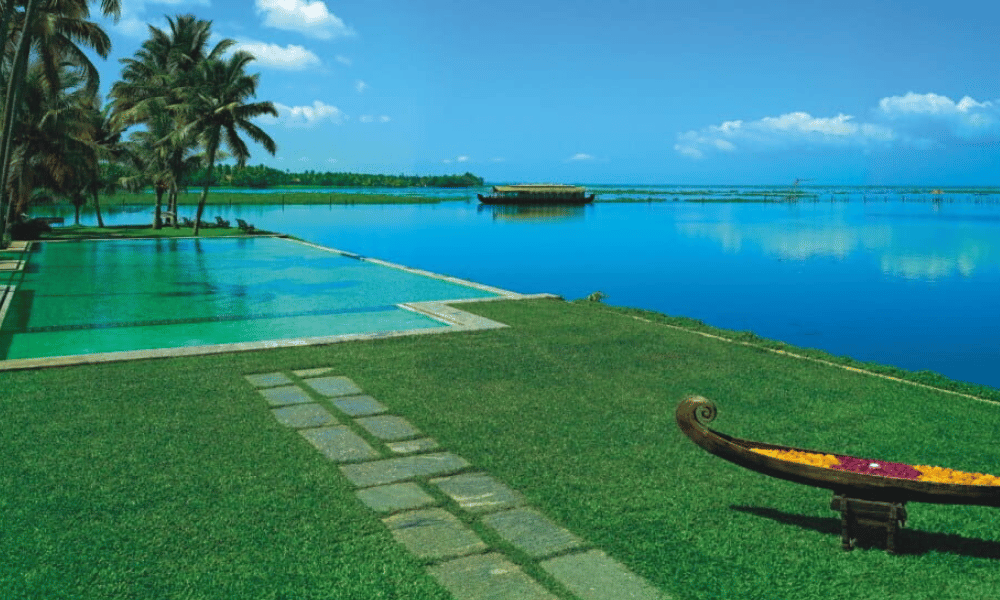 9. Munnar in Kerala
Munnar receives its name from the three rivers that run through it, and it is a beautiful hill resort in South India located in the Kannan Devan Hills of the Idukki district's Devikulam taluk. Munnar, a famous honeymoon destination, has captivated travelers with its spectacular natural beauty and serene atmosphere.
What's the ideal time to visit Munnar?
December through February.
How to reach Munnar:
The closest airport and train station is Cochin International Airport and Kochi Railway Station, which are the closest to Munnar.
10. Thanjavur in Tamil Nadu – Tourist Spots in South India
Thanjavur, a historic town in Tamil Nadu, is a prominent South Indian tourist destination that provides a diverse view of local religion and architectural treasures. Because Thanjavur is home to the Great Living Chola Temples, which are also UNESCO World Heritage Sites, it is an excellent destination to learn about India's rich cultural heritage. If you love exploring, discovering, and learning about new cultures, make sure to pay a visit to Thanjavur.
What's the ideal time to visit Thanjavur?
From October to March.
How to reach Thanjavur:
Thanjavur is around 59 kilometers from Tiruchirapalli International Airport, which also serves as the nearest railhead.
Wrapping up
A trip to the south of India is the dream of many travelers. On the one hand, there are some of India's best beaches, and on the other, there are stunning hill stations. Plus, there are historically significant temple towns, metropolitan cities, and cultures that showcase the rich history of South India. In this post, we discussed the top spots you need to visit during your vacation in South India. This incredible place will make your vacation the most memorable and enjoyable.