Divurumpola is a Buddhist temple near Welimada in Sri Lanka's central highlands. In recent years the temple has become a major Hindu pilgrimage site in Sri Lanka, as it is believed that Divumpola is the place where Sita underwent the famous fire ideal or "Agni Pariksha".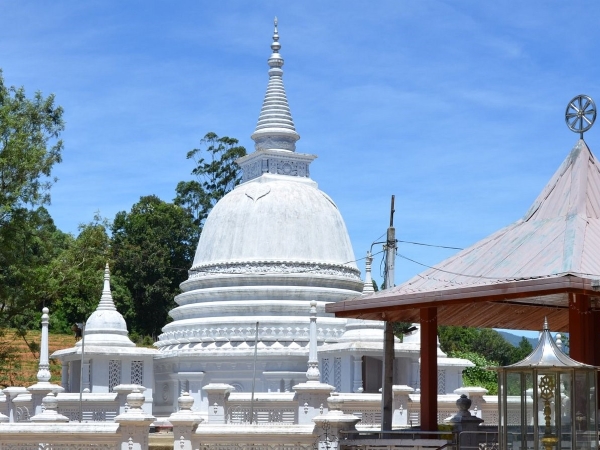 Divurumpola, in Ramayana legend
The fire ordeal or Agni Parisksha is one of the best-known episodes of the great Indian epic, Ramayana. When Lord Rama won the war against King Ravana, which he fought to liberate Sita, Rama doubted Sita's innocence and regarded her as impure. Troubled by rumors about Sita's stay in Ravana palace, Rama asked for proof of Sita's purity. This led Sita to ultimately resolve into undergoing the fire ordeal. She asked Lakshaman to light a pyre. Sita leaped into the fire sacrificing herself and prayed to Agni, the fire god to attest to her innocence. Agni arose out of the burning pyre and lifted her from the flames and presented her unscathed to Rama, attesting to her purity. Rama eventually admitted that he never doubted Sita's fidelity, but the test was needed to prove the truth of her purity to the people.
The name Divurumpola means "the place of oath" in Sinhala. On this basis, it is believed that Divurumapola is the place where the fire ordeal took place. The temple has long been regarded as a suitable place for oaths in solving disputes between parties. Recently, the temple has been transformed into a memorial of the famous Ramayana episode by adding Ramayana paintings. The site now attracts Hindu pilgrims of India who are visiting the Ramayana trail in Sri Lanka.
General information
Where is Divurompola temple located?
The temple is located 20km from Nuwara Eliya, near Nuwara Eliya- Welimada Road. It's a 40 min drive from Nuwara Eliya
What are the opening and closing hours?
Opened from 06.00 AM to 08.00 PM
What are the other Ramayana sites in Sri Lanka?
Koneswaram – Trincomalee

Ram Sethu Bridge

Kelaniya Temple

Seetha Amman temple – Seetha Eliya

Manawari Temple – Chilaw

Ravana Cave

Kataragama temple

Ussangoda

Rumassala

Dolu Kanda – Sanjeewani drops

Laggala

Dunuwila

Yahangala

Seetha Kotuwa

Sri Bhakta Hanuman Temple – Ramboda

Gayathri Peedam

Mani Kattuther Rock – Labookelle Estate

Sita Gooli

Munneswaram Temple

Ella

Seetha Tear pond

Ashok Vatica

Hakgala Botanical Gardens

Kanniya hot springs

Ramboda falls

Ritigala mountain