Discover the splendors of the fabulous Pasikuda as you move through the turquoise-blue sea from one of Pasikudah's most stunning beaches. The beach is renowned for its shallow seafront lined by healthy coral reefs, which helps you to stroll for miles in soft, inviting waters that rise just to the knees. This is at the top of the list of stuff to do in Sri Lanka. 
The beaches of Passikudah are relatively unchanged relative to other beaches across the country, rendering it the perfect place to soak up some rays and explore the vibrant sea life under the azure waters. Enjoy some famous water activities, such as scuba diving and snorkeling, and explore the undiscovered realm of wonders remaining in the crystalline waters of Pasikudah Bay. Come nose-to-nose with multicolored fish habitats and fascinating crustaceans peppering the sun-dappled reaches of the Indian Seas. 
Adrenaline junkies will love competitive water activities promised to have their core going through an exciting round of windsurfing, water skiing, and kiteboarding. Besides, you can try your hand at kite-flying, a renowned local sport that is steadily creating interest among foreign tourists. No matter what kind of beach holiday lover you are, Pasikuda in Sri Lanka is a one-stop, heavenly place of mystical marine experiences that you must come and explore today!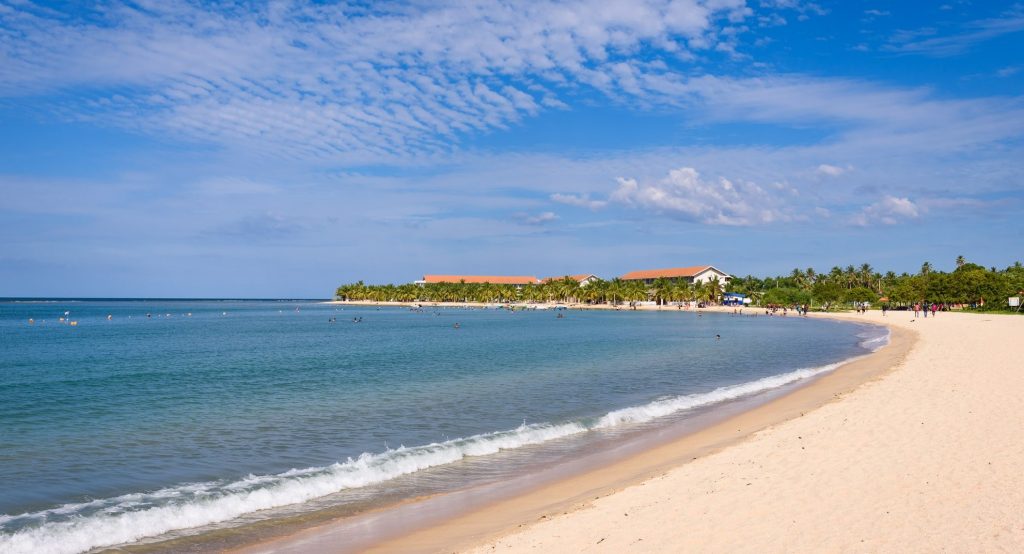 Pasikuda Complete Guide – What We Have Included Here 
Mention below is a quick list of Best things to do in Pasikuda:
Visit the Fabulous Pasikuda Beach
Try Enthralling Water Sports
Batticaloa Tours
Deep-Sea Fishing
Cycling Tours
Visit Kalkuda and Elephant Rock beaches
Here's a list of top tourist attractions in Pasikuda, Sri Lanka: 
Pasikuda Bay
Batticaloa Lagoon
Batticaloa Lighthouse
The Batticaloa Fort
Shipwreck
Somawathiya National Park
Heritage Museum of Kattankudy
The Coconut Cultural Park
Now, let's understand Pasikuda in Sri Lanka in-depth detail!
Why Visit Pasikuda, Sri Lanka? 
The beautiful and globe-famous coastal resorts of Pasikuda and Kalkudah, as well as the main town of Batticaloa, are all situated in the Batticaloa region of the eastern province of Sri Lanka. There are two heavenly beaches on this east coast of the country within easy reach; Pasikuda and Kalkudah. These two beaches are two of the key tourist attractions in this town. The sheer elegance of these two beaches renders them beautiful and majestic while at the same time making it more difficult for you to leave. Although all of these beaches are spectacular, there are several variations between them.
Water-skiing and windsurfing are two common hobbies for visitors. Even though these two beaches were famous tourist destinations back in the day, militant attacks (Sri Lankan Civil War) and the Tsunami in 2004 culminated in tourism activities falling to a halt. Since then, the required steps have been taken to rebuild these coastal communities.
Situated south of Kalkudah Beach, Pasikuda Beach has been renowned for its horseshoe-shaped harbor, calm waters, and limitless sandy beaches. Unlike the beach of Kalkudah, this beach is lined with beds, restaurants, and so on. The shallow water of this shore makes it a great spot for diving in the ocean and encourages shore devotees to walk deeper into the shore.
All in all, Pasikuda is one of the best towns in Sri Lanka for a complete holiday, meaning you have to visit it at least once in a lifetime.
Exceptional Things to do in Paskuda for Real Travel Lovers
Visit the breath-taking Pasikuda Beach
Pasikuda, implying 'green-algae-bay,' a tourist town located on the eastern coast of Sri Lanka, between Kalkuda and the Indian Ocean, roughly about 35 kilometers from the famous tourist town of Batticaloa. The blue striped waters of the bay draw local and international visitors to this big sandy spot under the hot blistering sun to surf, dive or just snorkel in the sea. There are also more sports available like kite surfing, boogie boarding, sailing, and canoeing.
Long out of sight owing to the civil war in Sri Lanka, it is now re-emerging as a tourism hot spot in the East of Sri Lanka. Coconuts and palm trees decorate the shores of this region due to the semi-arid environment, the sunscreen, and the broad ribbed hat are suggested, along with plenty of drink, to keep the heat under your command. As a prime tourist attraction in Pasikuda, visiting and enjoying the spellbinding Pasikuda beach is one of the best things to do when you visit the east coast of Sri Lanka.
Try Enthralling Water Sports in Pasikuda
Experience some thrilling entertainment when you enjoy water sports in Pasikuda. All that want a perfect adrenaline rush should pursue jet skiing, sailing, snorkeling, and swimming! So, come on, reward yourself to an incredible experience as you play through the glistening waters of this tropical destination!
The ideal coastal conditions of the shores of Pasikuda and Kalkudah enable visitors to experience a range of water sports. Although both Pasikuda Bay and Kalkudah Bay are protected by an off-shore coral reef environment rich with aquatic species, snorkeling and scuba diving are the perfect way to experience these colorful corals and aquatic life. There are few possibilities for the more daring ones out there, jet sailing, windsurfing, kayaking, and kite surfing.
No need to think about equipment and expertise, since the requisite equipment is widely available and because there are qualified teachers in the city. Since Pasikuda Beach is one of the finest beaches in the world, it is ideal for surfing, both newcomers and experienced surfers. Canoeing is another way to discover the magic of Pasikuda.
Below is a list of the best water sports to enjoy in Pasikuda Sri Lanka:
Water Skiing
Kite Surfing
Windsurfing
Surfing
Diving
Snorkeling
For travel lovers of all categories, trying watersports is one of the best things to do in Pasikuda.
Visit Pristine Batticaloa
The town of Batticaloa is situated in the Eastern Province of Sri Lanka, commonly known as Batticaloa. It is renowned for its 'singing fish' and the magical lagoon and beaches, and past going back to classical times, governed by the royal dynasties of Tamil and Sinhala and later by European settlers. Supervised tours to natural, cultural, and architectural landmarks and significant places in the eastern province of the country.
The distance from Pasikuda to Batticaloa is just 38 kilometers, which means that you ought to visit while preparing a holiday on the east coast of Sri Lanka. Well, Batticaloa is a complete tourist town for holiday planning, so you can visit it after a perfect time in Pasikuda.
Deep-Sea Fishing
Deep-sea fishing is a perfect outdoor activity if you choose to spend a couple of hours at the water. Because Sri Lanka has the greatest resource, vivid blue waters of the Indian Ocean, it offers travelers lovers more than enough options for a range of watersports, including deep-sea fishing. This exercise is a type of angling that involves deep waters and typically takes place farther away from the ground. If you go on a deep-sea fishing trip, the depth of the water should be at least 30 meters. Deep-sea fishing is sometimes referred to as big game fishing, boat fishing and, etc. And, in Sri Lanka, Pasikuda is one of the best places to try this rewarding practice.
Deep-sea fishing is therefore somewhat distinct from regular fishing expeditions. Putting your boat farther out from the land means you're going to be in deeper waters packed with large game fish like salmon, swordfish, and even marlin. You would definitely not run across these species near to the shore when they live and grow in these deep ocean waters.
This adventure practice is largely out of reach similar to water activities such as surfing. There are, however, a range of chances for adventurers to sample these deep waters. The perfect time of the year or season for sport fishing along the western and south-eastern coasts is generally from August to May, when the deep waters of the Indian Ocean are far calmer. Because of the rising success, we have to add this as one of the best things to do in Pasikuda.
Cycling Tours in Pasikuda
Cycling in Sri Lanka is a perfect way to explore all that this paradise island has to bring. So, pedal away to the stunning scenery of the fabulous tourist town of Pasikuda, taking pictures of the many fishing industries and endless panoramic, spellbinding views of the sea as the first rays of the golden sun to add color to this idyllic area.
Cycling is perhaps the best way to explore a city in a tourist destination when you are on a vacation. You can request this activity from your hotel or the tour planner. When considering the authenticity and fun, we would like to rate this as one of the perfect things to do during your holiday in Pasikuda.
Visit Kalkuda and Elephant Rock beaches 
Kalkudah & Passekudah in Sri Lanka, filled with coconut trees, is the best stretch for diving, windsurfing, and water skiing. Kalkudah Bay is a 2 km long stretch of shore well covered by an off-shore reef. The beach is also host to a range of marine fish and exotic marine ecosystems. The merged beaches of Kalkudah and Passekudah are suitable for surfing as the sea is open, peaceful, and well protected: the perfect setting for sunbathing, windsurfing, and skiing. Kalkudah & Passekudah are developing as a famous tourist center with many new hotel facilities.
Elephant Rock is a very renowned beginner surf spot situated about 4 km south of Arugam Bay. In addition to surfing, the place provides the ability to visit remote and pristine beaches, ascend the rock and see the sunset and, of course, the opportunity to see wild elephants walking in the vicinity.
Now, it's the time to know all the best tourist attractions in Pasikuda; let's get to it!
Pasikuda Bay
The Bay of Pasikuda is one that outdoor enthusiasts have always loved for years because of its special attraction. The outer bay catches the focus of isolated coral reefs encircled by several other marine societies. One of the best and most common reef systems in East Sri Lanka has also been suggested as a marine sanctuary. This is perhaps the best tourist attraction or the place to visit in Pasikuda, apart from the beautiful beaches in the region.
Batticaloa Lagoon
The Lagoon of Batticaloa is a must-visit for every visitor to explore before leaving the island. The nearest lagoon is just about 32 km away from Pasikuda. Inside the lagoon of Batticaloa, there are several islands called Buffalo Island, Bone Island, and Puliyantheevu Island, which are linked to the long bridges of the lagoon for tourists to enjoy a stay. The Kallady Lagoon has the highest bridge leading to one of the islands called "Lady Manning Bridge."
Batticaloa Lighthouse
The Batticaloa Lighthouse, situated in the suburbs of Paalameenmadu, is a remnant that reminds many tourists of the colonial past that continues to resonate in the region. Established in 1913 by the famous British administration, the whole purpose of building the giant Batticaloa Lighthouse was to lead many ships from afar in the olden times.
Since it is situated on the easternmost point of the town, the lighthouse sits directly at the intersection where the Batticaloa Lagoon meets the Indian Ocean, rendering the 28-meter-high tower noticeable to any ships heading in from the east.tThe center is also a park for many family and friends to rest while experiencing the stunning view of the lagoon and the beach, making it a top tourist attraction in Pasikuda and nearby regions.
The Batticaloa Fort
Having a good time at Pasikuda shouldn't drive you away from exploring Batticaloa's Old Dutch Fortress. The fort, which is thought to have been founded by the Portuguese in 1628, was called "Dutch" after being seized by the Dutch ten years later. The fort is situated in the center of the town of Batticaloa; the island of Puliyanthivu is bounded by a two-sided lagoon and has a square framework. The intention for the fort is to turn it into a museum and a conference center in the long term.
Shipwreck
The British ship was commissioned as a tanker during the Second World War and sank in the Japanese air attack, which also accounted for the aircraft carrier HMS Hermes and numerous other ships on 9 April 1942. The ship lies at 27 m on its side, divided into two sections. There is a simple infiltration of some of the keeps with a wide region to discover. The peak of the wreck is at 13 m and is filled in a garden of purple and pink soft corals.
Wide classes of blue-lined and bigeye snappers, mangrove snappers, batfish, and groupers take shelter in the rubble. There are several clownfish anemones on the floors, and shooter schools above the wreck frequently draw giant hunting trevally. This is a top-class ruin that deserves a few dives. So, this deserves a place in the list of best places to visit in Pasikuda.
Somawathiya National Park
The Somawathiya National Park can be conveniently reached from Pasikudah or Batticaloa. The Somawathiya Stupa, which houses a relic of the Lord Buddha's tooth, is situated inside a park rich in fauna and flora. The 20 Villus can be located inside this area, which is a popular and special aspect of this area. This attraction must be in your list of best places to visit in Pasikuda, Sri Lanka.
Heritage Museum of Kattankudy
The Kattankudy Heritage Museum portrays the fascinating cultural past of the Muslims. The museum is distributed over three floors where you can find diverse objects, recreations where life-size versions of their societies. A collection of Islamic documents and ancient versions of the Holy Quran can be contained in this Heritage Museum, as well as proof of the trade practices of Muslims in ancient history and the various facets of the lifestyle of Muslims.
The Coconut Cultural Park
The Coconut Cultural Park is situated just across Pasikuda Beach and occupies a region of more than 235 acres of land. Twenty-five acres of this estate has been established as a tourism zone and is controlled by the Coconut Development Board of Sri Lanka.
How to Get from the Airport to Pasikuda in Sri Lanka?
There are several alternative modes of travel available to reach Batticaloa, Kalkuda, and Pasikuda from Colombo.
There are two options from which to choose the order to arrive at Pasikuda, which is situated about 282 kilometers east of Colombo by route. You will either drive a rental car or a taxi. The easiest way to get to Pasikuda or Kalkudah is via the A11 and the ride takes 5 and a half hours. The alternate path is through the Ambepussa-Kurunegala-Trincomalee and A11 motorways. Traveling by road is a comfortable and unbridled form to travel.
You may visit Pasikuda by bus, private taxi train, or through a local tourer, which is the safest and most convenient option.
What are the BEST Hotels and Resorts in Pasikuda
Aki Villa
Sunrise by Jetwin
Karpaha Sands
Anantaya Resort and Spa Passikudah
Uga Bay by Uga Escapes
Amaya Beach Passikudah
Maalu Maalu Resort & Spa
Anilana Pasikuda
Giman Free Beach Resort
The Calm Resort & Spa
Sun Siyam Pasikudah
Amethyst Resort Passikudah
Passi Villa
How Many Days to Spend in Pasikuda
Well, you can even spend a 5-day holiday in this remarkable beach destination in Sri Lanka. When considering the number of things to do and places to visit in Pasikuda, you would need a minimum of three days to cover it all.
It depends on your choice as well! Many reputable local travel agencies have 1-5-day holiday packages that include Pasikuda in Sri Lanka.
The Weather and the BEST time to visit Pasikuda in Sri Lanka 
The perfect time to visit the district of Batticaloa would be from May to September. Throughout that time, the waves are said to be calmer, with ideal beach conditions and the atmosphere appropriate for water activities. During the winter season (November to April) the water tends to be harsh. The temperature here is about 25 degrees Celsius and 32 degrees Celsius on average. The district has a moderate rainy and dry atmosphere and an estimated annual rainfall of 1,650.9 mm.
So, have you chosen Pasikuda as your next holiday spot? Contact Overa Tours and book your 100% customized holiday today!