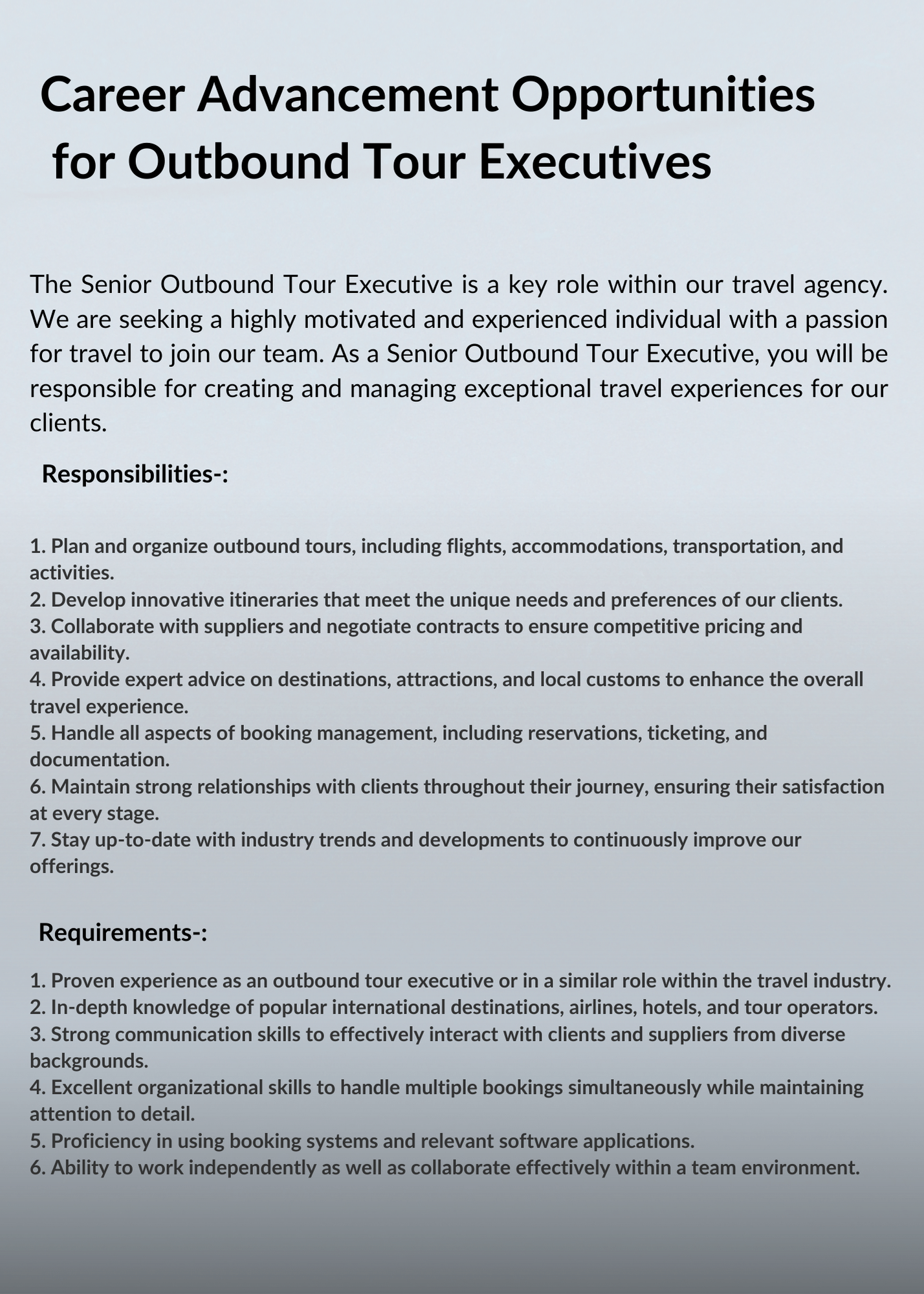 Joining our team as a Senior Outbound Tour Executive provides an exciting opportunity to create unforgettable travel experiences for our clients while growing your career in the dynamic field of tourism. If you have a genuine love for travel combined with excellent customer service skills, we would love to hear from you.
Please submit your resume -:
Career Advancement Opportunities for Outbound Tour Executives
The Senior Outbound Tour Executive is a key role within our travel agency. We are seeking a highly motivated and experienced individual with a passion for travel to join our team. As a Senior Outbound Tour Executive, you will be responsible for creating and managing exceptional travel experiences for our clients.
Responsibilities –
1. Plan and organize outbound tours, including flights, accommodations, transportation, and activities.
2. Develop innovative itineraries that meet the unique needs and preferences of our clients.
3. Collaborate with suppliers and negotiate contracts to ensure competitive pricing and availability.
4. Provide expert advice on destinations, attractions, and local customs to enhance the overall travel experience.
5. Handle all aspects of booking management, including reservations, ticketing, and documentation.
6. Maintain strong relationships with clients throughout their journey, ensuring their satisfaction at every stage.
7. Stay up-to-date with industry trends and developments to continuously improve our offerings.
Requirements:
1. Proven experience as an outbound tour executive or in a similar role within the travel industry.
2. In-depth knowledge of popular international destinations, airlines, hotels, and tour operators.
3. Strong communication skills to effectively interact with clients and suppliers from diverse backgrounds.
4. Excellent organizational skills to handle multiple bookings simultaneously while maintaining attention to detail.
5. Proficiency in using booking systems and relevant software applications.
6. Ability to work independently as well as collaborate effectively within a team environment.
Joining our team as a Senior Outbound Tour Executive provides an exciting opportunity to create unforgettable travel experiences for our clients while growing your career in the dynamic field of tourism. If you have a genuine love for travel combined with excellent customer service skills, we would love to hear from you. Please submit your resume along with any relevant certifications to [email protected]