Ready to bring adventure to your honeymoon? Celebrate the beginning of your life as a couple with adventure honeymoons in Sri Lanka. It is an opportunity to travel, experience culture, and collect life-lasting memories with the person of your dreams. 
The island offers plenty of options for adventure-seeking couples. We are presenting you with some of the best adventure honeymoons you can experience in Sri Lanka.
Options to Consider for Adventure honeymoons in Sri Lanka
1. Riding waves in Kitulgala
Giving in to a roaring river's power and going along with its flow is the best kind of adventure. Sri Lanka offers the perfect place for couples to experience the rush of white water rafting. Located south of Kandy, the small town of Kitulgala is the way to the Kelani river's rapids. Spare a little time to explore the place more. Enjoy taking hikes through the jungle. You can also go bird watching and embark on waterfall trekking trails. 
2. Deep-sea diving in Hikkaduwa
There is nothing as magical as under the sea. So what do you say to deep-sea diving? It will take you to the depths of this realm so you can experience its beauty. If you love sea diving, one of the best adventure places in Sri Lanka is off the coast of Hikkaduwa. It is one of the South East Coasts' most famous towns. Couples get to explore the seas, the colorful corals, and playful fishes and discover the beautiful underwater world together.
3. Surfing in Midigama
 If you are a couple who adore the beach and crave a little adrenaline, surfing is the way to go. Do you love riding the ocean waves and feeling the water splash as you surf? Well, you should visit Sri Lanka, which is known for having fantastic surf beaches. Midigama, on the southern side of the island, is a well-known surf spot. With miles of sandy beaches, it is the ideal spot for riding the waves. If you and your loved ones are experienced surfers, Midigama is the best place to choose for your honeymoon vacation.
4. Hiking in Corbet's Gap
This option is perfect for sporty couples who love spending time with nature. Corbet's Gap, located on Hunnasgiriya-Meemure Road, will be a dream come true for you. You get to hike to the famous Nitro Caves and explore them. It will give you the chance to discover the country's natural beauty. Corbet's Gap is not the only place, though. There is more. Other sites for travelers who love trekking and hiking include the Knuckles Mountain Range, Hortons Plains, Lipton Seat, and Adams Peak.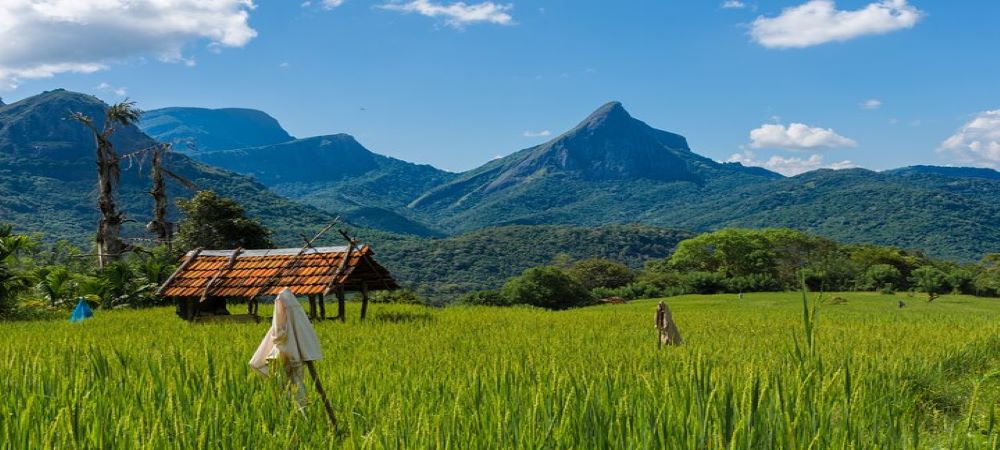 5. Go on a kayaking trip in Kalutara
This adventurous option is for couples who wish to enjoy adventure sports that are not too extreme? Then you can try kayaking or canoeing in Sri Lanka. We recommend taking a kayaking trip on the Kalu Ganga. This river streams down towards Kalutara and meets the Indian Ocean. It is famous for its rich flora and fauna. Kalutara is also the perfect place for couples who love nature. If you like canoeing, you can do so in the tranquil waters of the Samanalawewa reservoir. It is one of the many vast tanks in Sri Lanka.
6. Go on a wildlife safari in Yala National Park
For couples who love the prospect of exciting encounters with wildlife, a safari is a perfect option. The best spot to experience the best of wildlife is the Yala National park. Home to a wide range of wildlife, Yala national park offers close interactions with nature. While on safari, couples get to have close encounters with some fascinating wild animals. 
​Expect to see leopards, Elephants, spotted deers roaming around as you enjoy your safari. It might sound too dangerous for some of you, but it is not. When you book the tour, a guide will accompany you to ensure you and your loved one's safety. You will also get to learn fascinating stories about endemic animals in Sri Lanka. If you are lucky, you may also get to encounter some of them, like the Sri Lankan Sloth Bear, the Golden Palm Civet, and many more. This adventure will surely make your honeymoon more memorable.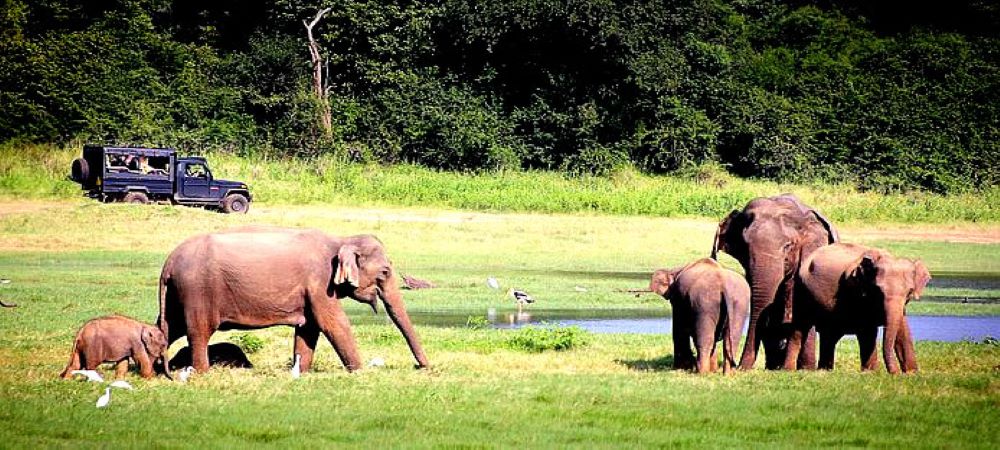 7. Kite-Surfing in Kalpitiya
Are you an avid fan of kite surfing? How about making it part of your honeymoon vacation? If you are up for it, we will let you know the best place for it. Located in the North-Western Province of Sri Lanka, Kalpitiya is the perfect destination for you to enjoy this exciting water sport. If you and your loved one are new to the sport, this could be a chance to learn this skill together. You have the option to train with experienced experts who can show you the ropes. If you are a freestyler by any chance, Kalpitiya is perfect for you to test the winds on an exciting lagoon expedition.  
8. Hot Air Ballooning in Kandalama
What could be more romantic for two love birds than the opportunity to explore the skies? Hot air ballooning serves just the right amount of romance and adventure. The sight of the sunrise landscape from a hot air balloon is something you cannot see any other way. That is what makes this activity popular among honeymooners. 
Do you want to experience this adventure too? Then look no further than Sri Lanka. Experience this magical moment during your stay at a luxury hotel like Heritance Kandalama. Situated in Central province, Kandalama is a beautiful small village. The infamous hotel is a 20-minute drive from the World Heritage Site- the Dambulla cave temple and the Sigiriya fortress. 
Imagine how it would feel to be hot air ballooning through these beautiful landscapes? The aerial view of the surrounding area is the most magical part of this experience. You will have the chance to enjoy the ride for around an hour, then a champagne toast upon landing. 
Wrapping up
So did you decide on your adventure destination yet? Is it surfing in Midigama? Or is it hot air ballooning in Kandalama? But then, how could you miss out on the wildlife safari at Yala? At Overa Tour, we know; it is not easy to choose between all these options. Your choice could be extreme or less challenging. Regardless, you will always find your type of adventure in Sri Lanka. We are sure that any of these destinations will make your honeymoon the vacation of a lifetime- for both of you.