Munneswaram Temple is an important Hindu temple complex in Sri Lanka. Located in Chilaw of Puttalam District, this temple complex has been in existence at least since 1000 C.E. The temple complex is a collection of five temples, which are popular among both Hindus and Buddhists. The central temple is the most prestigious temple within the complex, which is dedicated to Lord Shiva. The other temples are dedicated to Kali, Ganesha, and Aiyanar. The temple is one of the five ancient Pancha Ishwarams in Sri Lanka.
Destruction and Reconstruction
The Munneswaram Kovil has been destroyed twice in its history, during the Portuguese conquest of Sri Lanka. In 1578 the temple was destroyed completely, saving just its basement. Under King Rajasinghe I, the temple was rebuilt. The temple was destroyed once again by the Portuguese in the early 17th century, but it was rebuilt by the local people.
Myths and Beliefs
The myths and beliefs associated with the temple vary with different religious groups. For Sinhala Buddhists, Munneswaram is a goddess temple associated with Kali. As per Sinhalese myths, Munneswaram is the place where goddess Kali landed from India. A popular myth among the Tamils states that Munneswaram was renovated by a legendary Chola King after the temple's holy water cured his incurable skin disease. It further states that the king created a community of caretakers to maintain the temple.
In Ramayana Legend
According to legend, the Munneswaram temple is located at the place where King Rama( the hero of the epic Ramayana) prayed to Lord Shiva after killing Ravana. And it is believed that King Rama stopped his vehicle at Munneswaram to get the blessing of Lord Siva. It is stated that Rama was advised by Lord Siva to install four Siva lingams across the country.
Find out more about the Ramayana trail in Sri Lanka.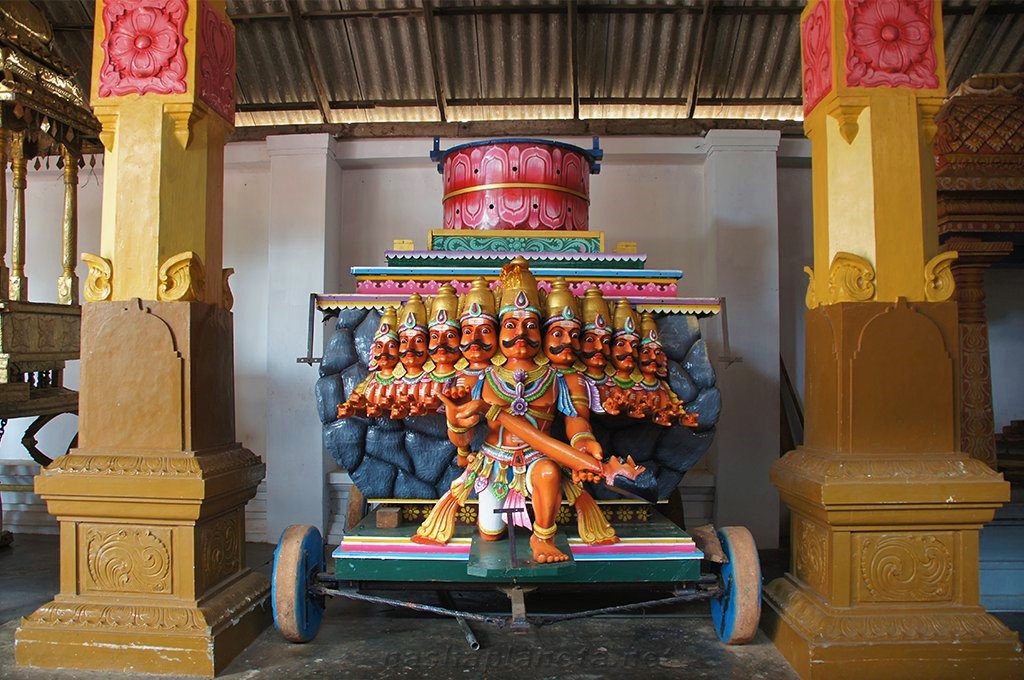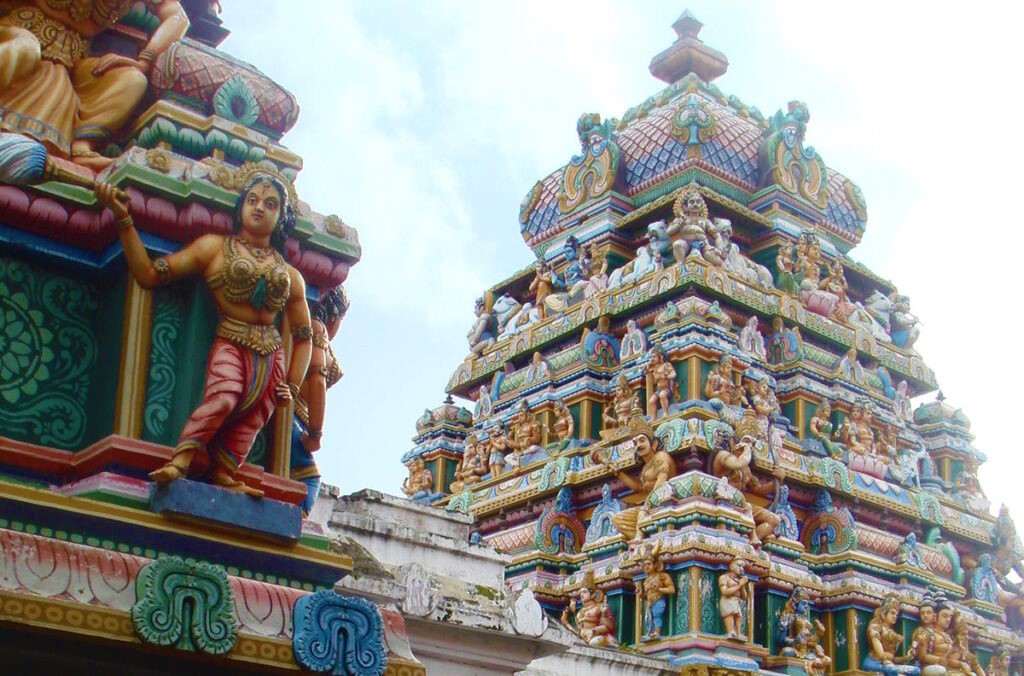 Festivals
The Navarathri and Shivaratri festivals at the Munneswaram temple are well known among pilgrims. Navarathri is a nine-day festival dedicated to various aspects of the presiding goddess whereas the overnight Shivarathri festival is dedicated to Lord Shiva. The temple's own festival; Munneswaram festival is a four-week long event attended by Hindus, Buddhists, Christians, and Muslims.
Munneswaram Temple: General Information
Where is Munneswaram Kovil located?
Munneswaram near Chilaw, Puttalam district
What is the distance from Colombo to Munneswaram?
82.4km from Colombo. Approximately a 2-hour drive
What are the opening and closing hours?
Opens from 5.30 a.m to 8.00 p.m
Munneswaram Kovil's contact number?
+94 322 22 3916
+94 727 77 6530
Are entrance tickets needed?
No entrance tickets are needed to enter the temple.
What are other Ramayana sites in Sri Lanka?
Koneswaram – Trincomalee
Ram Sethu Bridge
Kelaniya Temple
Seetha Amman temple – Seetha Eliya
Manawari Temple – Chilaw
Ravana Cave
Kataragama temple
Ussangoda
Rumassala
Dolu Kanda – Sanjeewani drops
Laggala
Dunuwila
Yahangala
Seetha Kotuwa
Sri Bhakta Hanuman Temple – Ramboda
Gayathri Peedam
Mani Kattuther Rock – Labookelle Estate
Sita Gooli
Divurumpola
Ella
Seetha Tear pond
Ashok Vatica
Hakgala Botanical Gardens
Kanniya hot springs
Ramboda falls
Ritigala mountain