Are you planning your dream vacation to Vietnam? Your vacation won't be complete without a visit to the best destination in Vietnam, which is Halong Bay. So it's no wonder that Halong Bay, Vietnam, is one of the most loved destinations in Vietnam for domestic and foreign tourists. It features a 120-kilometer coastline, complex limestone islands, caves and grottoes, and dozens of beaches.
Recognised by UNESCO twice as a World Heritage Site, Halong Bay in Vietnam offers a fantastic and rare blend of pristine natural beauty and an effervescent city vibe. The best way to see all of this is to visit some of Halong Bay's top attractions. Through this post, we'll discuss some of the best attractions in Halong Bay, Vietnam, that you need to visit.
 What are the top attractions in Halong Bay, Vietnam?
1. Cat Ba Island
One of the must-visits in Halong Bay, Vietnam, is Cat Ba Island. Cat Ba National Park, a World Heritage Site and biosphere reserve, is home to a variety of species of mammals, including the bulk of the 65 remaining golden-headed langurs, the world's most endangered monkey. The park contains seventy bird species and over a thousand plant species, including 160 with medicinal significance. On the island, there are some great hiking trails, including an 18-kilometre journey to a mountain summit. 
The majority of hikers halt in Viet Hai, a minority village, where snacks and lunch are served. A guide is not required, although it is encouraged so that you can make sense of the lush canopy of trees. The majority of visitors prefer to explore the park on scheduled trips. You'll have the opportunity to discover its natural splendour, which includes caverns, limestone woods, cascading waterfalls, and little streams that drain to the sea.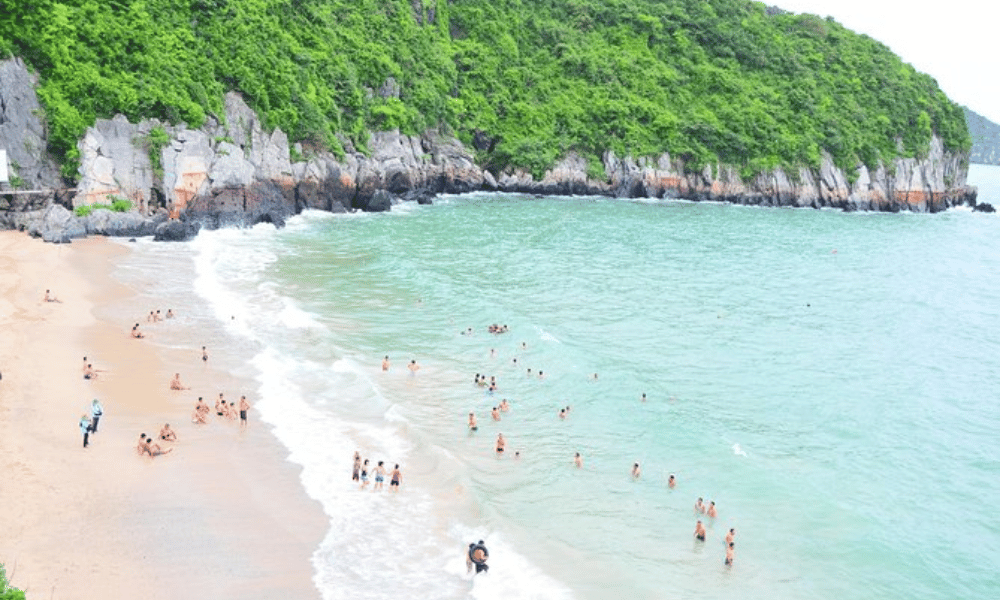 2. Sung Sot Cave
Sung Sot Cave is the largest and most spectacular cave in the centre of a UNESCO historic site. The cave contains a massive system of stalactites and stalagmites of diverse shapes, displaying Mother Nature's magnificent creativity. The trail to Sung Sot Cave winds through a forest canopy with rocky steps, providing an adrenaline rush as you climb to the summit. This is a must-see on your Halong Bay, Vietnam, bucket list for thousands of travellers every day. Wouldn't you want to check it out too?
3. Thien Cung Cave
Thien Cung Cave is located in the south-west region of Halong Bay, about 4 kilometres from the port of Dau Go Island. Get ready to be amazed by the intricate interior. Thien Cung is famous for its complicated network of stalagmites and stalactites of diverse shapes and sizes. Don't forget to bring your camera since the display of diverse colours provides for a fantastic backdrop. 
The entrance is positioned in the centre of a mountain, so you will have to trek up to access the cave. So if you are an adventurous spirit who loves trekking, don't miss out on visiting the Thien Cung Cave during your visit to Halong Bay, Vietnam.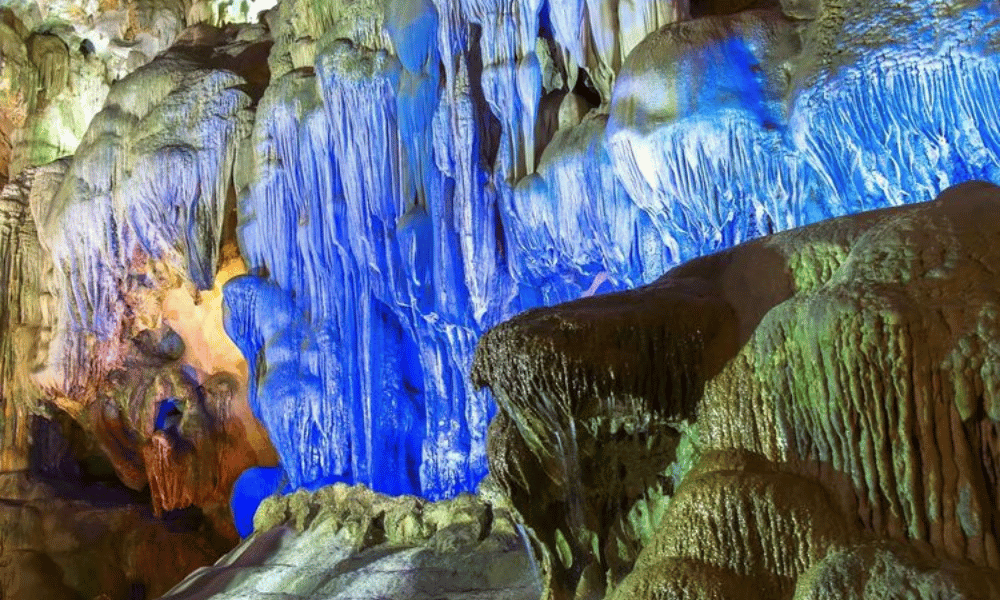 4. Monkey Island
Monkey Island (or Cat Dua in Vietnamese) is only reachable by boat, but those who make the effort are rewarded with a slew of outdoor adventure activities, including access to a private beach. You may sip coconut water while soaking up the rays on the beach. You may also enjoy kayaking or snorkelling in Halong's blue seas. 
Hundreds of monkeys romp around the island, as the name implies. They are quite lively and openly engage with both residents and visitors. Aside from these arboreal critters, it's the beautiful beauty that draws visitors to Monkey Island. Almost all tourist boats stop here, so visitors may take in the natural splendour that Cat Ba has to offer.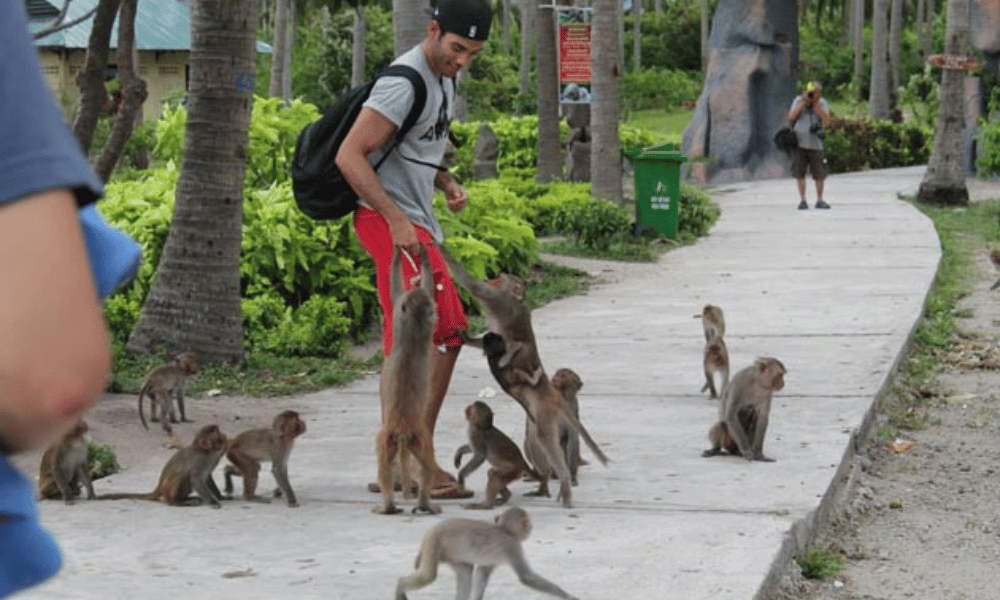 5. Titov Island
Titov Island, with its lovely natural beauty, magnificent mountain, and brilliant beach, is a popular stop that you should not miss when exploring Halong Bay, Vietnam. A crescent-moon-shaped beach on one side and a high mountain slope on the other surround the island. Visitors can relax on the beach and enjoy the crystal blue water, or they can climb over 400 steps to the mountain deck and enjoy the 360° panorama of the island.
6. Cua Van Fishing Villages
Cua Van fishing villages have long been a popular tourist destination as well as a residence for local fishermen. When you visit Cua Van fishing village in Halong Bay, Vietnam, you may not only get close to nature, but you can also learn more about the wonderful culture and everyday lives of fishermen and women through various activities such as rowing boats, drop fishing, and visiting fish farms in the middle of the sea.
7. Tuan Chau Island
Tuan Chau Island is the largest and only inhabited island among all of Halong Bay's islands. This is also a packed entertainment complex with massive water parks and spectacular water acts by sea animals like dolphins and sea lions. Tuan Chau Island also has a beautiful artificial beach to keep you immersed in the sea atmosphere at all times. Only 2 kilometres from Halong City, this is an excellent location for more fun and excitement from vibrant beach activities.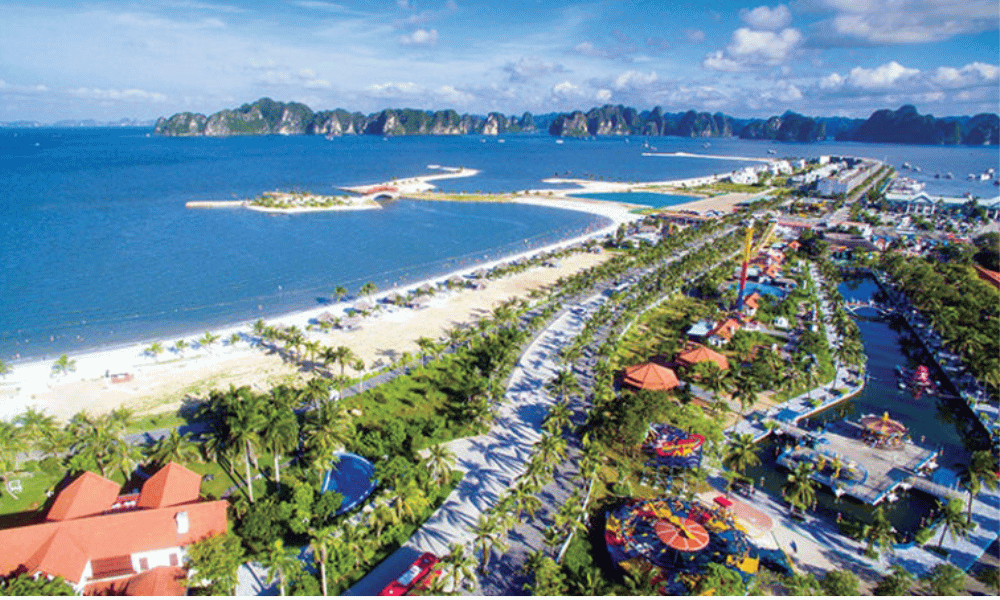 What's the best time to visit Halong Bay, Vietnam?
Halong Bay, Vietnam, is best visited in late spring (March and April) and early fall (October). The late spring climate at Halong Bay features slightly bright sunshine and a mild breeze, with an average temperature of 25°C. This is also the season of flower blossoming and spring festivals, which provide not only a refreshing environment of surrounding nature but also the pleasure of discovering local customs. 
Meanwhile, fall precipitation is forecast to be minimal, and the water will settle down after the stormy season, making it a popular time to travel by cruise ship.
Usually, most domestic travellers like the crystal blue water and clear sky, which provide the best view of the offshore scenery despite the intense heat in the summer May–July). During these times, the beaches may be crowded with people swimming, kayaking, and partaking in other water activities. When visiting Halong Bay, Vietnam, during the summer, remember to avoid outdoor activities at noon, as the sun might induce unexpected heatstroke or burns.
Wrapping Up
There you have it! Now you know a lot about the infamous Halong Bay, Vietnam. It gets a lot of love from locals and foreigners for its picturesque natural views and for offering an amazing city vibe at the same time. As we discussed in this post, Halong Bay, Vietnam, is filled with wonderful attractions that you would love. It's the perfect spot for all adventure seekers, explorers, nature lovers, and travel enthusiasts. Don't miss out on visiting Halong Bay during your visit to Vietnam.