Udawalawe national park is one of the best places in Sri Lanka to see wild elephants. An Asian elephant herd, no less than 250, is permanently residing at Udawalawe national park. The park is capable of sustaining large numbers of elephants because of its abundant water sources. Hundreds of elephants annually migrate to the park from nearby protected areas as well. Udawalawe national park was created for elephants displaced by the construction of the adjoining Udawalawe reservoir. Nearby, elephant transit home (Ath athuru sevana) was set up later, to care for abandoned and injured elephant calves until they are fit enough to survive in the wild. It is a heart-warming experience to see calves being milk fed by the DWC elephant transit home team. The park also serves as a catchment area to the reservoir and Walawe River. Before it was protected by the DWC, the area was an extensive Teak, Eucalyptus and Chena crop cultivation. Furthermore, Udawalawe is an important bird area with a wide range such as aquatic, birds of prey, and land birds in abundance. If you like to explore Sri Lankan birdlife, morning safari experiences are known to include rare bird sightings frequently.
Udawalawe Map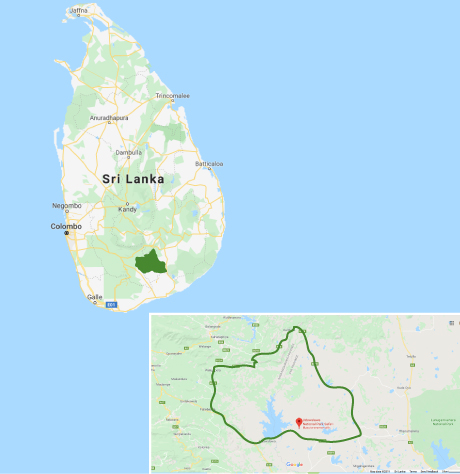 Safari Information
Udawalawe National Park Opening and Closing Times – 6.00 a.m to 6.00 p.m
Udawalawe Safari Duration – 3-4 hours (Extended safaris, full day safaris, and birdwatching safaris can be arranged.)
Major eco-systems inside Udawalawe National Park
Dry Mixed Evergreen Forest
Riverine Forest
Scrubland
Grassland
Walawe River
Udawalawe and Mau Aru Lakebed
Abandoned Eucalyptus and Teak plantations
Area in Udawalawe National Park
Udawalawe National Park Total Area – 30,821 hectares
Other informations about Udawalawe National Park
Status – National Park, Important Bird Area (IBA), Catchment area for Udawalawe reservoir
Altitude – 100 metres to 373 metres
Annual Rainfall – 1500 mm
Average annual temperature – 280C
Closest Towns – Udawalawe, Embilipitiya, Thanamalvila
Nearest Hospital – Embilipitiya General Hospital
Access Roads to Udawalawe National Park
Colombo to Udawalawe via Ratnapura (160 km)
Galle to Udawalawe via Embilipitiya (125 km)
Nuwara eliya to Udawalawe via Ella (155 km)
Tissamaharama to Udawalawe (74 km)
Tangalle to Udawalawe (63 km)
Major Attractions of Udawalawe Safari – Sri Lankan Elephant, Fresh water crocodiles, Bird watching, Tufted grey langurs
Best time to visit Udawalawe National Park – October to April
Useful Tips for Udawalawe Safari Drive
It is best to start early or late in to the afternoon when the animals come out of the shade.
It will be a bumpy ride.
Udawalawe can get busy sometimes. You can ask your tracker to avoid the crowds if necessary.
Take enough bottled water. Don't forget to stay hydrated.
Take care of yourself and others. Never get out of your safari jeep unless permitted by your tracker. Do not feed the animals inside the park. There are records of wild elephant attacks when safari jeeps got too close. Always remember that you are in the wild.
Get help from Experts
Sri Lankan Tour Packages