Minneriya national park is one of the best wildlife parks in Sri Lanka to see wild elephants. It is famous as the national park where the largest gathering of wild elephants in the world takes place. In the months of August and September each year, more than 300 elephants herd together on the plains of Minneriya. In search of water during the driest months each year, these massive herds gather around the Minneriya reservoir, which is located inside the park. Apart from its popularity as a wildlife safari destination, Minneriya national park is part of an important eco system that covers the Mahaweli river basin. It borders a series of national parks including Kaudulla, Wasgomuwa, Angammedilla, Flood plains and Somawathi, which are vital forests to the dry zone wildlife in Sri Lanka. Collectively, these protected areas stretch all the way up to the coasts of Trincomalee.
Minneriya national park is also an important bird area (IBA) that is home to a vast array of bird species. Lesser adjutant, which is the largest flight bird in Sri Lanka is a common sight in the park. Moreover, some of the wild animals spotted at Minneriya are Sri Lankan sloth bear, Purple faced langur, toque macaque, grey slender Loris, Sambar deer, spotted deer, Bengal monitors and freshwater crocodile.
Minneriya Map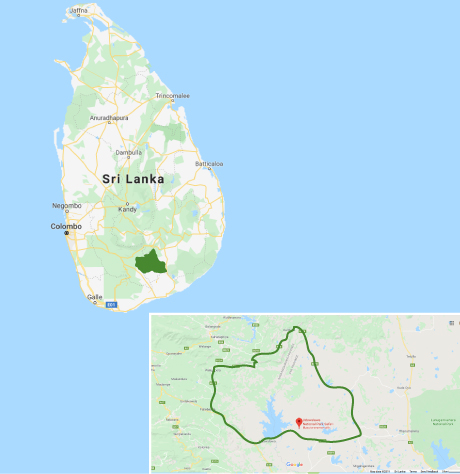 Safari Information
Minneriya National Park Opening and Closing Times – 6.00 a.m to 6.00 p.m
Minneriya Safari Duration – 3 Hours
Major eco-systems inside Minneriya National Park
Tropical Dry Mixed Evergreen Forest
Wetlands, Grasslands
Abondoned chena cultivation
lakebeds
Area in Minneriya National Park
Minneriya National Park Total Area – 30,821 hectares
Other informations about Minneriya National Park
Status – National park, Important bird area (IBAs), Catment area of Minneriya wewa
Altitude – 100m to 885m
Annual Rainfall – 1146mm
Average annual temperature – 27.50C
Closest Towns – Minneriya, Habarana, Polonnaruwa
Nearest Hospital – Hingurakgoda District Hospital
Access Roads to Minneriya National Park
Colombo to Minneriya (191km)
Habarana to Minneriya (9.4km)
Dambulla to Minneriya (30.8km)
Polonnaruwa to Minneriya (37.1km)
Sigiriya to Minneriya (19.5km)
Major Attractions of Minneriya Safari – Sri Lankan Elephant, Sri Lankan Sloth Bear, Birdlife
Best time to visit Minneriya National Park – July to October
Useful Tips for Minneriya Safari Drive
It is best to start early or late in to the afternoon when the animals come out of the shade.
It will be a bumpy ride.
Minneriya can get busy sometimes. You can ask your tracker to avoid the crowds if necessary.
Take enough bottled water. Don't forget to stay hydrated.
Take care of yourself and others. Never get out of your safari jeep unless permitted by your tracker. Do not feed the animals inside the park. There are records of wild elephant attacks when safari jeeps got too close. Always remember that you are in the wild.
Get help from Experts
Sri Lankan Tour Packages